Dongkuk Steel on Path of Expansion
Steelmaker¡¯s Dangjin Complex is officially dedicated; Chairman Chang announces intention to build a blast-furnace steel mill in Brazil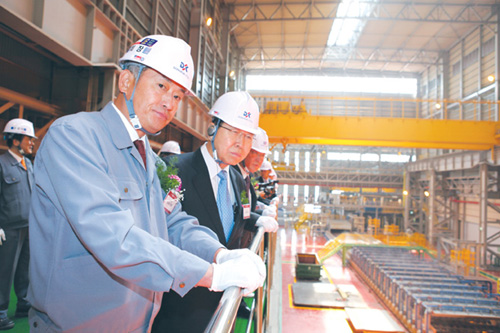 Dongkuk Steel Mill Co. dedicated its steel plant in the Dangjin Steel Complex in Dangjin, South Chungcheong Province, on May 12 with a number of dignitaries present including Minister Choi Kyung-hwan of the Ministry of Knowledge Economy, POSCO Chairman Chung Joon-yang and the host of the ceremony, Chairman Chang Sae-joo of Dongkuk Steel.
Chairman Chang, in his speech, said Dongkuk Steel will build a blast-furnace steel plant in Brazil soon, a global steel mill link connecting Korea and Brazil. The Brazilian steel plant will ship its crude steel to Korea and steel plants in Busan, Pohang, Incheon and Dangjin, to turn out steel plates for autos and ships, mainly at the Dongkuk steel plants.
Dongkuk Steel set up a joint venture company named CSP in 2008 with Vale Co. of Brazil, the supplier of iron ore, to build the projected blast-furnace steel plant in Brazil.
Dongkuk Steel is said to have finished a feasibility study on the projected blast-furnace steel mill in Brazil with an annual production capacity of 10 million tons of crude steel when it is completed in 2015, officials of the steelmaker said.
Chairman Chang initiated the construction of the Dangjin Steel Plant four years ago and aggressively pushed the project, Dongkuk officials said.
Chang foresaw the development of a new market for steel plates in such areas as super-sized ships, buildings, marine structures and plants, among others, and thought that a new steel plate plant was needed to meet the demand for increased steel plates to avoid an intense price competition and also to turn out high-quality steel plates with updated steel plate production facilities at the Dangjin plant.
Dongkuk Steel Mill Co. began the shipment of steel plates for ships at its Dangjin Steel Complex in Dangjin, South Chungcheong Province, from March 18.
The first load of 2,248 tons was delivered to Daewoo Shipbuilding and Marine Co. to the officials of the shipyard led by President Nam Sang-tae who were there to receive the steel, part of the large order that the shipyard placed with the steel plant, which has an annual capacity of 1.5 million tons of steel plates for ships and buildings, adding to the 2.9 million tons of steel plates being turned out by POSCO annually.
President Kim Young-chol of Dongkuk Steel said the Dangjin complex will be developed as a hub for a next-generation strategic steel production base where Dongkuk Steel¡¯s 40 years of steel production know-how will mix with up-to-date steel production technologies.
The Dangjin complex is the first production base for steel plates for ships to make Korea self-sufficient in the key steel product, which has been imported to meet expanding domestic demand, CEO Kim said.
Kim said the complex would only produce steel plates whose high quality has been confirmed by consumers and supply them stably.
Up until last year, the country had to import some 4.3 million tons of steel plates, as domestic production was not enough to meet demand. This year, Dongkuk Steel will produce 1 million tons of steel plates at its Dangjin complex to replace 800 billion won worth of steel plate imports.
The Dangjin complex has been turning out 20,000 tons of steel plates monthly including those for construction following its test-run in October last year. The complex has also been producing steel plates for ships.
The complex will be able to increase its production of steel plates to 30,000 tons monthly from March and the company plans to follow up with other strategic steel products such as TMCP steel plates, heat-treated plates for welding structure uses and pressurized facilities including boilers from April. Dongkuk Steel plans to boost the production capacity of steel plates at Dangjin from 100,000 tons to 120,000 tons per month from the first half of this year to be able to meet the annual production target of steel plates at Dangjin to 1 million tons. Dongkuk Steel plans to invest 1 trillion won in its steel plate production facilities to boost annual steel plate production to 1.5 million tons in three years.
Dongkuk Steel plans to meet the rising demand for steel plates for special ships, marine structure, plants, wind power structures, super-mammoth vessels, and for construction, TMCP, steel plates, heat-treated steel plates and other high-class steel plates as its strategic steel products.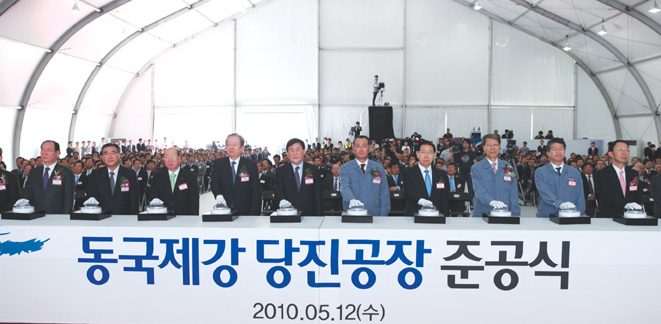 Dongkuk Steel issued the following statement on its homepage:
¡°Since its establishment in 1954, Dongjuj Steel has been devoted solely to the steel industry, a meaningful fact as we believe the steel industry plays an important role for all of society, not just the growth of a single company. At Dongkuk Steel, investing in the future ¡ª not just the present ¡ª is of most importance.¡±
Dongkuk Steel is credited with a number of pioneering firsts in the Korean steel industry.
They have been producing steel for cupola furnaces since the 1960s. In that same period, Dongkuk Steel operated a 50-ton melting furnace, a first in Korea. Dongkuk is also credited with opening the era of the modern electric arc furnace in Korea. Beginning with a 15-ton AC furnace, then introducing a DC furnace in the early 1990s, Dongkuk paved the way for the mass production era of quality shape steel and re-bar. With the initial launch of steel plate manufacturing in 1971, another first in Korea, Dongkuk¡¯s business was restructured to produce plates and steel bars (deformed bars, sections). Today, Dongkuk produces 3 million tons of crude steel and 5.6 million tons of steel products a year, while plates, deformed bars and sections remain the company¡¯s major products.
Through a philosophy centered around change and growth, we continue to develop new business fields, endeavoring to promote competitiveness internationally.
In 2005, Dongkuk Steel began work on a 1.5 million-ton slab works in Ceara, Brazil. A year later, its Dangjin project, a large-scale plate plant, was launched. By connecting Korea and Brazil, Dongkuk is building integrated production systems from molten iron to semi-finished products (slabs) and finished products (plates). In the re-bar and shape product field, the company is focusing on strategic high-quality products as it leads the market in both competitive quality and service.
Through ceaseless change and growth, Dongkuk is aiming to improve people¡¯s standard of living, provide shareholders with more profits and innovate corporate values.
By strengthening internal capabilities, Dongkuk is improving the foundation of the company to respond flexibly to environmental changes while creating an innovative corporate culture. In addition to developing future strategic products, strengthening R&D capabilities and fostering the best employees, Dongkuk is strengthening its technical and competitive power in steel through its R&D Center. nw
Chairman Chang Sae-joo of Dongkuk Steel Mill ,left, explains the facilities at Dongkuk Steel Dangjin Complex following a dedication ceremony of the steel plant on May 12 to a group of dignitaries including Chairman Chung Jun-yang of the Korea Iron and Steel Association and also chairman of POSCO
A group of dignitaries at a dedication ceremony of Dongkuk Steel Dangjin Complex, push buttons to start the operation of the new steel plant on May 12.