ICT Ministers Assembly in Seoul to Share Policy Experience
WICS 2010 will coincide with World IT Show from May 25-28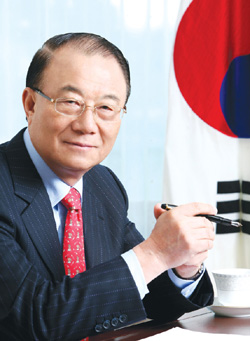 The following are excerpts of an interview between NewsWorld and Lee Kyung-ja, vice chairperson of the Korea Communications Commission, who touched on the KCC¡¯s hosting of WICS 2010.
Question: Could you summarize the key purposes of the World Information and Communications Summit 2010 (WICS 2010)?
Answer: We hope to achieve three main goals through WICS 2010. First of all, on the policy front, the summit will give ministers opportunities to share their policy experience, and in doing so, form cooperative ties for future cooperation in formulating ICT policies. On the economic front, it aims to help participants explore ways to tap into ICT in the midst of the global economic downturn. Ministers will engage in discussions on ways to improve the quality of life, create more jobs and ultimately achieve sustainable economic growth. Lastly, ministers can strengthen their cooperation in global issues such as green growth, information security and resource use.
Q: What is the main topic for WICS 2010?
A: The main topic for the summit is ¡°Expanding Digital Economy and Culture.¡± Under this topic, ministers will present the current status of the ICT industry in their countries and share their strategies to build an open and harmonious digital society.
To give you more detail, ministers will give presentations based on three sub-topics: economic opportunity, safe and sound Internet and global cooperation. First, they will present industrial opportunities arising from digital technology, its role as a new growth engine for the national economy and ways to realize the digital era of harmony and cooperation. Secondly, they will discuss how to ensure information security, prevent cyber intrusion and foster a safe and sound Internet environment. Finally, they can share policies to promote the digital economy and culture and to facilitate cooperation with other nations.
Q: I heard WICS is already in its sixth year. Could you tell us the background and history of the summit?
A: As you said, the summit was kicked off back in 2005 and is now in its sixth year. It was held under the name ¡°World ICT Summit¡± until 2006 and ¡°IT Ministerial Conference¡± in 2007 by the former Ministry of Information and Communication. Since 2008, we have hosted the summit under the name ¡°World Information and Communications Summit.¡±
In the era of convergence of broadcasting and communications, the summit was designed to provide ministers with opportunities to share their policies and visions on harnessing ICT and promoting global cooperation.


Q: Which countries will attend this year¡¯s summit?
A: Countries from different continents will participate in the event. They include Mongolia, Vietnam, Thailand, Indonesia, Peru, Mexico, Chile, Ghana and Rwanda. Since we extended our invitation to countries other than those that have confirmed participation, however, more countries are expected to attend the summit.
Q: Are there other events concurrently held with WICS 2010?
A: The World IT Show will be held in conjunction with WICS 2010 at COEX from May 25 to 28. As the largest IT exhibition in Korea, it will serve as a venue to showcase and demonstrate cutting-edge IT technologies and services, promoting Korea¡¯s advanced digital culture and creating more business opportunities. We expect approximately 700 companies specializing in the field of broadcasting and communications from Korea and abroad to take part in order to introduce and demonstrate their state-of-the-art technologies and services. Visitors to the exhibition can have a glimpse of the future of broadcasting and communications.
There are also events that will take place on the sidelines of the summit. We will host a ministerial luncheon and network dinner on May 25. In addition, we will arrange bilateral meetings and visits to companies and research institutes for participating ministers to make their visit as fruitful as possible. nw
Korea Communications Commission Chairman Choi See-joong
ICT ministers from 15 countries participated in the World Information and Communications Summit at COEX in Seoul June 17, 2009.
Lee Kyung-ja, vice chairman of the Korea Communications Commission
A guidebook binder of the World Information and Communications Summit