Grabbing Another Big Deal in Iraq
STX Heavy Industries lands petrochemical plant project worth $3.2 bln in Iraq with Chmn. Kang meeting P.M. Maliki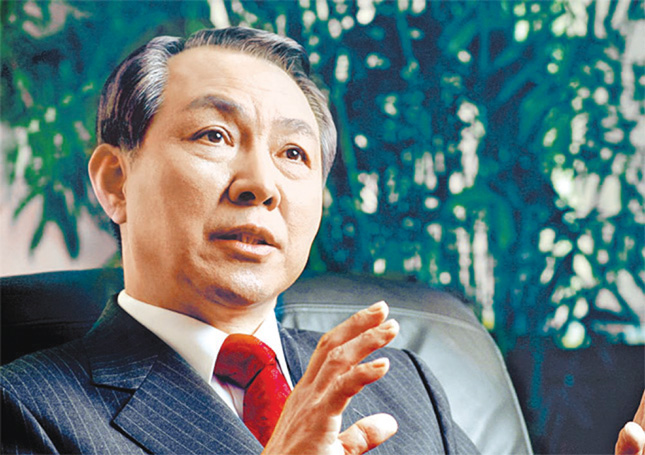 STX Heavy Industries Co. signed an MOU to take charge of a petrochemical plant construction project worth $3.2 billion to be built in Basra State in southern Iraq with the Iraqi Industrial and Mineral Ministry on Feb. 25, the company announced recently.
The project is the second one following the company's MOU to build a 3 million-ton per annum production capacity steel production plant and a gas power plant with the capacity to generate 500 kw of electricity annually in Iraq in direct negotiation with Iraqi Prime Minister Nuri Al Maliki in January also signed in Bagdad, the Iraqi capital. The project is valued at $3 billion.
The petrochemical plant project is targeted to be completed in 2014 on an EPC basis and the projected plant is designed to produce 600,000 tons of ethylene , 200,000 tons of propylene, 200,000 tons of polypropylene, 200,000 tons of low-density polypropylene, 200,000 tons of high-density polyethylene and 400,000 tons of PVC annually, the company said.
The war-torn country practically all of the petrochemical products it needs as it doesn't have the production facilities and STX Group has been put in a good position to secure additional plant projects in Iraq and other countries in the Middle East thanks to its winning the two huge plant projects at the start of this year.
STX Group also signed an MOU with Vice President John Dramani Mihama of Ghana at the Marine Center of STX Offshore and Shipbuilding for comprehensive cooperation between STX and Ghanaian government on various industrial and infrastructure projects in the African country, the group said.
The group plans to diversify its operations in Ghana in many key areas including plant, energy, shipbuilding and logistics as it has already signed an agreement to build $10 billion worth of urban development project involving the construction of residential houses. The Ghanaian government promised to give incentives to STX in terms of access to land, tax exemptions and issuance of licenses, while STX Chairman Kang Duk-soo explained his plan to Vice President Mihama to make Ghana the group's export center to export goods and plants to West Africa by building various infrastructure in the African country. Vice President Mihama visited the STX shipyard in Jinhae, South Geyongsang Province on March 4.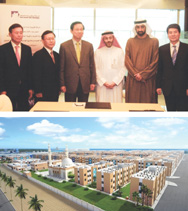 In the meantime, The Korea Shipbuilding Association and STX Offshore and Shipbuilding signed an MOU on cooperation in the area of shipbuilding in the United Arab Emirates with Abu Dhabi Shipbuilding Co. in Abu Dhabi, UAE, on Feb. 19 in the presence of second Vice Minister Kim Young-hak of the Ministry of Knowledge Economy, representing the Korean government.
Under the agreement, STX shipyard will provide key technologies to Abu Dhabi Shipbuilding when it expands its shipyard including the construction of an integrated operation system and manpower training for the shipyard. The two shipyards will also cooperate in securing shipbuilding orders from other Middle East countries such as commercial vessels, naval ships, OSV vessels, among others, and the development of potential shipbuilding market in the region.
STX officials said the MOU signing on shipyard cooperation is a result of Korea's winning the rights to build four nuclear power plants in UAE, which marked the start of a deep economic exchange between Korea and UAE, and STX plans to expand its areas of operation to other areas including plant, new recycled energy and other cooperative industrial projects between Korea and UAE under the MOU.
STX Business Group announced its management goal for 2010 -- 'order receipts of 33 trillion won, turnover of 25 trillion won and an operating profit of 1 trillion on' at its '2009 Group's board of directors meeting' held Dec. 23, 2009. The goal for order receipts of 33 trillion won and a turnover of 25 trillion won for 2010 is greater than expected order receipts (16 trillion won and turnover in 2009 by 106% and 9%, respectively.
Based on expectations that the shipping and shipbuilding market will enter a state of recovery, it is expected that the Group's order receipts will increase significantly over 2009. The Group also set a goal of achieving an operating profit of one trillion won in 2010. nw
Chairman Kang Duk-soo of STX Group.
Officials of the Korean Shipbuilding Association and the STX Offshore and Shipbuilding Co. pose for a photo session after signing an MOU on cooperation with the shipbuilding industry in the United Arab Emirates with Abu Dhabi Shipbuilding Co. in Abu Dhabi in the presence of Vice Minister Kim Young-hak of the Ministry of Knowledge Economy on Feb. 19. A bird? eye view of a housing project worth $10 billion that STX Construction signed with the Ghanaian government as part of a comprehensive agreement on various industrial and infrastructure projects in the African country.