Secure Resources Channels

Upgrades relations with central Asian nations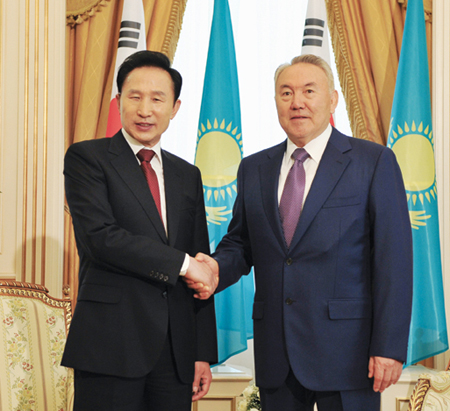 President Lee Myung-bak visited several central Asian nations in a bid to secure channels for energy resources while enhancing ties within the political and economic sectors.
His visits to Uzbekistan and Kazakhstan also helped extend bilateral cooperation as they came in line with his "New Asia Initiative," which he announced earlier this year with the goal of expanding the scope of Korea's Asia-focused diplomacy.
The resource-affluent Central Asia has been increasingly significant for the nation in its desire to secure channels for natural resources like natural gas and oil amid fierce global competition for energy sources.
Such a mission in Central Asia appears to have been further pressing for Lee who has pledged to put top priority on reviving the sagging economy since taking office last year.
Lee's visits came shortly after similar visits to the nations by Prime Minister Han Seung-soo several months ago, which largely failed to extract feasible results.
In Tashkent on May 11, President Lee and his Uzbek counterpart Islam Karimov issued a 12-point joint agreement and agreed to build a win-win cooperative partnership and enhance energy and economic cooperation, stressing the strategic partnership between the two countries.
Korea and Uzbekistan signed a total of 16 deals regarding joint exploration projects in five new gas fields and the drilling of new oil reserves in Uzbekistan, including in the western Fergana region. Apart from the 16 deals as a main contractor, Korea's state-run National Oil Corp. and Uzbek national oil company Uzbekneftegaz also signed a memorandum of understanding to carry out the oil exploration project during the presidential visit. The two previously signed a joint exploration deal in Uzbekistan's Namagan-Tergachi and Chust-Pap regions in 2006.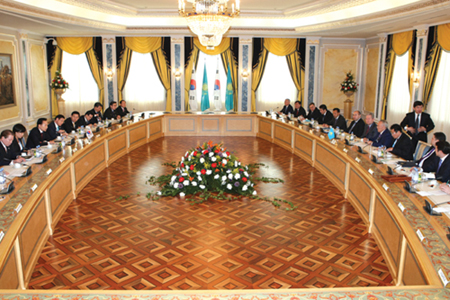 At the Korea-Uzbek business forum, Lee proposed a joint project titled a "New Silk Road" with Uzbekistan. President Lee said Seoul and Tashkent will be able to open the era of a New Silk Road in the 21st century by carrying out the joint project backed by Korea's advanced IT technology and Uzbekistan's vast logistics and railway networks.
At the summit in Astana on May 13, President Lee and his Kazakh counterpart, Nursultan Nazarbayev, adopted an "action plan" designed to enhance bilateral economic and diplomatic collaboration in the areas of energy cooperation, trade, culture, labor and construction.
Lee and Nazarbayev agreed to strengthen bilateral cooperation in the joint development of oil fields and minerals. Korea and Kazakhstan also agreed to boost cooperation in the fields of infrastructure construction, including generation and supply of electric power, railroad, shipbuilding and IT industries.
The two leaders signed 10 agreements, including nine MOUs regarding joint development of the Jambil maritime oil block in the Caspian Sea, as well as a thermal power plant in Balkhash and collaboration in establishing wireless internet networks in Kazakhstan.
At the Korea-Kazakhstan business forum on new growth on May 13, Lee proposed that Seoul and Astana should strengthen bilateral cooperation by focusing on the so-called "three belts" areas ¡ª energy, IT and transportation.
The forum was attended by nearly 80 Korean corporate executives and 70 Kazakh business leaders, including Kazakh Prime Minister Karim Massimov.
Stressing the close bilateral cooperation in the economic and industrial sectors, and citing ongoing large-scale joint cooperation projects between the two countries, President Lee said Korea's new vision of "low carbon green growth" and Kazakhstan's strong interest in green industries will enable a win-win partnership and play a leading role in the era of green growth in the world.
During the presidential tour, Lee successfully upgraded Korea's relations with the two Central Asian countries, backed by a deep mutual trust.
After an unprecedented welcome at the airport upon President Lee's arrival in Tashkent on May 10, Uzbek President Karimov accompanied Lee throughout his visit to the country. Kazakh President Nazarbayev offered Lee an opportunity to visit the sauna at the presidential retreat, where only the leaders of some select countries, including former Russian President Vladimir Putin, have visited.
During the five-day presidential visit, Lee won the support of both countries for his "New Asia Initiative," aimed at improving regional cooperation for the prosperity of all Asian countries as the two leaders welcomed and agreed to support the "timely" diplomacy campaign. nw
Korean President Lee Myung-bak shakes hands with his Kazakh counterpart, Nursultan Nazarbayev at summit talks in Astana on May 13.
(left) President Lee holds summit talks with his Uzbek counterpart Islam Karimov in Tashkent on May 11. President Lee and Kazakh President Nursultan Nazarbayev discuss topics of mutual concern during the extended session of their summit talks together with their respective ministers and business leaders on May 13.
Photo by courtesy of the MCST