Bible as Source of Art

Sculptress Kim deals with mother, love and Christian faith as subjects of her sculptural pieces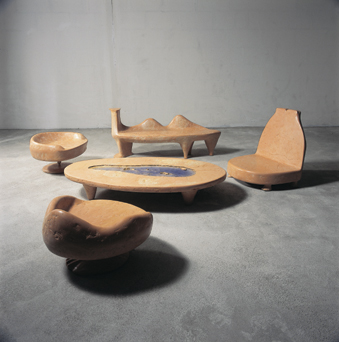 Sculptress Kim Sun-young deals with mother, love, and Christian faith as the major subjects in her sculptures. Viewers were able to take a look at her art pieces with such subjects at the "The 2002 ?tory of Mother"Solo Exhibition of her artwork and the 2003 Net series of her exhibition at Kwanhun Gallery in Seoul, and Co Work series. Of her art pieces at Noh Gallery also in Seoul, an art critic said.
At her latest solo exhibition entitled, 'Servant Chair'series held at overseas, the artist showed her dreams to warm up the minds of people and society with her unique art pieces filled with the longing for motherly love, and doing sculptural art work for peace, the art critic went on to add.
The art critic said she has been creating art pieces for God by filling them with warmth and comforts so that viewers can feel the spirit of service with the mind of a 'Servant chair.'The artist expresses her wish that serving others would give the feeling that heaven is right on earth as in what Jesus said,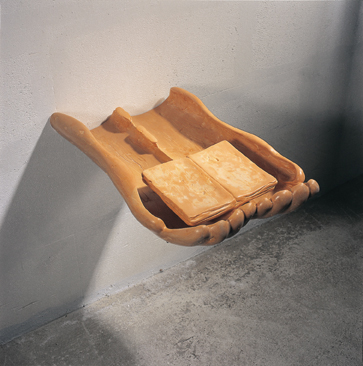 "Love Thy Neighbors Like Thyselves,"and practiced it throughout his short life on earth.
The critic said the sculptress knows that life is the process of emptying all you have to enter the Kingdom of Heaven where happiness is every where and she tries to show it in her artwork.
When your hands hold something, you cannot hold something bigger when it appears. But when your hands are empty, you can hold more things that come. This is why artists empty their hands, and simplifies them working on art ceaselessly so that art would impact life , improve the quality of life and purify society. This is why she put together such art pieces as 'servant chair'living things in the bottom of the ocean, a table to suggest a mountain and Noah's Ark, along with a dove for peace.
Kim's extremely Christian philosophic view represents all the processes for completing her art.
Art critic Park Young-taik, professor of art criticism at Kyonggi University, says that shapes(scultures) and pictures(relieves)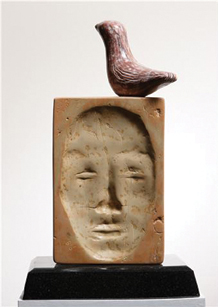 which are colored in light pink or human skin show dreamy scenery. These odd things, that are made through simplification of a particular object, expansion of a part or transformation, look like being strapped in the structure of a story as a whole, the critic noted.
Connections among several things with surrealistic environment make strange so they show traces of mutual relations. This is connected with the artist's theme. She intends to show all the living things that are organically connected and circulate, which reminds me that human life repeated by descendants. That is, "I live the life of my mother, of my grandmother and of my grand mother's mother,"which the artist say in her head.
Using a material is Kind of Epoxy the artist has made several living things, the mother and the things related with a woman's life.
Skins and surfaces of things are minutely scratched with a chisel. These scratches are used as means to show several situations, stories and feelings of the past life.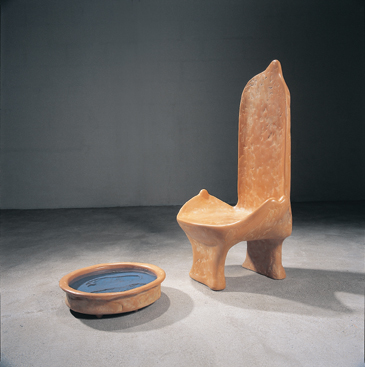 It is a scene that sculptures and pictures inhabit in the same space.
The lines here are the whole axle of time. Facial expressions are put on a shape, and the accumulations and flows for the past long time(memories) are drawn just like ripples. Therefore, the artist's recent works feel pictorial urges or feel like that each scene (resulting from the scenic and historical flow) is put on the same space.
Kim is a graduate of Ewha Woman's University in Seoul ans she also won a MFA degree from the university's graduate school. She held many solo exhibitions, and participated in numerous group exhibitions at home and abroad. She displayed her sculptures at the Association of Asian Contemporary Sculptors at Fukuoka Asian Art Museum in Fukuoka, Japan in 2003, among other exhibitions abroad. She can be reached at 011-9181-3322 or gaia1000@hanmail.net nw

Co Work; Installation; Epoxy + Water etc; 2005

Co Work 200514; 39x60x14 cm; epoxy etc; 2005

Servant 200810; Marble+Mixed Media; 25x18x4o cm; 2008

Co Work 200506; Installation; Epoxy + Water etc.

Sculptress Kim Sun-young.