MOSF Minister Kang to
Attend IMF/World Bank Meeting

Heads a Korean delegation to the annual gathering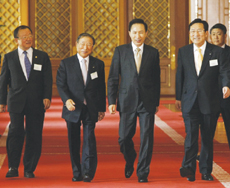 Minister of Strategy and Finance Kang Man-soo will head a Korean delegation to the upcoming 2008 Annual Meeting of the Boards of Governors of the International Monetary Fund and World Bank Group (IMF/WB), slated for Oct. 13 in Washington, D.C.
The delegation includes the Bank of Korea governor and heads of commercial banks, including the Korea Development Bank, Kookmin, Woori Financial Group, Korea Eximbank, Industrial Bank of Koreas, Shinhan, Hana, Nonghyup Banking & Insurance as well as the Korea Deposit Insurance Corp and the Korea Federation of Banks.
MOSF Minister Kang will deliver a speech at the annual meeting's opening plenary session in which he will call for all nations to make concerted efforts to cope with the current global financial woes, caused by the lingering U.S. subprime crisis, an MOSF official said.
Minister Kang is scheduled to hold interviews with media organizations and meet with chief delegates of IMF/WB member countries.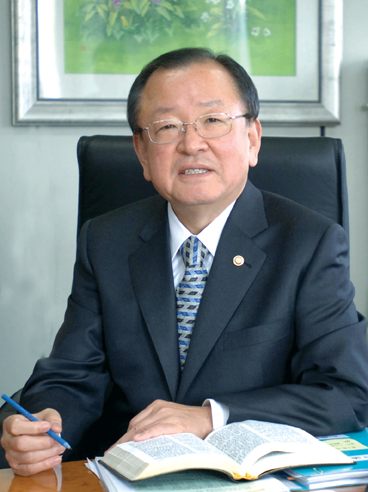 Finance ministers and central bank governors from more than 180 member countries of the IMF/WB will get together for the annual meeting to take up such topics as the current U.S. financial turmoil.
The Boards of Governors of the IMF/WB normally meet once a year in the autumn for a plenary session to discuss the work of their respective institutions.
The Inaugural Meeting of the Boards of Governors was held in Savannah, Georgia, U.S.A. in March 1946. The first annual meetings were held in Washington, D.C. in 1946.
In recent years, the annual meetings have been preceded by meetings of the International Monetary and Financial Committee, the Development Committee, the Group of Ten, the Group of Twenty-Four, and various other groups of members. At the conclusion of their meetings, the International Monetary and Financial Committee and the Development Committee, as well as several other groups, issue communiqu«es. The annual meetings include two days of plenary sessions, during which Governors take up matters of business, consult with one another, and address the assembled delegates to present their countries'views on current issues in international economics and finance. At the annual meetings, the Boards of Governors make decisions on how current international monetary issues should be addressed and approve corresponding resolutions.
Korean economy to turn around in 2nd half of 2009
The Korean economy, reeling from the effects of unfavorable external factors, including crude oil price hikes and uncertainties caused by U.S. financial woes, is expected to turn around in the second half of next year, the government said.
To this end, the government and the private sector should make a concerted effort and cooperate to step up investments and create jobs, it was said at this year's second meeting of top policymakers and business leaders to discuss steps to boost growth and corporate competitiveness, presided over by President Lee Myung-bak on Sept. 18.
In the first half of this year, the national economy continued to suffer setbacks due to lower growth, higher price hikes and lower employment rates in the midst of a global economic downturn. In particular, uncertainties in the global financial markets followed by crude oil and raw material price hikes, have sent stock prices plummeting, interest rates soaring and foreign exchange rates rising at greater ranges.
The national economy took the brunt of the fallout as first half facility investments declined to 1.0 percent, prices more than 5 percent and employment rose by less than 200,000 people.
The government has so far come up with a series of measures to rejuvenate the national economy, including a 10 trillion won comprehensive package designed to stabilize the livelihood of low-income earners, buffeted by crude oil price hikes, a tax cut package, a 50 trillion won package plan for developing greater economic spheres and steps to lower quota tariffs on 127 items and a revamping of the distribution structure to stabilize prices.
The government worked out steps to proactively solve grievances and complaints related to investments, which were raised during the year's first government-private sector meeting. It has been striving to streamline the corporate investment environment by announcing two sets of plans to improve the corporate investment environment and advance the service industry.
However, the Korean economy is forecast to be weaker than expected due to a delay in the implementation of government policies, as external economic conditions have worsened so far this year.
The economy, which is still grappling with the shock of crude oil price hikes, is predicted to not get better in the second half of 2008 compared to the previous half. Economic policymakers share the view that the government and the private sector need to join forces in creating jobs and expanding the growth potential.
The government plans to come up with structural steps to boost corporate investment capacity and job creation, including one designed to improve corporate business conditions and advance the service industry, which was announced on the same day.
Tax Cut Package
The Ministry of Strategy & Finance (MOSF) has come up with a package of tax cuts to enhance economic growth potential by raising consumption, promoting investment and helping to create jobs.
The government on Sept. 1 announced the package calling for cutting taxes by about 21 trillion won during the President Lee Myung-bak term that ends in 2012, including an 8.1 trillion won tax cut for this year and next.
The proposed package is part of President Lee Myung-bak's campaign pledge to boost economic growth by reducing the overall tax burden on individuals and companies.
As a result, the gross domestic product is expected to increase 0.6 percentage points by 2012 in response to the reduction of the corporate tax rate by 5 percentage points (with foregone revenue estimated at 9 trillion won). Lowering individual income tax rates will produce an increase of disposable income in the private sector, equivalent to 3.6 trillion won and result in the growth of consumption by 0.5 percentage points. Reduced corporate tax rates and tax incentives for R&D are expected to raise investment growth by 7 percentage points and employment will increase from the current 200,000 to roughly 380,000 by 2012.
In a bid to boost private spending and aid low- and middle-income citizens, individual income tax rates will be curtailed by two percentage points for each bracket. As a result, the individual income tax band will be lowered from the current 8 to 35 percent to 6 to 33 percent starting from 2009. In addition, tax exemptions for those with large families will rise to 1.5 million won per person from the current 1 million won. Tax exemptions for education and medical-care expenses will be also raised.
Another major goal of the proposed package is to raise exemptions on investment in research and development (R&D) facilities to boost overall productivity and consequently spur the long-term growth potential of the economy. In 2006, the total value of R&D as a percentage of GDP stood at 3.3 percent and the MOSF expects the portion to rise to 5 percent of GDP by 2012.
The MOSF plans to revamp capital gains tax on houses in order to ensure that only those who purchase houses for speculative purposes are subject to a heavy tax. The ministry will also modify the recently-introduced comprehensive real estate tax as well as lower the burden on the inheritance and gift taxes in line with international trends.
Finally, streamlining earmarked taxes has become one of the major goals of the proposed reform package. The Korean tax system features several earmarked taxes by folding them into their underlying taxes, starting in 2010. The transportation, energy and environment tax will be replaced by the individual consumption tax. The education tax and special agricultural tax will be folded into their underlying taxes, respectively.
Revised tax bills will be submitted to the plenary session of the National Assembly in early October for approval. Once approved, bills on amending the capital gains tax and integrated real estate tax will likely take effect within this year, while those amending the income tax and inheritance tax will go into effect from next year.
Minister of Strategy and Finance Kang Man-soo said tax reforms will focus on lowering tax rates to create jobs and expand new growth engines as well as easing the tax burden on the low- and middle-income classes, while putting money back into the pockets of consumers and businesses to spur sluggish domestic spending and corporate investment. The tax reduction will then help create more new jobs and enhance the nation's growth potential. nw

President Lee Myung-bak talks with business leaders and MOSF Minister Kang Man-soo en route to this year's second meeting of top policy-makers and business leaders to discuss steps to boost growth and corporate competitiveness on Sept. 18. (photo right) Minister of Strategy and Finance Kang Man-soo