Daewoo E&C
Still Top Builder

Company evaluated as top construction firm for third straight year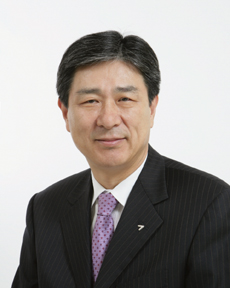 Daewoo Engineering and Construction Co. on July 31 again won the top place in the rankings of construction companies in terms of the capability to undertake construction projects based on evaluations by the Ministry of Land, Transportation and Maritime Affairs and the Korea Construction Association.
Daewoo won the honor for the third year in a row, followed by Samsung Engineering and Construction and Hyundai Engineering and Construction in the annual evaluation, which this time involved some 12,835 integrated construction firms and 40,669 specialist construction firms in the country. They were evaluated in terms of financial conditions, technological capability and public recognition on their workmanship, the association said.
Daewoo Construction clinched the top honor by being judged able to undertake some 89.27 trillion won worth of construction projects, although it scored second and third in the areas of performance record and technology.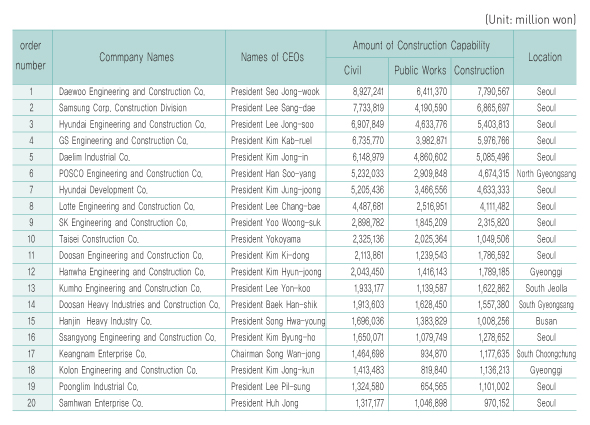 The company scored well in the area of management ability due to its sound financials such as the liquidity ratio and own capital ratio.
The company first won the top ranking in 2006. Daewoo officials said the company's superb performance records in such areas as construction project receipts at home and abroad, due to its aggressive marketing efforts leading to excellent profits and management status, helped the company win the coveted position for three years in a row.
GS Construction fell a notch to fourth from third last year. The association said construction firms engaged in housing construction in general fell in rankings from last year.
The top firms in each areas of evaluation were: Samsung E&C was first in the area of construction project numbers; Daewoo E&C in the area of management; and Hyundai E&C in the technology category. Hyundai also was first in civil work, Samsung in construction and GS Construction in the area of industrial and environmental construction facilities. Samsung Everland placed highest in landscaping.
Rounding up the top 10 construction firms are Daelim Industrial in fifth place, POSCO E&C in sixth, Hyundai Development in seventh, Lotte E&C in eighth, SK E&C in ninth and Daisei Construction of Japan in 10th.
One noticeable development for this year is the rapid emergence of Emco, a subsidiary of Hyundai Motor, climbing eight steps from 31st last year to 23rd this year, primarily undertaking construction projects for Hyundai Motor Group subsidiaries both at home and abroad. Hyundai Heavy Industries has also made a rapid upward move, rising to 38th this year from 64th last year. Doosan Heavy, too, has made a substantial jump, climbing to 14th this year from 22nd last year.
Those two companies continued to win large plant and civil construction projects both at home and abroad to reach their current rankings. Officials of the association said these large companies have been able to make large inroads into the construction market both at home and abroad. Doosan saw its share in the construction sector account for 55 percent of its total sales last year, up from 38 percent. Hyundai Heavy has also increased the share of construction revenues out of total sales from 6 percent to 9 percent. nw

President Seo Jong-wook of Daewoo Engineering and Construction Co.