KT&G Posts 8.4%
Rise in 2Q Net Sales

Sees its operating profit and net profit rising 10.1% and 13.4% respectively



KT&G posted 700 billion won in sales, up 8.4 percent in the second quarter of 2008 over the same period in 2007 mainly due to brisk overseas business.
The company raked in 263.1 billion won in operating profit and 223.9 billion won in net profit for 2Q, up 10.1 percent and 13.4 percent on a year-on-year basis, respectively.
By business area, the domestic tobacco manufacturing business earned 515.7 billion won in 2Q net sales, a 2.4 percent rise over the same period last year, while overseas business saw its 2Q sales soaring by 20.7 percent to 124.4 billion.
The continued growth of exports at the 20 percent level contributed to an overall sales increase, while domestic volume saw a slight decrease, yet continued to gain in sales thanks to net ASP increase. The total domestic market increased 1.3 percent from 23.7 billion cigarettes a year earlier to 24 billion cigarettes in the second quarter of 2008, but KT&G saw the number of cigarettes sold on the Korean market declining 1.9 percent to 16.1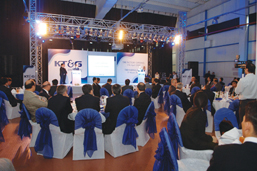 billion sticks in the second quarter of 2008 from 16.4 billion sticks from the same period of 2007. Second quarter sales maintained the 500 billion won level due to the continued increase in the premium product sales portion with the amount growth rate of 2.4 percent surpassing the volume growth rate of minus 1.9 percent.
KT&G also posted 126.1 billion won and 47 billion won in net sales and operating profit, respectively, in the first half of 2008, representing an 8.7 percent rise and an 18.9 percent surge over the same period of last year, respectively.
The company is expected to fully achieve its annual target as planned: ratcheting up sales volume by 48.8 percent, sales amount by 48.2 percent and operating profit by 51.9 percent.
In the meantime,'s subsidiary, Korea Ginseng Corp. raked in 146.8 billion won and 51.2 billion won in 2Q sales and operating profit, respectively, to register a 15.8 percent gain and a 28.3 percent jump, maintaining its high growth.
KT&G said it will do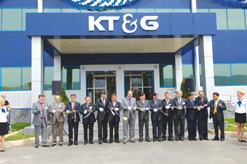 its utmost to achieve its 2008 business target by keeping its competitive edge in the Korean market, expanding in the overseas markets and improving its profitability.
KT&G THE WINNER OF A SOCIAL CONTRIBUTION AWARD
KT&G has been presented with the 2008 Korea Social Contribution Grand Award in the public welfare sector during a ceremony held at the Seoul Press Center on June 10.
KT&G's winning of the 2008 Korea Social Contribution Grand Award is significant, as it has made corporate contribution to society a key management value.
The 2008 Korea Social Contribution Grand Award in the public welfare sector is awarded to corporations that have proactively conducted volunteering activities for the underprivileged, the elderly and the handicapped. KT&G has been credited with having played leading roles in carrying out welfare foundation and social contribution activities. KT&G won the 2004 and 2005 Social Service Grand Award in the area of welfare for the elderly.
The 2008 Korea Social Contribution Grand Prize, marking its fourth year, is organized by the Korea Journalists Forum and hosted by the Ministry of Knowledge Economy and the Ministry of Health, Welfare and Family Affairs.
KT&G's OVERSEAS PRESENCE
KT&G's factory in Turkey has entered full-fledged commercial operation after its inauguration at a 45,000 sq. meters site in the Tire Industry Industrial Complex, 80 km southeast of Izmir, on April 17.
KT&G invested $50 million in the construction of the plant, designed to produce cigarette products that are put on the Turkish market and exported to neighboring countries as well as cigarette materials for use in KT&G's Iranian factory. The Turkish factory aims by 2012 to churn out 4 billion sticks of four brands -- the super-slim Esse Classic, Esse Blue, This Plus and This.
The Turkish plant was established in consideration of favorable market conditions. Turkey is the world's seventh largest cigarette market with an annual consumption of 110 billion sticks. The Turkish tobacco market was opened to free competition as Turkey's tobacco monopoly, TEKEL, was privatized, while the brand image of Korean products has been improved thanks to Korea's hosting of the 2002 World Cup. nw

KT&G inaugurates the Turkish plant on April 17.