Hyundai Heavy's Thrust Fin

The product enjoys enormous popularity as it saves fuel when attached to rudders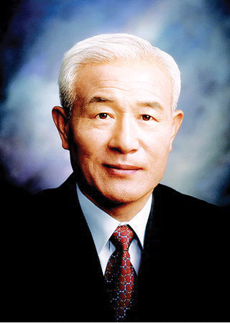 Hyundai Heavy Industries Co. Ltd., the world's largest shipbuilder, delivered its first container ship (8,600 tons) with a thrust fin, which was proven to save fuel by more than 5 percent in sea trials for the vessel.
The ship owner, Hapag Lloyd, ordered an additional six thrust fins for their container ships. A thrust fin is an airfoil-shaped device that is attached to the rudder behind the propeller, maximizing thrust force. It extracts thrust from the rotational flow with the theory of lift generation in aeronautics applied to its design, the shipbuilder said.
The shipyard said a large container ship consumes approximately 300 tons of fuel per day. If it is equipped with a Thrust Fin, the annual savings in fuel expenses could total $2.4 million. With an average lifetime of 25 years, this amounts to $60 million in savings per ship.
The company developed the world's first thrust fin in 2006 and has already registered its patent in Korea and applied for overseas patents in 10 countries including the United States and Germany.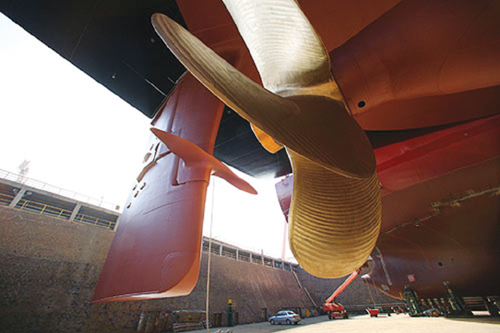 The shipbuilder plans to build a mass production system for thrust fins, reducing the production period in order to turn out 30 fins per year.
Officials of the company said the thrust fin will make it more difficult for shipbuilders in Japan and China to catch up to them. "Our emphasis is on developing new technology. We will continue to maintain our position as the leader in the shipbuilding industry,"said Hyundai Heavy Industries Vice Chairman and CEO Min Keh-shik.
In the meantime, HHI said its sales during the first five months of the year increased 19 percent to 7.48 trillion won from 6.27 trillion won from the same period last year and new orders in the same period nearly doubled to $16.1 billion from $8.14 billion in the corresponding period last year.
The company said sales in May alone jumped 16 percent to 1.55 trillion won or $1.5 billion and new orders rose 15 percent to $3.55 billion.
The company's shipbuilding division delivered 37 ships in the first five months of the year: 21 containerships, eight LPG carriers, four LNG carriers and four oil tankers. The company won orders for 64 ships worth a total of $9.34 billion, and had an order backlog for 372 vessels totaling $36 billion at the end of May.
New orders at the Offshore and Division soared to $1.66 billion from $82 million a year earlier, with orders for one FPSO (Floating Production, Storage and Offloading) Platform and two pipelines. The Engine and Machinery Division already secured $2.86 billion in orders, 87 percent of its annual order target of $3.3 billion.
Hyundai Heavy, in the meantime, clinched an order for 144 diesel power plants from the Iraqi government on June 16 worth $360 million. The Iraqi orders for DPPs have a total capacity to generate 360 Mw of electricity, which is enough to supply power to 120,000 homes when they are installed by April next year. The company said it has so far won orders to supply 180 DPPs to Iraq.
HHI has two types of Packaged Diesel Power Facilities: the Diesel Power Plant and the Packaged Power Station. Both types are easy to install and convenient to use in challenging environments and areas that have a poor electrical infrastructure.
The company so far exported 973 Packaged Diesel Power Facilities to 23 countries throughout South Asia, the Middle East, South America, Europe and Africa. With this order, the total export number will climb past the 1,000 mark, the company said.
HHI exported 644 Packaged Diesel Power Facilities to Cuba in 2005 for a total of $850 million, which was equivalent to six times the annual trade between Korea and Cuba.
The company developed the "HiMSEN Engine,"which is now used in all of the Packaged Diesel Power Facilities. Yoo Seung-nam, COO of HHI's engine and machinery division, said there are many order inquiries for the engine from South America and the Middle East due to the reliability of the HiMSEN engine. nw

Vice Chairman Min Keh-shik of Hyundai Heavy Industries Co.

A Thrust Fin attached to the rudder of a huge container vessel developed by the shipbuilder is in popular demand as it cuts fuel expenses