Overseas Car
Plants in Overdrive

Hyundai and Kia see record H1 production of cars at overseas plants at 750,000 units, up 30 pct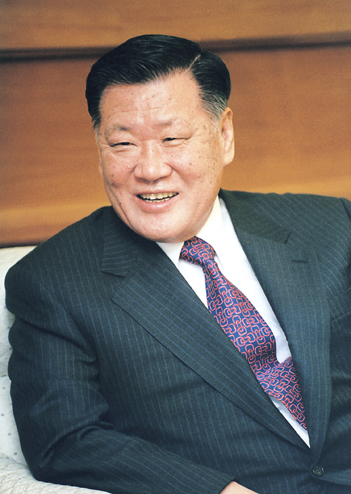 Hyundai Motor Co. had its best second quarter ever in all aspects of operation including sales, operating profit and net profit, boosting its first-half performance results to an unprecedented level.
The world's fifth-largest automaker recorded 9.168 trillion won in total sales of its cars both at home and overseas, up 12.7 percent year-on-year in the second quarter with operating profit coming to 662.6 billion won, up 6.4 percent and net profit down 10.6 percent over the same period last year.
The company sold 162,277 cars at home and 304,985 cars overseas for a total of 465,262 cars, up 2.6 percent. Car exports were up 4.4 percent and domestic sales were down 0.6 percent from 2Q of 2007.
The company also did well in running its car plants abroad as their sales were up 33.1 percent, totaling 307,747 cars, bringing its total global sales of cars to 773,009 cars in the second quarter. The company recorded total car sales in H1 of 908,233 units worth 17.30 trillion won,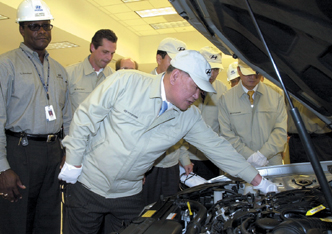 with an operating profit of 1.19 trillion won and net profit of 939.6 billion won.
An upsurge in sales of the Genesis, the company's latest passenger car model, the Sonata Transform and the i30 boosted the overall sales in the first half at home to 318,504 units, up 4.8 percent over H1 of 2007.
The company's exports were led by such car models as the i30, which sold well in Europe, and mid- to small-sized sedans in the newly emerging car markets, pushing up sales abroad to 908,233 cars, up 8 percent. The company's plants abroad sold 581,568 units in total, up 27.7 percent YoY.
The company has auto plants in the United States, India, China, Slovakia and the Czech Republic and is in the middle of building one each in Turkey and Russia.
Looking at the sales of its cars by country, 231,000 cars were sold in the U.S., led by such passenger car models as the Accent and the Elantra, despite the sluggish U.S. economy triggered by high oil prices and the subprime mortgage crisis.
The company sold 163,000 cars in Europe and 165,000 cars in China in the first half. The sales in China are up 46.9 percent over H1 of 2007.
In India, the company's auto plants sold 234,000 units, up 45.2 percent YoY, led by the new i-10 mini-sedan model.
In Latin America, the company sold 91,858 cars, up 55.3 percent over H1 of 2007, followed by 76,537 units in Russia, 66,257 units in Africa and 20,867 cars in the Asia-Pacific region, up 27.3 percent.
The company said the record sales of its cars abroad is owed in part to high oil prices, which led to a huge pick up in the sales of small cars, taking up 46 percent of total sales, and to its marketing efforts targeted at the emerging market countries.
The company said it pushed the sales of SUVs in Russia and Eastern Europe where demand is high, selling 26,308 units in the first half, up 53 percent YoY. The company also promoted SUVs in Latin American countries, selling 36,523 units in H1, up 55 percent YoY.
The sales of hatchback models such as the i-30 and the Cee'd have been brisk in Europe, while in China the Avante led sales of Hyundai cars. The i30 light sedan model was popular in India.
Kim Eon-soo, manager of the export planning team, said the company's marketing efforts, focused on Russia, Eastern Europe, Latin America and other emerging economies in the world, have paid off in expanding car sales.
Hyundai and its sister automaker Kia Motors produced 750,000 cars, up 29.6 percent YoY from auto plants abroad in the first half with Hyundai turning out 569,612 cars from its overseas plants and Kia producing 179,790 cars from its overseas plants.
Hyundai benefitted from its new car plants in China and India with first half car production in China at 179,508 units, up 55.4 percent YoY, and production from its two plants in India reaching 215,598 units, up 37.1 percent YoY.
The production of cars from its plant in Turkey also came to 44,270 up slightly from 42,600 units in H1 of 2007. nw

Chairman Chung Mong-koo of Hyundai Motor inspecting a plant of the motor company. (left) Hyundai Motor Chairman Chung.