Gala Dinner at Il Ponte
to Showcase Renowned
Biondi Santi Wines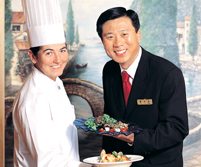 Il Ponte is extremely pleased to present an exquisite winemaker's dinner featuring the highly acclaimed wines of Biondi Santi on Friday, Sept. 5 at 7 p.m.
Established in 1880, Biondi Santi really made its mark in the history of wine when it took a clone of the Sangiovese grape (known as Sangiovese Grosso) and produced the first Brunello. This new classification of Tuscan wine forever changed the wine industry. Biondi Santi wines are known for their exceptional longevity and high quality. The Brunello, in particular, is defined as a "wine for meditation,"which must be savored in the right surroundings, at the right temperature and with the proper preparation for serving.
In true style, Il Ponte created a gastronomic extravaganza, allowing you to truly embrace the wonders of Biondi Santi wines." Typically, wines are chosen to accompany a specially designed menu. But for this gala dinner, Chef Anita Bidini will spotlight the wines, composing her six-course menu to showcase the bouquet of the wines.


Together, the wines and the gourmet dinner will serve to create a magical dining event that can never be duplicated.
The wine list for the evening includes one white wine and four red wines: Poggio Salvi Rivolo 2004, Poggio Salvi Lavischio 2003, Biondi Santi Rosso di Montalcino 2002, Biondi Santi Brunello Montalcino 2003 and Biondi Santi Brunello Montalcino Riserva 2001.
Chef Bidini's menu will include Grilled Fennel and Marinated Scampi with Sun Dried Tomato, Risotto with Frogs and Spinach "Piemontese Style" Beef Tenderloin on a bed of Radicchio in Red Wine served with Shallot Sauce and Crispy Parmesan Cheese, and Pears in Brunello Red Wine served with Marscapone Mousse with Dry Fruits.
The six-course gala dinner, inclusive of paired wines, is priced at KW210,000++ per person.
Il Ponte features the finest Italian cuisine from tempting pasta and wood-fired brick oven pizza to mouthwatering regional dishes.? Il Ponte also has an extensive choice of exquisite Italian and international wines.
For reservations or enquiries, please call Il Ponte at (02) 317-3270. nw

Chef Anita Bidini & Il Ponte Manager Hong Seok-il