President Lee Stresses
Low-Carbon Green Growth

Administration is recovering from setback of beef import deal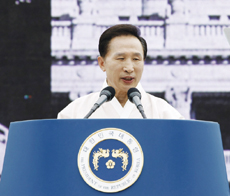 President Lee Myung-bak seems to be recovering from his political setback in the wake of the beef import deal with the United States. Lee is now poised to present a series of policies designed to invigorate the sagging national economy as he promised during his presidential campaign. Most of his policies have been clouded by the lingering protests over the beef negotiations.
The president saw his popularity drop below 20 percent following the controversies over his key personnel appointments and the resumption of U.S. beef imports.
Lee outlined his vision to reinvigorate the sagging economy during a speech marking the 60th anniversary of the founding of the Republic of Korea and the 63rd anniversary of independence from Japanese colonial rule.
Lee unveiled a
ow-carbon, green growth'policy centered on alternative energy and promoting research and development of hybrid cars.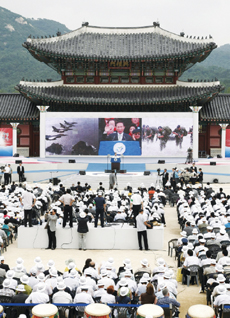 He also pledged efforts to link the trans-Korean railroad with Russian and Chinese transcontinental rail lines to make the country the world's largest hub connecting Eurasia to the Pacific Rim.
The president also vowed stern measures to enforce the rule of law, warning against violent protesters opposed to the wider opening of the domestic beef market to the United States.
"The rule of law must be firmly established,"he said. "I'll show with action that there will be no tolerance for violations of the law regardless of who you are, including myself."Since the Lee administration agreed in April on the resumption of American beef imports, tens of thousands of people took to the streets to protest the deal. They called for banning the import of older cattle considered at greater risk of mad cow disease.
The demonstrations led by progressive civic activists often turned into anti-U.S. or anti-Lee rallies.
The U.S. government agreed later not to export beef from cattle older than 30 months in additional beef talks,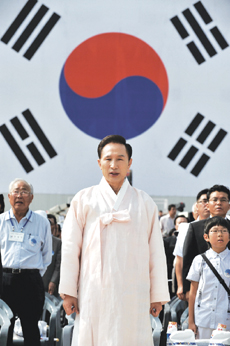 but some hardliners and liberal politicians still want the government to scrap the deal.
Analysts here and abroad say the anti-government protests could deal a blow to Lee's economic reform drives and compromise the long-term prospects of Asia's fourth largest economy as well.
In fact, most of Lee's reform agenda has hit a snag, with the administration preoccupied with the beef row and Lee's falling public support.
A case in point is the privatization of public firms. The government has been under fire for its lukewarm approach toward the issue.
In a move to signal a strong push for economic reform, the government announced last week a sweeping plan to privatize state-owned assets. The Ministry of Strategy and Finance said that 41 public firms, including Incheon International Airport Corp. and the Industrial Bank of Korea, will be sold or merged.
The government plans to unveil the second phase of the privatization scheme, which will mainly affect government-affiliated research organizations,
They oug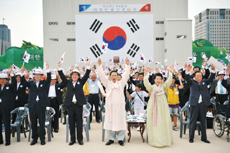 such as the Institute for Information Technology Advancement and the Korean Institute for Electronic Commerce. President Lee Myung-bak announced Friday his vision for a green, great and unified Korean Peninsula, pledging to take steps for Koreans to earn respect in the international community.
Lee said his administration will pursue values of "low carbon and green growth"to create more jobs and find new growth engines.
"Green growth is a future strategy that will enable a miracle on the Korean Peninsula to succeed the miracle on the Han River,"he said.
"This year will be the first for the country to move toward a low-carbon society in earnest based on a package of measures against climate change to be unveiled in September."To improve South Korea's image abroad, President Lee said his government will greatly raise its official developmental assistance and take part in U.N. peacekeeping operations. He also announced a Global Korea Model to share its developmental experience with the world.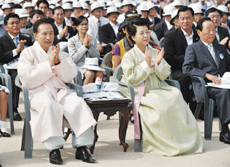 "About 100,000 young people will be sent to all corners of the world, which will give them opportunities to work, learn and do volunteer service overseas,"he said.
South Korea will become a "broad-minded"nation that will improve immigration procedures and policies to attract the world's gifted for working and living.
President Lee also spoke of the dawning of "the age of a great and unified Korea,"urging North Korea to resume inter-Korean dialogue and economic exchanges and to grab the opportunity to embrace the world community.
Once the North honors its denuclearization pledge, "I dream of forming a Korean Peninsula economic community,"he said.
He also urged Japan to reflect on its past wrongdoings in an apparent criticism of Tokyo's latest claim to the Dokdo islets saying, "Japan should face up to history and refrain from making the foolish mistake of repeating its unfortunate past."President Lee pledged to strengthen safety in society, including that of food, saying, "Human security is no less significant than national security."He urged the people to join the government's drive to strengthen the rule of law, transparency in government, ethical business management and industrial relations. The absence of trust in society deepens conflict and makes integration less attainable, he added.
"The aging population is posing yet another daunting challenge for us. The average lifespan of Koreans did not even reach 50 in 1948. What mattered at that time was survival. Now, the average life expectancy has surpassed 80 years. It is getting longer and longer. What really matters now is not survival but quality of life,"he said.
The government will make major investments to raise the share of new and renewable energy from two percent to more than 11 percent of the nation's power consumption by 2030, and further to more than 20 percent by 2050.
Investment in research and development of green technology will be doubled to make the country a world leader in environmentally-friendly industries, a sector whose value will reach $3 trillion by 2020.
Experiments on solar, wind and tidal energy will be done at Saemangeum, the tidal flats on the west coast that are being transformed into an industrial complex. The administration will also carry out the Green Home Project to allow 1 million homes to use new and renewable energy.
President Lee on Aug. 16 reaffirmed his push for a reform drive focused on reviving the economy and putting behind the political turmoil he has faced since his inauguration in February.
Lee urged his Cabinet ministers and chief secretaries to make continuous efforts "with patience"to complete reform plans and gain the people's confidence.
He made the remarks at a luncheon following mountain climbing at Mount Bukhan in the morning, a Cheong Wa Dae official said.
"We could see today's climb as a metaphor for how we should proceed -- if we make steady efforts with patience we can reach the peak of the mountain,"Lee was quoted by his aide as saying. "I believe we can accomplish our goals when we're doing our best in managing state affairs instead of letting ourselves be affected whenever good or bad things happen."The climb took place a day after Lee called for a fresh start to his plans for change in a speech marking the nation's 60th founding anniversary and 63rd Liberation Day. nw

President Lee Myung-bak delivers a speech during a ceremony to mark the 60th anniversary of the founding of the Republic of Korea in which he announced a "Low-carbon, green growth"policy.

Scenes of a ceremony to celebrate the 60th anniversary of the founding of the Republic of Korea and the 63rd anniversary of independence from Japanese colonial rule.