A Ceremony for Environment Day

Government honors 34 people for contribution to environmental improvement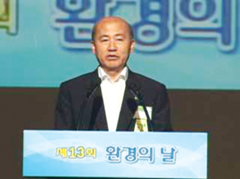 The government held a ceremony to mark the 13th Environment Day at the auditorium of COEX in southern Seoul on June 5. Prime Minister Han Seung-soo led the dignitaries from the public and private sectors participating in the annual event.
A total of 34 government officials and private-sector leaders were awarded citations and medals for their contributions toward improving the environment at the ceremony.
The prime minister said the country should aim for 'green growth'by boosting the effectiveness of a low-carbon society and social economic system.
Environment Minister Lee Maanee said today is the 13th Environment Day, the biggest festive day for all people related with environmental facilities and issues.
First of all, he thanked Prime Minister Han, Sec. Gen. Luc Gnacadja of the Office of the UN Desert Prevention Treaty and other dignitaries for coming to this event despite their busy schedules.
Lee said he would also like to congratulate honorable award winners and their family members.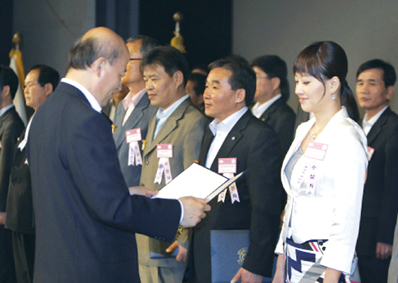 "Recently, the buzzwords in the international society are 'earth warming,'which has been changing the climate and efforts are being made to tackle it.
"Our country, too, has been coping with the situation by reorganizing the related organizations for more effective ways to respond to climate change since the new government took power,"Lee said.
"Earth in Crisis, Tackling Climate Change"was the major theme of this year's Environment Day with the slogan "Kick The Habit -- Towards a Low Carbon Economy."He announced guidelines for citizens to follow to reduce CO2 to launch a pan-national greenhouse gas reduction campaign, which can be carried out with small changes in habits in people's everyday lives across the country.
Director Lee Jong-hwan of the Environment Recycling Form Museum and President Chi Young-bae of Ilsung Integrated Machinery were presented with the National Merit Moran Medal and the National Merit Dongbaek Medal, respectively.
The government cited Director Lee for his great contribution to improving the environment by holding exhibitions and making lectures to increase public understanding and awareness of the serious nature of climate change. President Chi was cited for the development of over 50 kinds of environmentally friendly technologies.
Professor Kim Yoon-shin of Hanyang University was given the Order of Civil Service Red Stripes for his activities for improving the environment as head of the Korea Interior Environment Academic Circle aiding the drafting of a 10-year integrated plan for environment and health policies, the Environmental Law and other contributions. nw

Environment Minister Lee Maannee at the 13th Environment Day ceremony June 5 at Coex in southern Seoul.

Minister Lee presents citations to citation and medal winners at the ceremony.