Touch on Samsung
TOUCHWiZ F480

Offers personalized mobile experience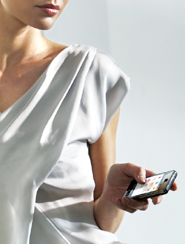 Samsung Electronics Co. Ltd., a leading mobile phone and telecommunication equipment provider, has announced the launch of its F480. With this latest full touch screen mobile, Samsung is able to enhance its position as a leading player in the hugely popular touch screen mobile market.
"The F480 is a significant addition to our touch screen mobile portfolio, bringing a totally new and exciting user experience. The F480 is just the first in a series of touch-screen mobiles we are launching this year, to provide our consumers with a more rewarding and engaging user interface; one that's more fun, easier to use and more personal."said Choi, Gee-sung, President of Samsung's Telecommunication Business.
TOUCH-EXPERIENCE BLENDED WITH COMPACT AND SLEEK DESIGN
The Samsung F480 combines a new and unique UI, having specially designed widgets to customize and personalize the way you use your phone, packaged in a slim and premium form.
The quick and simple 'drag and drop'feature lets users have instant access to thei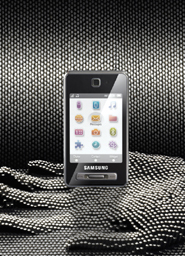 favorite functions at a moment's touch. A unique menu of widgets display functions such as the clock, radio player, music player and more personal elements including photos and birthday reminders, which users can 'drag and drop'onto their home screens to suit their personal needs. Samsung's differentiated tactile technology also gives users a tangible and pleasing feedback sensation when items are selected.
"Samsung's F480 has been designed with its users in mind, ensuring that its aesthetically pleasing design was equally matched when it came to the way that users interact with the mobile."said Jay Kim from Samsung's UX Design Team.
"Our UI, housed within this slim and minimalist design, means that Samsung has secured its position at the forefront of the market."said Kim.
The ultra-slim credit card size and refined texture make the F480 smooth and stylish. The chic, brushed metal finish gives it visual sophistication, further enhanced by its premium leather case, which also serves to protect the touch screen when you're on the move.


The smart and emotional touch interface coupled with its sophisticated design appeal to users who are looking for the latest functionality and enjoy expressing their individuality.
SEAMLESS CONNECTIVITY AND MULTIMEDIA ENTERTAINMENT
Despite its slim 11.6 mm body, the F480 also boasts all the multimedia functions you would expect from a premium Samsung mobile. This includes 240 MB of internal music memory, a memory card with up to 8GB storage, an integrated FM radio, a 5 megapixel camera featuring auto focus and a CMOS video lens.
In addition, the phone also offers high-end camera features which are better known on a digital SLR than a camera phone, such as automatic face detection technology and a sophisticated image stabilizer.
The 'smile shot'mode makes its first appearance ever on a mobile phone in the Samsung F480. This intelligent feature enables the camera to detect when the subject is smiling and automatically take a picture, so you can capture your happiest moments.
The F480's high speed internet access (HSDPA) and USB 2.0 connectivity enables users to transfer and download data faster. Whether they are music or video files, customers can enjoy all the benefits of being online on-the-go.
The launch will be supported with a European advertising campaign. The F480 will be available from June in major European markets and soon across other GSM regions. To learn more about the F480 and Samsung's mobile technology and handsets, please visit www.samsungmobile.com nw