KTF's Aggressive Brand Strategy

Presents SHOW based on differentiation and fun approach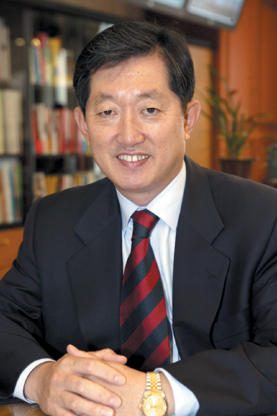 KTF is the nation's second largest mobile carrier, but as far as 3G WCDMA (Wideband Code Division Multiple Access) services are concerned, KTF take the lead in Korea.
KTF's brilliant success in the Korean 3G WCDMA market is owed to the mobile carrier's strategy with its "SHOW"brand.
KTF President & CEO Cho Young-chu unveiled the SHOW brand strategy at a recent forum held in Seoul, saying, "While introducing "SHOW,"we took a cue from Adm. Yi Sun-shin, who achieved 23 consecutive victories in 23 battles during the Japanese invasion of Korea in the late 16th century. Adm. Yi adopted a strategy to win wars against the Japanese with the belief that they could survive only when they fight to the death."Cho made the remark while explaining the strategy toward the 3G WCDMA service in March 2007. Cho's success strategy was based on a differentiation and fun approach. He said, "We felt the need to shift the competition paradigm in order to raise KTF's standing from second to the first position,

so we opted for the European-type 3G WCDMA instead of the American-type CDMA."We're have put the brand "SHOW"at the forefront instead of our company name in a bid to get clear of the negative image of KTF as a long-standing runner-up: Changing the signs of outlets to SHOW and removing the name KTF and having staff carry name cards carrying the SHOW name,"he said. KTF took its cue from Toyota, which has successfully played up its brand "Lexus"to shed its negative image as a cheap car manufacturer.
Things have changed in advertising. Advertisements have focused on rhythmical music, high-pitched voices and repeated comments chanting "Show"to appeal to the eyes and ears of audiences, President Cho said, adding the advertisements have been produced to beckon a wide range of age groups ranging from 3 year-old kids to the elderly.
These aggressive brand marketing activities have paid off. The SHOW subscriber base reached 5 million people on April 12, less than 14 months after launching the world's

first nationwide HSDPA service last year on March 1. The brand made history with the number surging to 1 million subscribers last July 6 and then 3 million last Dec. 19. A high of 5,007,412 subscribers was recorded April 12 this year.
"The support of 5 million customers has made SHOW into the definitive 3G brand."CEO Cho is upbeat. "KTF will strive to grow this support from 5 million customers to 10 million."
SHOW subscriber numbers have grown quickly since the launch of the nationwide service last year. The growth is the fastest recorded in the world compared with other HSDPA providers.
The largest HSDPA service provider in the world, AT&T, began its HSDPA service in December 2005, recording 8.55 million subscribers by the end of 2007. However, KTF set the record for reaching the 5-million mark in the shortest time, as AT&T reached over 5 million in October 2007 (AT&T source: Wireless Intelligence).
The world is also evolving from CDMA to 3G services. GSM telecom companies are shifting to the mobile WCDMA paradigm.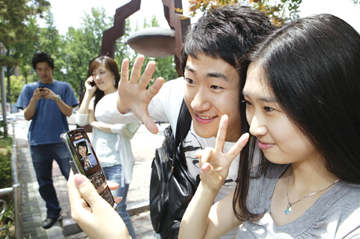 As of the end of 2007, the number of GSM subscribers, including 3G mobile WCDMA, was 2.844 billion, while CDMA subscribers stood at 381 million people. The difference has widened further this year, as CDMA service providers adopt WCDMA and HSDPA for 3G services. Vivo from Brazil and Telstra from Australia are good examples of this trend.
KTF is seen as playing the main role in the shift from 2G to 3G services with SHOW in the Korean mobile market offering users superior services. A survey of SHOW's 5 million subscribers reveals that by gender, 52.3 percent were male and 47.7 percent were female, which shows a greater proportion of female subscribers versus 2G services (male: 54.7 percent; female: 45.3 percent).
By age, teens made up the biggest share of the subscriber base at 22.5 percent, followed by 21.8 percent in their twenties and 20.9 percent in their thirties. The proportion of younger customers was relatively higher than 2G services (Thirties: 22.9 percent; Forties: 22.1 percent; Teens: 15.8 percent).


One of SHOW's distinct services is its global roaming service, which increased in coverage to include 138 countries (as of April 2008). It has seen roaming users in Q1 2008 increase 185 percent year-on-year to 455,000 (In/Out-bound total).
Revenues for roaming increased by 100 percent over the same period to 13.5 billion won. Convenience to customers has increased with auto-switchover roaming. Revenues from roaming are seen as contributing to the diversification of KTF's profit structure.
Based on its strong subscriber results, SHOW is expected to lead the 3G market moving forward with differentiated, customer-orientated services.
KTF is focusing on providing customers with real benefits in using its service, which is why it is concentrating on strategic partnerships. Through its SHOW & Partners program, it is bringing customers a variety of calling plans to suit different lifestyles, including movie, supermarket, gas and public transportation-related calling plans.
It will increase the number of benefits to customers outside its popular call/data plans, as well, such as with a greater emphasis on USIM-based financial services and other specialized services.
With the removal of subsidy regulations, KTF introduced a logical program on April 1 to allow consumers wishing to change their phones to select the amount of time they want to subscribe for.
The selection of the usage period offers customers discounts on the price of handsets depending on the intended period of use (up to 180,000 won) for models over 240,000 won (monthly plan of over 40,000 won for 24 months and over). Most customers changing their phones are expected to use the new program.
Accordingly, KTF's aim is to continue leading the 3G mobile market to maximize customer satisfaction utilizing such programs to give customers direct and real advantages.
KTF released 22 SHOW handset models last year (excluding special-edition handsets) to lead the 3G mobile market. This year, it has around 40 new models slated for release, including handsets manufactured outside Korea and smart phones.
KTF plans to release more handsets supporting fast data transfer and with excellent screen resolution, as well as stylish phones for the mass market. SHOW will continue to lead the 3G market with the support of a diverse handset lineup. nw

KTF CEO Cho Young-chu

An employee at a KTF outlet explains a client how to use a SHOW-enabled handset.

KTF is conducting aggressive marketing activities designed to boost client base.