SK Telecom Strengthens
Presence in
Chinese Telecom Market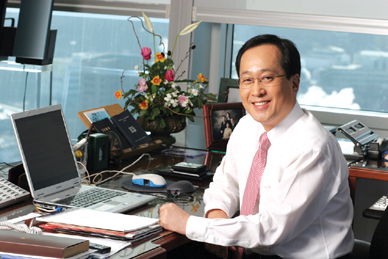 SK Telecom has teamed up with Datang Telecom to collaborate in both telecommunications industries as they have demonstrated in the world's first video call between Korea's homegrown CDMA and China's own technology, the TD-SCDMA network.
South Korean President Lee Myung-bak, on a state visit to China on May 28, toured SK Telecom's 'Korea-China Mobile Service R&D Center'in Zhong Guan Cun, Beijing to experience China's homegrown 3G service and encourage researchers from Korea and China.
President Lee enjoyed the world's first video call between a CDMA and TD-SCDMA network, sending a message of encouragement to Korean handball athlete Oh Young-ran, who was in training at Taeneung National Village for the 2008 Beijing Olympic Games.
In his greeting speech, President Lee said, "It is a great pleasure to visit the Korea-China Mobile Service R&D Center, which is the very fruit of collaboration between Chinese and Korean telecommunication industries. The center lays a foundation for cooperation between the government and private sectors of both countries and will be the symbol of a new IT partnership. I sincerely hope the two countries will be the center of the global telecommunication industry's next-generation technology." "Today's video call between TD-SCDMA and CDMA is not only a meaningful call connecting the two leading communication technologies, but is also a symbol of the strong technological partnership and alliance between Korea and China,"SK Telecom said. The company added that Korean handset providers such as Samsung and LG Electronics supported handsets for TD-SCDMA development and said, "The collaboration is expected to pave the way for local manufacturers of handsets, communication devices, software, and content to enter the Chinese market."The center was established in February 2007 as part of the collaboration between SK Telecom and China's National Development and Reform Commission (NDRC). The center made a significant contribution to developing a commercial 3G service in China by supporting SK Telecom's cooperation with Datang Telecom,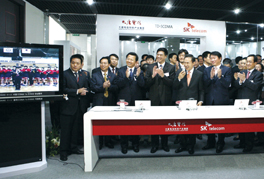 the key player of TD-SCDMA development.
SK Telecom said it recognizes President Lee's visit to the center as very meaningful, saying, "Last year, Chinese Prime Minister Wen Jiabao visited our TD-SCDMA Test Center in Bundang, Korea. Now, with President Lee's following visit to the Korea-China Mobile Service R&D Center, this shows that the two heads are highly interested in next-generation telecommunication technology and this industry is rising as a key economic issue for both countries."SK Corporation Chairman Chey Tae-won and SK Telecom CEO Kim Shin-bae greeted President Lee at the center. Kim said, "China is the world's largest telecommunications market with unlimited potential in both its size and pace of growth. Since 1991, as the first Korean company that entered the Chinese market, SK Group has been driving business in China with a long term perspective."Kim also emphasized that SK Telecom has followed a policy for co-growth with the Chinese government and local industries, saying,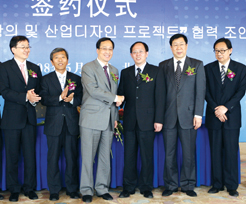 "the policy has been the basis of the Korea-China Mobile Service R&D Center and our recent investment in China Unicom shares."CEO Kim announced the "Korea-China Telecommunication Cooperation Plan"that focused on the joint development of next generation technology and telecommunications service collaboration. He said, "Firstly, SK Telecom will participate in the development of technology standards including TD-SCDMA and 4G communication. Next, while maintaining cooperation with China Unicom, SK Telecom will seek more diverse business opportunities in the Chinese market as the company has all three 3G technologies of CDMA 2000, WCDMA, and TD-SCDMA."Kim said, "Building on the joint development efforts and telecommunication service collaboration, SK Telecom will strive to make significant contributions to the growth of the telecommunication industries in Korea and China."In a related development, SK Telecom said it has signed a memorandum of understanding (MOU) with the Chinese Government to jointly build an 'International Digital Contents and Industrial Design Complex'in Beijing, which aims to boost the growth of China's future digital content and design industries. This world-class complex will be developed by SK Telecom in cooperation with companies such as SK Engineering & Construction and SK C&C.
In line with its goal to promote culture and local industries, the Chinese Government aims to build the new "Beijing Culture City"complex in the southeastern part of Beijing, which is designated as the Beijing Development Area (BDA). In collaboration with the Chinese Government, SK Telecom plans to develop the complex using the latest technologies in order to become the main center to nurture the digital content and design industries.
With commercial 3G communication services soon to be available in the local market, SK Telecom expects demand in the digital content industry to sharply grow, thus leading to an increased global spotlight on the industry. This new partnership with the Chinese Government builds on an earlier cooperation involving TD-SCDMA development. The company said it plans to continue its contribution to the growth of China's future industries by building an international industrial complex leveraging its expertise on communication infrastructure and the content business.
The company also noted that the industrial complex would promote partnership between Korean and Chinese companies, thus facilitating further development of high quality digital content services to customers.
With the signing of the MOU, SK Telecom will establish a consortium with other SK subsidiaries including SK Engineering & Construction and SK C&C and will invest $1 billion to build the vast 200,000-square meter complex by 2013. SK Telecom expects to attract to this complex various globally renowned companies and Chinese venture companies.
Ultimately, SK Telecom will create a ubiquitous environment with an advanced IT network and facilities across the complex and provide content production studios and equipment as well as operate a one-stop service center that will provide customer support. Moreover, the "Beijing Culture City"will include a design academy to promote the development of industrial design and adopt a unique exterior style for each building housed in the complex, making itself a new landmark in the city.
SK CEO Kim said, "Recognizing the high growth potential of the Chinese digital content and convergence market, we have been expanding our content business in China by investing in TR Music, a recording company, and Magicgrids, a game service provider. With the establishment of the "Beijing Culture City,"we look forward to seeing China's rich cultural assets reinvented into new digital content products, such as games and video and eventually being exported to the global market along with TD-SCDMA technology." nw

SK Telecom CEO Kim Shin-bae

President Lee Myung-bak, on a state visit to China, participates in test-operating the world's first video call between Korea's CDMA and China's TD-SCDMA network in Beijing on May 28.

SK Telecom signs an MOU with the Chinese government to build an International Digital Contents and Industrial Design Complex.