Doosan E&C CEO Honored
with Order on Construction Day

Praised for his contribution to technology development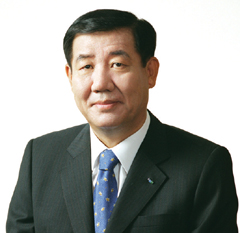 Doosan Engineering & Construction President & CEO Kim Ki-dong has been honored with the Order of Industrial Merit, Gold Tower in recognition of his contribution to furthering the development of construction technology.
President Kim has been rising up the corporate ladder to become the chief executive officer of Doosan E&C since he began his career in the construction industry. He was praised for advancing construction technology and contributing to the development of the construction industry by further evolving construction technology expertise he has studied and acquired while he has been with the construction industry for more than 32 years.
Kim has been credited with playing a leading role in commercializing construction technologies as he has spearheaded practical applications of 20-odd studies, including the one on the quality improvement of casts by the Total Quality Control (TQC) method. In particular, he has headed studies on such the nation's firsts as the application of light strength concrete and spalling prevention method of high strength concrete. Such technologies were applied to the "Haeundae Doosan We're the Jenith,"Asia's highest residential structure.
Doosan CEO Kim has assumed such positions as a member of the special construction committee under the umbrella of the Ministry of National Defense, contributing to the development of the construction industry as the Accreditation Board for Engineering Education of Korea, a standing member of the Korea-Japan construction consultation committee under the umbrella of the Construction Association of Korea. He has joined forces in conducting academic activities and educating younger students as he has served as professors and lecturers. He has also published such books as standard construction specifications and architectural technology guidance.
Doosan E&C has implemented the creative management innovation program, dubbed "Turn Around"to ensure outward growth as well as a balanced growth in business portfolio. This helped the company pay the highest cash dividend to shareholders in 10 years despite an overall business slump, thus fulfilling its corporate social responsibility.
The company has stepped up ethical management under a drive, "Young & Clean Company"by making deals with subcontractors transparent and having staff join in the signing of transparent social agreements. It has built up anti-disaster system by obtaining the integrated safety and health management system certification, KOSHA18001/OHSAS18001 for the first time among concerns of the industry. Doosan has made a feat of earning no punitive points in the environment sector by strengthening environmentally-friendly activities during the 10 year-period between 1998 and 2007.
CEO has toured an accumulated 6,730 km to some 80 countries to ensure hands-on management, thus removing unnecessary red tape and improving on-site work efficiency , preventing safety-related accidents and inspecting quality and environment management situations.
LEADING CONTRACTOR IN GLOBAL ARENA
Doosan E&C, a general construction company that leads the domestic construction industry, has accumulated a wealth of experience and the most advanced construction technologies since being founded in 1960. Its business sectors include house building, engineering and construction.
Doosan has displayed stellar performances by reinforcing its top-level competitive edge based on its differentiated core capabilities and by strengthening customer satisfaction with the highest quality products and services. The company was reborn as one of the top engineering and construction firms in Korea through a merger with Korea Industrial Development. Through the merger, the company not only accomplished the diversification of its business to advance into the ready-mix concrete businesses, but also laid a firm foundation to become a top-ranking company based on strong synergies. To clarify its management goals, Doosan Construction & Engineering has announced a new vision with a focus on human resources and technology's The company stands to become a leading general construction company in the world, equipped with a strong competitive edge.
Doosan holds several records in the construction of expressways and high-speed railroads. Using advanced technology, it is constructing the New Bundang Line, the first domestic private railroad construction project. As another first in Korea, Doosan Construction & Engineering has applied the large-diameter Shield Machine Operation Control method to the construction of subway railroads. As such, the Company has attained outstanding results in each field of business through constant R&D activities and advanced technology.
Doosan Construction & Engineering has obtained excellent results in the area of house building. The Company apartment brand, Doosan We're, introduced to lead a new culture in global living, has drawn enthusiastic applause from customers with its excellent construction quality and contributions to modern living, all the while meeting and exceeding customer needs. As a result, Doosan We're won the Best Brand award, the Best Apartment award and the top award at the Korea Construction Culture Contest for two years in a row. Such glowing endorsements prove that the Company premium brand has become the pride of apartment brands in its maximization of customer satisfaction.
With an unwavering spirit, Doosan Construction & Engineering will become a global-leading construction company in the near future backed by an exemplary corporate culture, by innovations based on technological expertise and by the further development of its human resources. nw

Doosan Engineering & Construction President & CEO Kim Ki-dong