ASEM Finance Ministers'Meeting
to Discuss Oil, Grain Prices

20 Officials from 40 Nations in Asia, Europe Gather in Jeju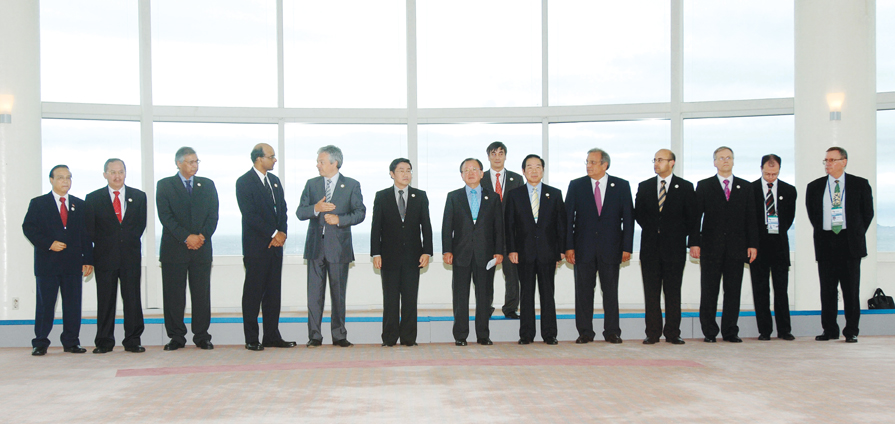 Approximately 200 ministerial-level officials from 40 Asian and European nations gathered on Jeju Island beginning on June 16 to discuss steps to cope with the surging oil and grain prices, according to the Ministry of Strategy and Finance.
The 8th ASEM Finance Ministers'Meeting was held at the International Convention Center in Jeju.
The conference waw the first ASEM ministerial meeting to be held here and will be a forum for substantial and proactive discussions on the outcome of a research report that had been carried out over the past year.
Participants of the conference included ministerial and vice ministerial figures from 40 ASEM member nations, including France and Japan. They also include representatives from four international organizations, highlighted by the European Council, International Monetary Fund (IMF) and Asia Development Bank (ADB).
South Korean President Lee Myung-bak made a welcoming speech during the opening ceremony to explain the new government's economic policy vision.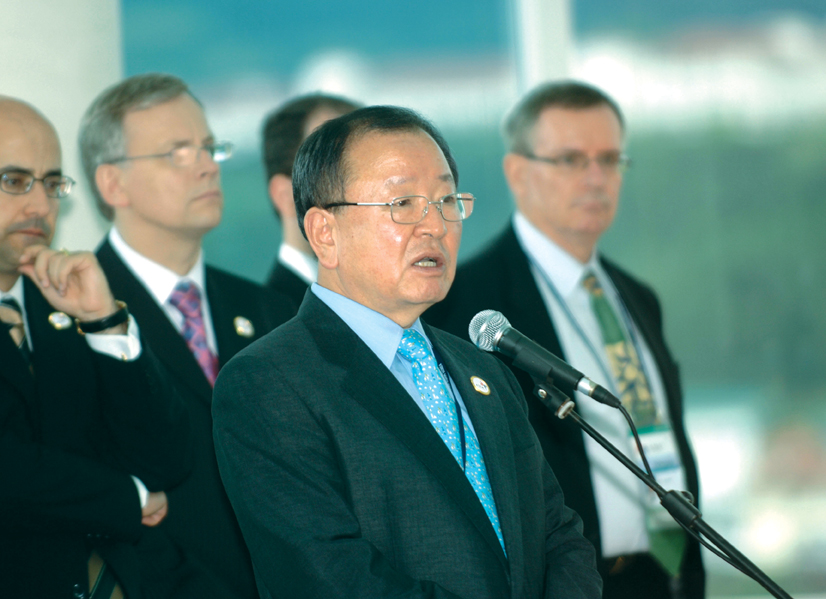 Strategy and Finance Minister Kang Man-soo also took the podium to brief the participants on the need to jointly cope with the global economic slowdown.
The attendees engaged in in-depth discussions over the factors leading to the economic uncertainties affecting the globe and on measures to tackle the soaring oil and grain prices internationally.
Asian representatives exchanged views on the possible creation of a community for financial cooperation based on the experience of the economic integration of the European community.
Climate change and measures to promote "microfinance"at the ASEM level as well as poverty levels on both continents and the promotion of private investment into infrastructure facilities were discussed at the conference.
On June 15, a day ahead of the ministerial meeting, Finance Minister Kang successfully signed a tax cooperation accord with Latvia. During the conference, he will hold a series of meetings with his French counterpart, EU officials in charge of economic and currency affairs and the next president of the EBRD.
On the same day, an international conference was held at the nearby Shilla Hotel. At the conference, participants engaged in a debate over a possible regional bloc in Asia and economic cooperation between Asia and Europe.
The ASEM Finance Ministers'Meeting began in 1997 as the largest Asia-Europe channel for economic and financial cooperation. South Korea is assuming the chairmanship for 2007-2008, having held two vice ministers'meetings so far.
Finance Minister Kang earlier called for price stability, as high inflation and record-high oil prices threatens the already-slowing economy.
"Oil and grain prices are skyrocketing, mainly due to higher demand from emerging markets such as China and India. There are growing concerns that they could stoke inflation levels as the impact of soaring prices continues to rise,"Lee told central bankers during a speech marking the Bank of Korea (BOK's) 58th anniversary.
Consumer prices rose at a seven-year high rate of 4.9 percent in May, exceeding the central bank's target range of between 2.5 percent and 3.5 percent for six consecutive months.
A high inflation rate, mainly driven by record-high oil prices, made the central bank hold the key interest rate at 5 percent for June, amid growing signs of an economic slowdown. Oil prices have doubled over the past year, negatively affecting both consumption and investment.
Recent government data shows that the economy added only 180,000 jobs last month, far short of the government's target of 300,000 new jobs per month.
"Weakening job growth hurts domestic demand, which will further slow the growth of the local economy,"Lee said.
Separately, Finance Minister Kang also stressed price stability at a meeting with economy-related ministers in Gwacheon, just before the central bank announced the rate freeze.
"Economic growth is possible only with sustained stability in consumer prices,"Kang told reporters at the start of the meeting.
"It is very important that the government stabilize utility prices in the second half,"he said, urging other ministers to cooperate with each other in an effort to minimize further increases in utility costs.
Recently, Seoul announced a 10.5 trillion won ($10 billion) tax rebate and subsidy scheme to ease the energy burden for low-income earners, the self-employed, truck drivers and farmers.
Kang urged ministers to come up with additional measures to help support households as the government plans to announce a new economic forecast and policy measures by early July. nw

Asian and European ministerial-level officials pose for a group photo session after wrapping up the 8th ASEM Finance Ministers"Meeting on Jeju Island on June 16.

Korean Minister of Strategy and Finance Kang Man-soo speaks during an opening session.