Railway People Get Together
in Seoul for
UIC Congress, WCRR 2008

Global railway industry CEOs and experts from 110 countries attend the 'UN'and 'Olympics'for railway in Korea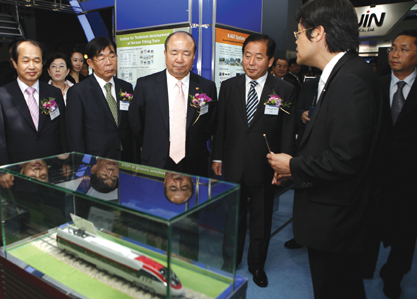 International railway industry CEOs and experts from 110 countries assembled in Seoul to participate in a railway event of the highest authority at COEX in Samseong-dong, Seoul, from May 18 to 22.
The 72nd General Assembly of the Union Internationale Chemins De Fer (UIC), which takes the role of the 'UN'in the world railway industry, was hosted for the first time in Korea by KORAIL. UIC CEO Luc Aliadiere and a number of CEOs from advanced railway countries such as France, Germany, Russia, Japan and China participated in the Assembly and voted for global projects such as international quality certification for railway products.
Moreover, the 8th World Congress on Railway Research (WCRR) 2008, called the 'Olympics for Railways'also coincided with the UIC General Assembly for the first time in Korean railway history. This Congress, hosted jointly by KORAIL, the Korea Rail Network Authority (KR), and the Korea Railroad Research Institute (KRRI) included paper presentations, an exhibition and a technical visit, and through these events, all the participants enjoyed a festival of railway technology and information exchanges, intense marketing and publicity activities.
IRaTCA (International Railway Training Center for UIC Asia) was opened with an inaugural ceremony at the KORAIL Human Resources Development Institute to serve as the cradle of network and technology training for the world's railway people and held the first seminar of the ANTC (Asian Network of Rail Training Centers), to begin its full-fledged activity.
Korea's hosting of the UIC General Assembly and WCRR, and the opening of IRaTCA are seen as proof of the nation's heightened international status and influence. KORAIL hopes to use these events as opportunities to establish itself firmly as a successful high-speed railway operator and to actively advance into the world market.
"We in the railway industry must continue to make efforts to develop the railway industry into an industry that improves people's lives and contributes to creating sustainable environment.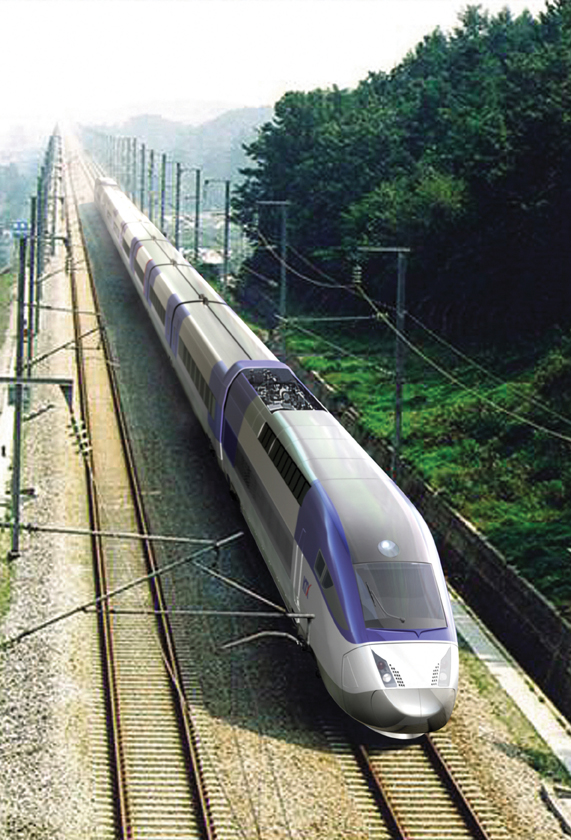 By dosing so, we will be turning the second opportunity that we have been given into the stepping stones to the renaissance of railway,"Korean Minister of Land, Transport and Maritime Affairs Jung Jong-hwan said in his welcoming remark at an opening ceremony of WCRR 2008. "In this respect, this Congress that shares railway technologies makes us realize our roles and duties, and present the direction for the future of railway is indeed a very important driving force leading the railway industry,"he said.
Lim Byung-ok, chair of the WCRR 2008 Organizing Committee Lim Byung-ok said in his opening speech, "In this context with the spirit of WCRR, this Seoul Congress, under the main theme of "Toward a unique platform to enhance the international cooperation and sharing in the railway research and innovation for the following four days." "With the superb operating technology of a high-speed railway and the development of a Korean-style high-speed train, KTX-II, Korea has become a mecca of the world railway industry,"said Park Kwang-suk, acting president of KORAIL. "By holding this event successfully, I will take that as a good opportunity revealing the capability and competence of the Korean railway industry, giving KORAIL a boost to be a global transportation group."Park, who is both president of KORAIL and chair of the UIC Asian Regional Assembly, made a keynote speech for the General Assembly.
Among railway CEOs and VIPs on hand at the General Assembly were Vladimir Yakunin of JSC RZD, Guillaume Pepy of SNCF and Hartmut Mehdorn of DB AG.
The Executive Board Meeting, held ahead of the General Assembly, is a substantial institution for decision-making, which deliberates on global projects and main agendas before being voted on and approved by the General Assembly. Twenty-one CEOs from the most influential railways attended the meeting. KORAIL has been fully engaged since it was elected as a board member at the 69th Assembly in Paris in December 2006.
KORAIL's LEADING ROLE IN ASIAN JOINT PROJECTS, SEMINARS
The UIC Asian Regional Assembly and Management Committee was held on the 19th and was chaired by KORAIL President Park. KORAIL has taken the initiative in six Asian joint projects approved by the Asian Regional Assembly, Exchange Seminars, supported by the UIC and Asian Assembly, and two activities for the UIC Competence Center, of which the UIC headquarters are promoting as part of its global activities.
The Asian joint projects are a training program by KORAIL (conducted in May); new technologies such as signaling technology and IC card by JR East (conducted in May); the railway standard, and operation of the International Railway Route by RZD, Russia; and a container transportation project in India.
The countries hosting exchange seminars and their themes are: "Transportation Management and Train Control"(slated for October in Turkey) by JR East, which takes charge of the Asian Region; 'Railway Bridges and Tunnels'by the Railway Technical Research Institute, Japan (slated for September); 'Utilization of International Freight Cars'by Russia (slated for 2009); and 'High Speed Railway'by KORAIL (slated for September 2009).
The 'Competence Center Project'being carried out by UIC headquarters involves studies on the 'Asian High Speed'sector by KORAIL and the 'Meter Gauge'by KTMB (Keretapi Tanah Melayu Berhad) of Malaysia.
INTELLECTUAL FESTIVAL OF WORLD RAILWAY EXPERTS
Around 800 railway CEOs and experts from 50 countries assembled for the 8th WCRR Seoul Congress, hosted jointly by KORAIL, KR and KRRI.
During the WCRR 2008, held under the theme, 'Towards a Global Railway,'about 300 papers from home and abroad, encompassing all sectors of railway technology, were presented through 48 sessions over three days.
Authorities and experts from world railways joined the event in large numbers. Key speakers included Luc Aliadiere, UIC CEO; Uchida Masso, Director of RTRI, Japan; Michael Clausecker, Secretary General of UNIFE; and Francois Lacote of Alstom, France, famous for the TGV. Through their keynote speeches, they suggested a blueprint to meet the demands of the times facing the international railway society, followed by Q&A sessions with participants.
The chairs of the 48 sessions consisted of railway experts from academic circles, public institutions and industrial circles from advanced-railway countries, making it the best research congress in the railway sector. They included Harry Tourney of TTCI, U.S.A.; Ishima of Toshiba, Japan; Joanna Gilligan of RSSB, U.K.; and Burkhard Shulte-Werning of DB. The participants were welcome to join in not only the main sessions, but also optional ones in which they have a special interest, in order to share the latest information and research results.
KOREAN FIRMS'FIERCE MARKETING AT THE EXHIBITION
Presenters of papers included experts from railway universities, research centers and companies not only from advanced railway nations, but also Beijing Jiaotong University; Lloyd's Register Rail Europe, the Netherlands; Irkutsk State University of Railway Engineering, Irkutsk, Russia; Universidad Politecnica de Madrid, Spain; Swiss Federal Institute of Technology, Switzerland; WorleyParsons Rail, Austrailia; and Chalmers University of Technology, Sweden.
As the host country, Korea presented around 60 of the 300 papers, 20 percent of the total. Therefore, Korea hopes that the Seoul Congress will serve as the channel through which to promote the nation's railway technology as well as a venue for overseas marketing for Korean companies with the goal of establishing a foothold in the world market.
Another feature of the WCRR Seoul Congress is the exhibition, where you can check the latest trends of the railway industry. The exhibition was the largest one in the railway transportation field as 60 exhibitors ¡ª rail-related companies and rolling stock manufacturers from home and abroad such as KORAIL, Hyundai Rotem Company, Woojin Industrial Systems, Ltd., Siemens, Alstom and Thales ¡ª showed off their latest products and technologies.
INT'L RAILWAY TRAINING CENTER FOR ASIA
A ceremony to open IRaTCA, the International Railway Training Center for UIC Asia, in the KORAIL Human Resources Development Institute in Uiwang, Gyeonggido, was held on May 21, as well as the 1st ANTC (Asian Network of Rail Training Centers) Seminar, attended by about 200 railway figures and training experts from Korea and abroad. Among those on hand were Vipin Sharma, UIC vice CEO; Nguyen Dat Tuong, vice president of Vietnam Railways; Gerard Dalton, UIC Asian Regional Coordinator; Lee Hyung-koo, Uiwang Mayor; Lee Sung-kwon, CEO of Korea Rail Network Authority; Sim Hyeok-yun, Director General for Railroad Policy of the Minister of Land, Transport, and Maritime Affairs,; Choi Yeon-hye, Dean of the Korea National Railroad College; and Kim Young-hwan, director of the APEC E-Learning Center.
IRaTCA is an institution for railway experts recognized by the UIC, which plays the role of a bridge between world railways and the Asian Railway Network. IRaTCA and ANTC activities are also a part of the joint project by the UIC Asian Regional Assembly ('training program', which KORAIL promotes.
IRaTCA will begin its full-fledged training courses in June with a vision that it will contribute to the development of the railway industry of each country, resolving the technological differences between nations and resulting in standardization, by developing training programs that fit each need and promoting participation.
This year's training program will consist of two four-week courses with four curriculums to produce 140 railway experts (80 from overseas and 60 from Korea) in total. The "Advanced Railway Course"(for Nigerian trainees) was completed last March and the 'Railway Rolling Stock Course,'the 'International Railway Logistics Course'and the 'Railway Management Course'in November are to be opened in June, September and November, respectively.
KORAIL EVOLVING INTO COMPREHENSIVE TRANSPORTATION CORP.
KORAIL is now offering four types of passenger train services - KTX, Saemaeul, Mugunghwa, and commuter. KTX, a high-speed train service that was launched in 2004, now runs between Seoul and Busan at a speed of 300 km per hour.
The corporation plans to introduce the KTX-II train service boasting a digital operation system, which is to begin on the Honam Line at the earliest 2009. KTX-II is being developed with Korea's own technology and experiences the nation has accumulated despite the short history of high-speed train.
The national train railroad network, measuring 3,263.7 km long, consists of 238 km of new high-speed lines in the Gyeongbu and Honam axes, and 3,025.1 km of conventional lines. KTX makes over 150 runs in the Gyeongbu and Honam lines every day.
KTX has changed the life patterns of people by greatly reducing travel time and brought about tremendous changes across social, economic and cultural aspects.
KTX boasts a 100 percent operating reliability and a 99 percent on-time percentage, transports 101,000 passengers per day, which reaches the highest level of operating income for any single transportation mode in Korea, and has successfully positioned itself as the most representative mode of transportation in Korea.
KTX has dramatically improved the competitiveness of the railroad industry, and has absorbed the demands for road and air travel to help ease the constant congestion in the Gyeongbu Axis, as well as contributing to efficiently restructuring the roles between modes of transportation. nw

Minister of Land, Transport and Maritime Affairs Jung Jong-hwan takes a look into the exhibits on display at an exhibition that coincided with the 8th WCRR 2008.

Acting KORAIL President
Park Kwang-suk

Lim Byung-ok, chair of the WCRR 2008 Organizing Committee