KNF Expands Its
Business Portfolio

Joins Uranium Development Project in Canada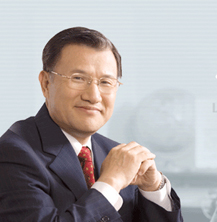 Korea Nuclear Fuel (KNF) has branched out into the nuclear exploration industry as it is participating in the Korea Electric Power Corp. Consortium? joint project with Fission Energy Corp. to conduct a uranium exploration program at the Waterbury Lake Property in Canada.
The KEPCO Consortium signed an MOU with Fission Energy Corp. on the uranium deposit development project at the KEPCO head office on Jan. 30. On hand at the signing ceremony were Canadian Ambassador to Korea Ted Limpan, Kim Chung-gwan, chief of the Energy & Resources Development Office at the Ministry of Commerce, Industry and Energy, Devinder Randhawa, president of Fission Energy Corp. and representatives of KEPCO, KNF, KHNP, Hanwha Corp. and Gravis of Canada.
The agreement calls for the KEPCO Consortium to invest about 14 billion won into the project for the next three years to prospect at the Waterbury Lake Property. The consortium will acquire a 50 percent interest in the project, 5 percent of which will go to KNF.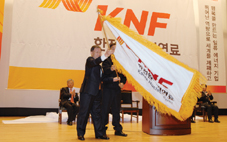 Earlier, the KNF's board of directors and extraordinary shareholder meetings convened at the KNF building on Jan. 29, approved the revision of the articles of incorporation allowing KNF to undertake nuclear fuel development projects.
With KNF? participation in the Canadian uranium development project, KNF is engaged in a wide-ranging business portfolio from nuclear fuel design and manufacturing to the development of resources for nuclear fuel, a move designed to stabilize its supply of uranium.
Entering 2008, KNF President and CEO Yoon Meng-hyun reconfirms his company? vision to translate a crisis into an opportunity and go beyond the domestic business area and turn to the overseas front with the goal of becoming a top-rated company.
In his New Year? message to launch 2008 on Jan. 2 at the KNF auditorium, Yoon said, ?NF will exert all of its energy into ensuring management efficiency and nurturing a corporate culture with a passion and creativity and through the building up our capability to dominate the foreign market. We will turn a crisis into an opportunity and show off our prowess abroad as a prominent company.?At the same time, KNF held a ceremony to introduce its new corporate identity with its new symbol dubbed ?nergy Wave.?In fact, KNF launched an ambitious scheme designed to evolve into a world-class company by declaring its ?ision 2020?last year.
In its effort to reinforce management efficiency, KNF is striving to shift a paradigm for budgetary management from a ?ottom-up method?to a ?op-down system?designed to better meet customer? needs.
KNF will redouble efforts to overhaul inefficient practices and processes in accordance with the ?NF Optimization?plan calling for maximizing management outcome.
True to the Vision 2020, all KNF staff members are resolute and passionate to help those within the company suffering any hardships. They are throwing their heart and soul into ?urturing a corporate climate with a sense of passion and creativity,?one of KNF? management key phrases.
KNF is turning to the overseas front in a bid to realize Vision 2020. To this end, KNF attaches top priority into cultivating individuals?capabilities corresponding to their roles on the global stage, nurturing global-minded gifted manpower.
KNF, established in 1982, is the sole nuclear fuel company in Korea. KNF, which began production of PWR fuel from 1989, has provided all nuclear power plants in Korea with nuclear fuel.
KNF has accumulated experience and expertise to become self-sufficient in the field of both fuel design and manufacturing. It has successfully localized most components of nuclear fuel and exported them to major nuclear fuel companies. KNF has developed several types of advanced fuel, including PLUS7 and ACE7. nw

Korea Nuclear Fuel (KNF) President & CEO Yoon Meng-hyun unfurls his company? flag with a new logo at a ceremony for the CI project.

Korea Nuclear Fuel (KNF) President & CEO Yoon Meng-hyun