'Keep on Growing'

CEO Kwon takes the helm at KPS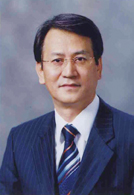 New KPS President & CEO Kwon Oh-hyung has urged his executives and staff members to tap their latent ability and potential in order to realize a goal of evolving into a world-class total-plant service company.
KPS President & CEO Kwon made the remark during his inauguration ceremony on May 7 at the company's headquarters.
"As we are confronted with new, changing business-environment conditions, including the pressure to open the power maintenance market and the introduction of market competition, I appeal for KPS staff members to do their utmost in elevating KPS to a world-class company by capitalizing on their latent abilities and potential."Kwon enumerated his management policies, including multiple steps to enhance its corporate competitive edge, the expansion of business arenas in the power maintenance market, the cultivation of world-class manpower, the implementation of "sharing management"and social responsibility and the establishment of a co-prosperity labor-management culture.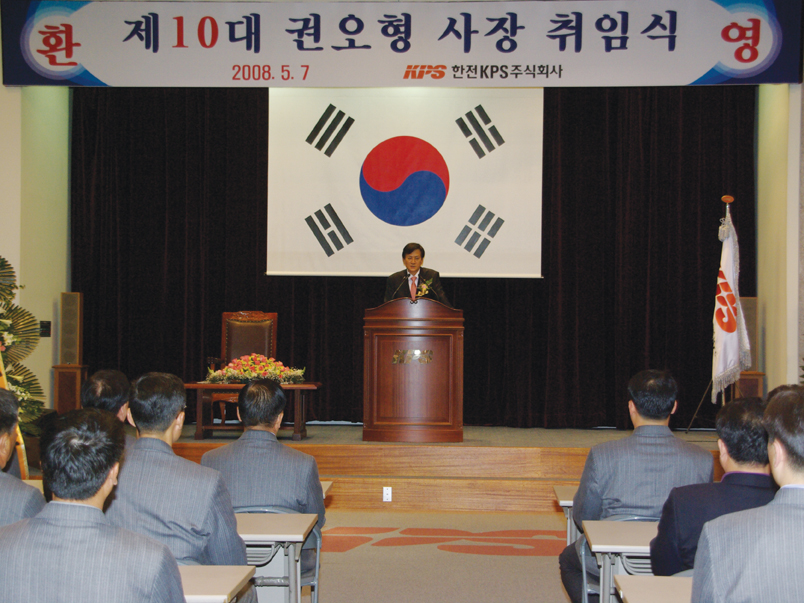 KPS, Korea's top company specializing in the maintenance of power generation facilities, is striving to prepare itself for tremendous changes, including the opening of the domestic maintenance market in the wake of the acceleration of global competition following the launch of the World Trade Organization regime and the spread of Free Trade Agreements.
Recognizing the effects of a rapidly changing global business environment, KPS earlier declared its mid- and long-term management strategy plan, dubbed "ACT KPS 2015."KPS has been making its utmost efforts to enhance its international competitiveness in the power maintenance industry. In this regard, KPS is working on the advancement of a document on maintenance processes for the purpose of the stable operation of nuclear equipment and systems through planned and established maintenance management systems, the establishment of comprehensive maintenance personnel operation management programs for efficient and flexible personnel management and an improvement of the screening and qualifying objective capability of maintenance personnel.
As the world's sole company specializing in maintenance, KPS is redoubling its efforts to ensure the optimum operation of facilities and systems, the protection of workers within radiation management areas and maintenance reliability. The company has been focusing on the improvement of advanced prediction and diagnosis technologies such as vibration analysis, oil analysis and thermometers, strengthening the prevention of human errors, nurturing natural disaster emergency crisis management capabilities and implementing a real-name maintenance system of specifying those involved in each maintenance job.
In foreign countries, manufacturers and power companies are responsible for such work as the establishment of maintenance plan blueprints, maintenance process documents and maintenance crew qualification and management. In Korea, KPS is seeking to take charge of all of those responsibilities. KPS has built up an advanced nuclear power operation infrastructure through the inauguration of Enterprise Resources Planning systems (ERPs) that integrate all of the company's data and processes into a unified system.
KPS is trying to break the mold by eradicating past inefficient practices and systems in order to proactively raise its value as a maintenance company rather than passively conforming to laws, regulations and systems.
Global concern over the use of atomic energy has been mounting in the wake of global moves to restrict greenhouse gas emissions in accordance with international pacts on climate change. For Korea, nuclear energy plays an essential role as a power source.
KPS is doing its utmost to mobilize advanced technologies and well organized maintenance systems so that the operation of the existing 20 nuclear units remains stable.
KPS was founded in 1974 as a subsidiary of the Korea Electric Power Corp. (KEPCO) in charge of maintenance services for power generation facilities, power transmission facilities and industrial plants with a combined 60 million kW nationwide.
KPS'major business functions are to perform the start-up operation, which is the final stage of power plant construction; conduct regular maintenance checks on equipment in operation; carry out periodic planned outage maintenance during which entire operations are suspended to disassemble and check facilities to preempt sudden stoppage; and forecast and diagnose problems in order to maintain the optimal capability of equipment and components.
In the power transmission business, KPS carries out projects on the maintenance of power transmission lines, inspection, design, construction and safety checks of power facility structures and the maintenance of super-voltage direct circuit underground cables. KPS also performs such specialized technology services as the maintenance of gas turbines and the replacement of nuclear fuel.
KPS's success domestically is not the entire focus of the company, however. A renewed effort is being placed on expanding into foreign markets, given the brilliant achievements on the overseas front proving its technological prowess.
The expertise and excellent maintenance technology that KPS'field staff have acquired over more than 30 years emerge as precious assets to maintain a competitive edge in the global maintenance market. KPS educates top-caliber maintenance manpower through in-house training programs and sends its employees to Korean and overseas institutions commissioned for education and training courses. KPS has been issued 44 certificates, approved by the Labor Ministry, in turbine maintenance and 10 other categories. KPS'staff owns 9,414 in-house qualifications and 7,979 nationally-certified qualifications, representing the highest qualification rate in Korea, at 4.7 certificates per staff member. nw

KPS President & CEO Kwon Oh-hyung takes the helm at KPS on May 7.
KPS President & CEO Kwon Oh-hyung