KRX IR EXPO, Catalyst
to Prod Investments

KRX organizes the expo November 2-4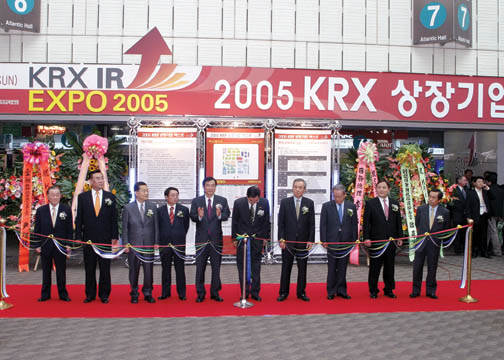 Korea Exchange (KRX) will organize KRX IR EXPO 2006 in COEX, southern Seoul, between November 2 and 4 where about 150 listed companies will meet with foreign and domestic investors to attract investments.
KRX IR EXPO 2006, the second one following KRX IR EXPO 2005, will be sponsored by the Ministry of Finance and Economy (MOFE), Financial Supervisory Commission, Financial Supervisory Service, Koreas Securities Dealers Association, Korea Futures Association, Asset Management Association of Korea, Korea Listed Companies Association, KOSDAQ Listed Companies Association, Korea Investor Relations Association, Council for Investor Education, the Federation of Korean Industries, American Chamber of Commerce in Korea, and European Union Chamber of Commerce in Korea.
"R exhibition and events will be held at the COEX Atlantic Hall, Conference Center and Jangbogo Hall between November 2nd through the 4th. The events will include participants'IR session, product/service showcase and one-on-one meetings,"said Cho Eun-sung,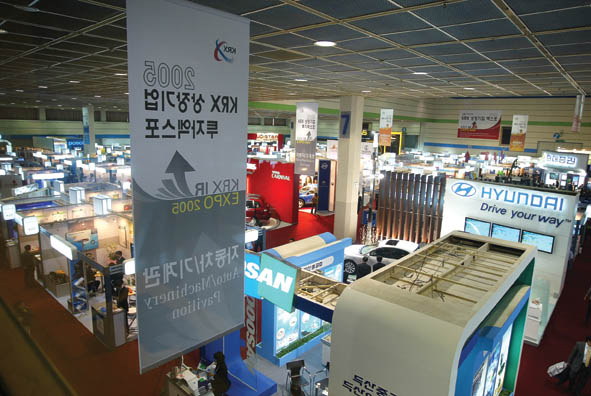 executive director of Management Strategy Division at KRX.
The Global Investors Conference will be held on November 2 and 3rd at the Grand InterContinental Seoul Hotel and COEX Conference Center. The participating blue chip companies will make their presentation during IR sessions and have one-on-one meetings with foreign and domestic investors.
KRX Chairman & CEO Lee Young-tak said, "Along with the favorable environment of the Korean stock market and the initiatives to strengthen our financial market, I believe that this Expo will be a perfect opportunity not only to benefit all market participants but also to facilitate the growth of the Korean capital market. "He expressed the hope "he EXPO will you with an opportunity to uncover the hidden jewels among Korea's flagship and promising venture companies, and confirm your believe in their future potential."This year, the KRX is celebrating the 50th anniversary of the stock market opening in 1956. The 12 listed companies at the beginning have group up to 1,620 companies, and its stock market capitalization and trading value posted 15th and 9th among the leading world stock exchanges as of the end of 2005. Moreover, the trading volume of the equity index options and equity index futures ranked 1st and 5th in the world in 2005, respectively. Since its inception in January 2005, the KRX has been endeavoring to become a leading capital market in Northeast Asia by improving the market efficiency, transparency and management accountability.
KRX IR EXPO 2005 MADE A STRONG SHOWING. KRX IR EXPO 2006, held in COEX last November 4-5, attracted nearly 25,000 local and foreign visitors.
Sixty-four listed companies presented their performance and future development strategies to 300 investors from the world at the specially arranged hotel VIP rooms and held 650 talks on investments with investors.
Korea's representative 128 listed companies set up their booths and displayed their best products/ services.
A total of 25,000 visitors who came to the expo site included foreign and domestic institutional investors, individual investors and the general public including housewives and students. The expo attracted 1,750 investment consulting meetings between domestic and foreign investors and companies.
The expo was divided into six different areas: Chemical/ Metal/Bio Pavilion; Convenient Living Space Pavilion; Auto/ Machinery Pavilion; IT Pavilion; Finance Pavilion; and Entertainment Pavilion.
Big-name corporations - POSCO, SK Telecom, Kia Motors, and Hyundai Motors - to name a few, showcased their latest product lines, and publicized their financial performance for the year.
The nation's premier financial institutes like Samsung Securities, Hanwha Securities, and Woori Investment and Securities were also present at their respective booths, with stacks of colorful handouts on their new financial products. nw
(Above photo) the tape-cutting ceremony of KRX IR EXPO 2005 and the exhibition.