KAMCO Aims to Be 'Global Value
Creator'via Asset Management

Expands its turf to overseas NPLs Resolution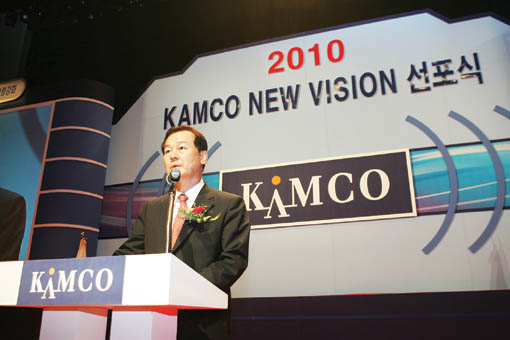 Korea Asset Management Corp. (KAMCO), marking its 44th anniversary this year, has been recently allowed to perform acquisition and resolution of overseas non-performing loans (NPLs). Last June, the state-run Korea NPL resolution agency also declared a new vision.
The domestic financial community is paying keen attention to the movement of KAMCO, which is expected to play a part in the government scheme of developing Korea as a financial hub of Northeast Asia and the development of the local financial industry. The company has gained recognition in Korea and abroad for having successfully performed such duties as the recovery of public funds by disposing of NPLs of banks the company acquired in the course of IMF's bailout, support for restoring individuals'credit standing and auctioning off assets entrusted by the government and public organizations.
CORPORATION SPECIALIZING IN NPL RESOLUTION. KAMCO has earned a reputation as an international NPL resolution agency in Korea and abroad as the corporation has successfully disposed of large amounts of NPLs it took over from banking institutions, contributing to turning around the economy in the wake of the Asian financial crisis.
The corporation raised 39.7 trillion won in public funds designed to facilitate the liquidity of troubled financial institutions following the 1997 financial crisis. NPLs the corporation acquired from financial institutions by capitalizing on the public funds amounted to as whopping as 110.9 trillion won.
KAMCO chairman and CEO Kim Woo-suk, placed management priority on the efficient retrieving of public funds since he took the helm at the corporation in 2005. Thanks to this effort, KAMCO registered a quite high public fund retrieval rate of 94 percent by disposing of 74.5 trillion won worth of NPLs and recovering 37.5 trillion won as of the end of July 2006.
The corporation employed such methods as international bidding and ABS issuance to resolve the NPLs in the domestic NPL market that is in an infant stage, two corporate restructuring vehicles (CRVs) in collaboration with foreign investment institutions and four corporate restructuring companies (CRCs) with loans from the ADB and investments from such foreign investors as Morgan Stanley to resuscitate the troubled companies.
KAMCO has also professionally performed restructuring of debt-ridden companies by helping them rearrange financial and business portfolios, participating in management to overhaul operations and normalize management via such methods as composition, court receivership and workout programs.
It has been credited with invigorating the corporate restructuring market through successful M&As of Hanbo Steel and Daewoo Heavy Industries and Machineries. Entering this year, KAMCO is working out strategies to dispose of 36.4 trillion won worth of NPLs owned by Daewoo affiliates, based on the characteristics of each company. The sale of Daewoo E&C to Kumho Asiana Group, the preferred bidder of the company, is to be completed within this year,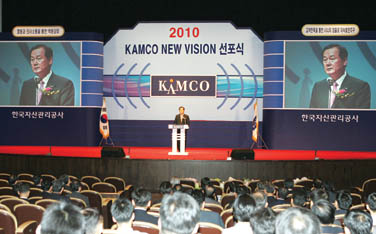 while that of Daewoo International is set to be materialized in consideration of such factors and an assessment of the feasibility of a gas field in Myanmar under development by the company in the second half of this year. KAMCO is to decide the timing of putting Dawoo Shipbuilding & Marine Engineering Co. on the block in such a way to optimize its corporate value.
GOOD JOB IN CONSUMER CREDIT RECOVERY. The corporation made a strong showing in supporting consumer credit delinquents of debts incurred in the course of overcoming the Asian financial crisis. KAMCO, which has rescheduled debts of consumer credit delinquents since 1998, acquired 7.8 trillion won worth of NPLs in 2003 from card issuers with its own funds when the domestic financial market was faced with a liquidity crisis due to a sharp surge in individual delinquents owed to financial institutions.
Based on its expertise, the corporation established a bad bank dubbed "Bad Bank Harmony Co."in 2004. Besides, KAMCO is operating another bad bank called "Hee-mang Moa"joint collection agency designed to deal with consumer credit delinquents with multiple financial institutions, while providing support for the recovery of credit for the beneficiaries of National Basic Livelihood Security(NBLS) program. The beneficiaries of KAMCO's credit recovery system include 174,000 debtors with multiple loans, or 9.7 percent of consumer credit delinquents, who recovered their credit through Bad Bank Harmony, 206,000 people or 15.5 percent of the total delinquents via Hee-mang Moa and 74,000 people or 47 percent of the total those of the NBLS roll. If unsecured loans acquired by the corporation are counted, a total of 700,000 individuals had their debts rescheduled by KAMCO as of the end of May 2006. The corporation's bad bank programs have relieved many delinquents suffering from multiple debts, demonstrating a new example of credit recovery.
EXPLORES THE 'BLUE OCEAN'OVERSEAS NPLS MARKET. Advancement of the domestic financial market to the levels of advanced countries has emerged as one of national tasks. Public demand has amounted that the corporation's expertise in disposing of NPLs be utilized on a continuous basis in consideration of national interests. KAMCO has already launched projects designed to conduct consulting services related to NPLs and training manpower at the request of foreign governments and NPL resolution agencies grappling with NPLs. The corporation has so far concluded MOUs with 14 NPL resolution agencies in nine countries, including China, Japan, Taiwan, Indonesia, Russia, Czech, and Turkey and has followed up with the developments of the overseas NPL market to establish a foundation for its investment into the market. The Act on KAMCO was revised in July last year to allow investments in overseas markets.
The corporation, which has amended the Act on KAMCO to establish a legal foundation for launching investments into the foreign NPL market, is adopting a strategy of preoccupying a niche market rather than competing with international investment banks and hedge fund juggernauts. It is in line with the government'goal of developing Korea into an international financing hub, advancing the domestic asset management market and enhancing a competitive edge of domestic financial institutions.
To this end, KAMCO, having designated China with high regional connectivity and market potential as its initial target market, is seeking to explore candidate assets for investments and establish joint funds with strategic partners and investors in Korea and abroad. Capitalizing on its overseas network, KAMCO is placing priority in exploring assets for investments on assets possessed by four Chinese national asset management corporations while examining investment risks, market value and exit strategy before finalizing the list of assets for investments. KAMCO and its strategic partners will serve as general partners for the establishment of funds with financial institutions in Korea and abroad participating as limited partners. The corporation plans to take precautionary measures against investment risks by establishing such diverse safety measures as the ceiling on investments and diversification of investments based on the soundness of investments.
KAMCO's entry into the foreign NPL market is expected not only to provide proper solutions to domestic financial institutions grappling with an overall decline in asset management profits, but also to serve as a breakwater for minimizing risks related to an entry into the foreign market and costs domestic financial institutions may experience due to a lack of information on the foreign market and network.
KAMCO CEO Kim said, "As a public organization, KAMCO will help domestic institutions enter the foreign restructuring market, while in some cases making joint investments with them with a goal of evolving them into independent investors. Domestic financial institutions'brisk investments to the foreign NPL market would enhance their capabilities in asset appreciation/management and risk managements, and the experiences successfully accumulated in investments into the foreign NPL market would lead to integration of domestic and foreign capital, thus contributing to achieving the financial hub project.
LEAP INTO A GLOBAL ASSET MANAGEMENT AND VALUE CREATOR. Last June, KAMCO declared a new vision of evolving into a global asset management corporation that creates value. In this regard, the corporation unveiled four business strategies it will pursue by 2010 - improving performance productivity to raise business service levels; developing models for stabilizing profits and improving balance sheets; expanding business arenas and exploring new businesses for securing mid- and long-term growth engines; and securing core capabilities for improving competitiveness of business performance. It aims to chalk up 1 trillion won in sales, including 900 billion won in the NPL business, 100 billion won in the government-commissioned business.
The new vision plan was based on KAMCO CEO Kim's determination to make the corporation self-sufficient through improved profit base. The corporation plans to make the utmost efforts to ensure customer satisfaction by creating value in public services like managing state-owned assets and disposing of tax-delinquent properties, while seeking to pursue public interests and profitability, as it played a pivotal role in turning around the economy in the face of the Asian financial crisis. KAMCO is throwing its heart into expanding profit base by capitalizing on its own experiences to enter the foreign NPL market and reestablishing itself as a global asset management corporation conducive to building up a financial hub and advancing the domestic financial market. nw
KAMCO chairman and CEO Kim Woo-suk

KAMCO Chairman and CEO Kim Woo-suk declares KAMCO's new vision.