A Robust Growth

Korean DPM predicts 5 pct growth; leads a delegation to IMF/WB annual meeting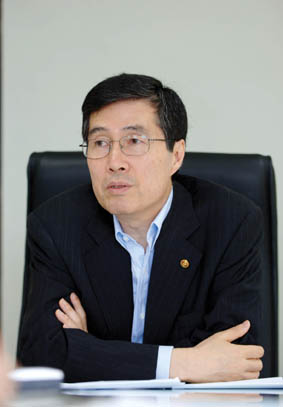 Deputy Prime Minister and Finance and Economy Minister Kwon O-kyu is to lead the Korean delegation to the annual meeting of the International Monetary Fund and the World Bank scheduled to be held in Singapore from September 17-20 as chief delegate. The Korean delegation would include heads of state-owned banks and commercial banks as usual. The deputy Prime Minister Kwon said he will lead the delegation in the effort to increase Korea's IMF quota befitting its economic scale by winning support from IMF member countries.
During his keynote speech at the annual meeting, DPM Kwon said Asia's economic role and its weight should be raised, along with an emphasis on the importance of IMF's governance structural reform, reflecting the emergence of new growing market countries. He thanked the IMF for increasing the quota for Korea and pledged Korea's support for the second reform task at IMF, calling for leading role of IMF/WB for stable world economy.
The finance minister said the Korean economy has bottomed out early last year and its recovery accelerated beginning in the second half of last year. It has been growing in tandem with its potential, maintaining a modest recovery trend.
He said he is fully aware of the recent economic performance and indicators. July's industrial activity trend was not exactly what they wanted to see. He has intimated himself with a number of economic reports and forecasts by private instate claiming that the Korean economy has already peaked.
He said he is fully aware of economic performance and indicators. July's industrial activity trend released a few days ago was not exactly what they wished to see. They have intimated themselves with a number of economic reports and forecasts by private institutes claiming that the Korean economy has already peaked.
However, it may be too hasty to preclude that the Korean economy is losing steam. He said he believes that the July numbers were affected mostly by one-time disruptive elements such as auto workers' labor strikes and flood damages during the period.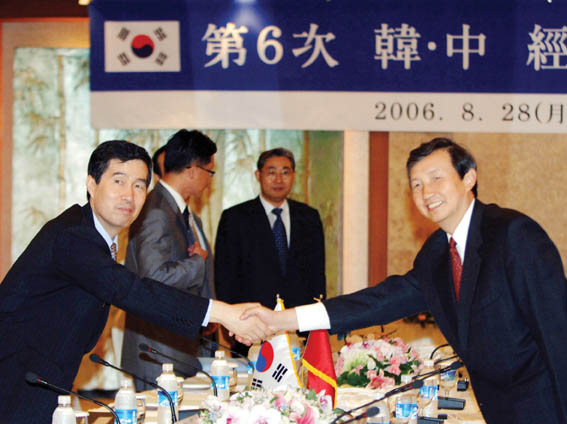 In fact, there are early signs that things were getting better in August. Early indicators such as exports and department store sales have been robust since July, rebounding to the level of June.
Based on this, it would not be too groundless to say that real indicators would not have deviated much from the pre-July trend.
Construction investment in the public sector was the main dampening factor to GDP growth in the first half. But when it is facilitated in the second half, the economy is expected to remain on stable track.
Also, after the financial crisis, the span of economic cycles has shortened substantially. So, it may not be as meaningful or relevant as before the crisis to talk about the economic peak today.
Growth may be adjusted little by little, but a sudden drop in the economy is highly unlikely.
For your information, the macroeconomic review meeting held on August 10th has also confirmed this view. The meeting was attended by major economic institutes from the private sector.
He said the Korean government has monitored the economy with an open mind. They will keep this tradition alive and strong. While doing so, they will make sure the economy grow in a stable manner along the growth potential line without excessive expansion or a sudden drop.
To this end, they will maintain the present macroeconomic stance. At the same time, we will fine-tune our policies to compensate sluggishness in certain areas such as construction investment. How do they go about it This is what they have in mind.
They will implement the SOC projects slated for the second half and minimize budget carry-over and disuse.
Typhoons and heavy rainfalls this summer have left scars and flood damages. Their rehabilitation work this time will go beyond simple recovery.
They will focus on improving from the original condition before the damage and rehabilitating permanently. For this purpose, additional budget of 2.2 trillion won will be allocated for prompt implementation.
In this process, they will come up with plans particularly to ensure smooth execution of public projects and procurements and boost up local construction businesses facing difficulties.
They will make institutional improvements to promote more participation of local small and medium construction companies.
If these policies are implemented as planned, he expects the Korean economy to grow 5 percent this year and 4 percent next year.
Although high oil prices fluctuating around $67 US dollars per barrel in Dubai terms are adding instability and causing concern, its impact on growth is expected not to be major.
Even if the oil price hits the pessimistic forecast of $75 US dollars per barrel this year, its impact on the annual growth is projected to be limited, lowering growth by a mere 0.1 percentage point for the year.
From a mid to long term view, the DPM said he believes that expansion of growth potential and sustenance of growth momentum are the two highest priorities. What should precede them is sufficient job creation by encouraging more investment by business and opening by such as the Korea-US (KORUS) FTA.
As he has emphasized from the very first day in office, they will do their best to substantially improve the business environment to support and boost entrepreneurship. This also is one of the policy tasks of the Participatory Government.
"Our basic policy framework is aimed at creating an advanced business environment in line with the change in industrial structure and the technological development stage,"Kwon said.
Within this framework, they have already launched a pan-governmental task force encompassing a diversity of areas, including land, finance, human capital, environment and administration, and develop improvement measures for each of these areas. They expect the first progress report to be available by the end of September.
Currently, the company types recognized in Korea are confined to four. They are unlimited partnership, limited, private limited and stock companies.
However, it is their view that more diversified forms of companies should be allowed to better cope with the changing global business environment.
Other company types, already in operation in advanced countries, such as limited partnership and limited liability company, should be given due consideration.
On the business operation side, they will remove barriers to the development of financial markets and technology. As part of this effort, they are pressing ahead with the enactment of 'Financial Investment Services and Capital Market Act,' soon to be billed.
The equity investment limit system will also be re-visited for improvements. By allowing exceptions to the system and encouraging investments, unintended side effects of the system will be curtailed.
Constant upgrading of corporate governance is also an important task to deal with. Corporate checks and balances in and outside will be strengthened, along with corporate transparency.
It is his firm conviction that they must not miss out the opportunity to ride on the irreversible wave of opening and globalization while upgrading the competitiveness of our entire economic system.
To this end, they will make the best use of opening measures, including the KORUS FTA, as much as possible, while inducing reform and innovation of the internal systems.
Such policy need is even stronger in light of the rapid population aging and low fertility trend in Korea.
Added to it, the government will base the Vision 2030 announced on August 30th in building a broad-based national consensus. They will formulate a forward-looking long-term national development strategy thereon.
The year 2020 will mark a milestone in contemplating a new paradigm for the Korean economy. Around 2020, Korea's population is projected to start reducing and a substantial number of the first baby-boomer generation will have retired by then. This will inevitably dwindle the national savings rate.
Against this backdrop, the Vision 2030 is a policy exercise of designing a new paradigm of the Korean economy looking 10 years ahead after 2020, by identifying and mapping out institutional reform tasks in advance.
The Vision 2030 is also a shared growth strategy balancing growth and welfare. It is their target to reach, in 15 years' time horizon, the welfare level of some OECD peers, particularly USA and Japan, who are ranked a few notches higher than Korea in public social expenditure as percentage of GDP.
He believes this is a very reasonable measure to upgrade their welfare on par with advanced countries, while keeping our growth potential intact. nw

Deputy Prime Minister and Finance-Economy Minister Kwon O-kyu
DPM Kwon shakes hands with his Chinese counterpart at the 6th Korea-China Economic Meeting on Aug. 28 in Seoul.