A Star-studded Evening

The glamorous event picks best actor Hwang Jong-min,
best actress Lee Young-ae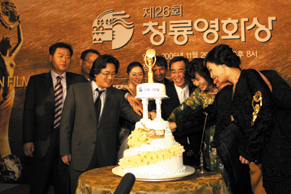 Award winners in joyful tears amid thunderous applauds on colorful stage and losers in smiles not to show disappointment, woos and ahs echoing the mammoth KBS Hall in Yeouido, Seoul, marked the 26th Blue Dragon Film Awards evening Nov.29.
Daesang Corp. was one of the sponsors of the most prestigious event in the film industry as the food condiment maker has done every year since the event? initial one 26 years ago.
"A Kind Miss Kumja,"won the most number of awards in the evening including best film, and best actress. Director Park Chan-wook said he would like to send his love to the crew, actors, and producers, most of all to fans for the honor. Actress Lee Young-ae, in tears of joy as she accepted the award on stage, said she would like to receive love from every one at this moment of glory both those who liked the movie and even those who didn? like it.
Actor Hwang Jong-min won best actor award at the glamorous annual event for his role in "You Are My Destiny,"who cried out on stage receiving a trophy that he was thankful beyond his expectations. He was particularly glad for the opportunity to co-star with Do-yon in the film, whom he respect so much. "It was like a miracle that I shared the acting in the film with you,"he said.
Director Park Jin-pyo, who directed film, "You Are My Destiny"and won best director award, said he was so happy for the award and the fact that the film brought another award for an actor, Hwang Jong-min who clinched best actor award
.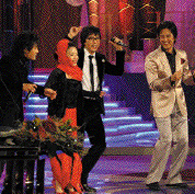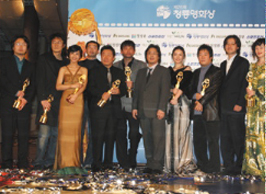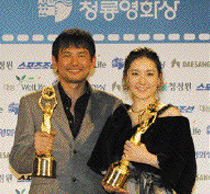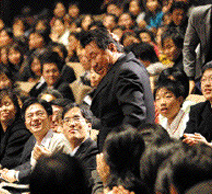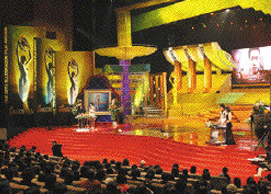 The awards for best new actor and actress went to Chon Jong-min and Kim Ji-soo. Best supporting actor award went to Lim Ha-ryong from "Welcome to Tongmak-gol,"and best supporting actress award was presented to actress Kang Hae-jong from "Welcome to Tongmak-gol."The new director award was won by Chung Yun-chol for his film, "marathon."The cinematography award was given to Kim Ji-yong from "A Sweet Life."Music award to Kim Jun-song for Marathon; Artistic award to Lee Hyung-joo and Cho Keun-hyun; Technique award to Shin Jae-ho; Script award to Ko Yun-hee and Han Jae-rim for the Objective of Romance; Lighting award to Shin Kyung-min for the Detective; Popularity award to Kang Dong-won, Ha Ji-won, Cho Seung-woo, and Cho Su-mi.
Best actor award winner Hwang, perhaps, having best years of his life because he has been chosen as a model for Anycall, a mobile phone marketed by Samsung Electronics, in its ads. He was selected along with actors Kwon Sang-woo, actress Lee Hyo-ri and Eric to appear in a blockbuster ad, "Any Style."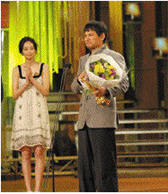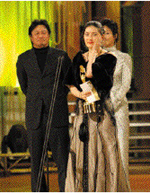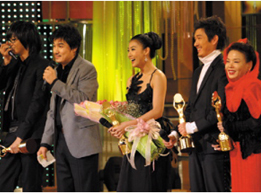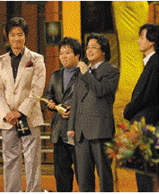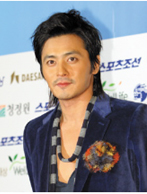 It was the first ad model for Hwang and the electronics giant chose him after screening his films, "A Week the Most Beautiful One in My Life,"and "You are My Destiny."Hwang would be in the center of Samsung's marketing schemes from now on. In the ad, Hwang would play the role of a detective who is looking for a diamond ring lost during the engagement ceremony; the detective has to find it among three suspects, namely, Lee Hyo-ri, Kwon Sang-woo and Eric. The ad to be aired from Dec. 3 woul a special pay off to Hwang for his winning the Blue Dragon film award. Hwang had been active in films, merging as the most promising actor on Chungnu-ro, a film district in downtown Seoul, where many movie companies are located, his winning the film award instantly made him a big star. His short speech after winning the award on stage has been put into the Internet, making him the top name in various portal sites. He impressed a lot of people with his speech that, "he was sorry that only actors got a spotlight, although what he has to do is to eat heartily at a meal table prepared by some 60 film crews."He stole the show with his role in the award winning film as a timid young man who only loves only one woman, getting tears from some 3 million viewers who watched the movie.
Best supporting actor Lim Ha-ryong told a local daily that he would like to use his prize money of 3 million won to help poor people. He said he wasn't even aware that the award included a cash prize when he accepted the award on stage. He said his got a big recognition as an actor in addition to his role as a comedian. He would like to the money to help the poor neighbors; he will donate the money to the Chosun Ilbo, a local daily, so that the paper could handout the money to good causes as soon as he returns to Seoul after finish shooting a film, "A Barefoot Kibong"in Namhae, South Gyeongsang Province.
The paper will donate the money to "Hope 2006 Love Neighbors Fund to give courage and hope to the poor.
The comedian turned actor won the Baeksang Arts Grand Prize Comedy award and the KBS Comedy Award in 1986 and 1991, the recognition as a top comedian for him. He showed an interest in movies all the time and he starred in a movie for children, ?eturned Soured Corn Cob?in 1992 and in 1998, he appeared in a film as an extra to launch his film acting career.
It must have been a tough experience for him to launch a film career at his old age from the bottom, especially as a top comedian. But he patiently took his time appearing in insignificant roles and his patience finally paid off for him as he won the best supporting actor award after seven long years of film acting, winning a tremendous applause from his friends and most importantly his fans. nw

Winners of Blue Dragon Film Awards cut the cake to congratulate their awards.