Awards for Top Managers

IMI Management Grand Awards go to 8 CEOs in recognition of their achievements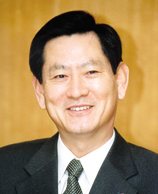 The International Management Institute since its establishment in 1979 has been devoted to be the educational organization for CEOs. The institute set up the award to be presented to top corporate managers who have fulfilled their social responsibilities and reaped excellent management results through their outstanding management capabilities with the ultimate aim of establishing a respectable manager image and setting the standard for managers in a future-oriented era and competitive environment in the 21st century.
The award is being supported by the Ministry of Commerce, Industry and Energy, the Hankook Kyungje Newspaper, and the Federation of Korean Industries.
The award is presented to top managers in the following categories: *Global Competition; one award each to large and small companies for, through globalization of business, securing competitive edge for organizations and products; *Knowledge Management; one award each to large and small firms for mastering excellent results through the construction of knowledge-based management system to cope with the age of knowledge and information; *Technology Innovation; an award each to large and small companies for securing global competitive technologies with daring investments in R&D and continuous investment in future industries; *Social Contribution; an award each to large and small companies for upgrading corporate social image through diversified and positive social contribution activities.
Awardee Selection Criteria:
The IMI awards are presented annually to top mangers in recognition of their future-oriented management policies to create corporate cultures to cope with the rapidly changing corporate environment in the 21st century;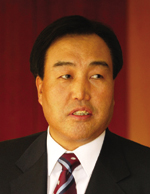 The awardees would have to have a wisdom to size up the future of their business firms, and equipped with the direct observation capability, judgment power, creative and challenging entrepreneurial spirit and leadership; The awardees are to be presented to top managers who do their best to search for new growth engines, and new technologies to secure competitive edge in the era of limitless competition; The award is also provided to managers who are passionate about manpower training so that they could have competitive edge in society for information and globalization; The awardees have to be respected socially due to their social contribution, stable labor-management relations, ethical, and transparent management.
Kang Shin-ho, chairman of the Federation of Korean Industries, and the IMI, said in his opening speech of the award ceremony, that the roles of entrepreneurs and business firms have become ever more important with national competitive strength being translated into entrepreneurial competitive power.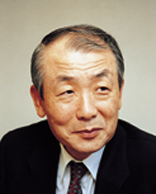 The IMI Management Grand Award has been established to create a true corporate leaders' image by presenting awards to those top managers with excellent records in such areas as contribution to the development of national economy, and social contribution. For our economy to grow to be an advanced economy overcoming various difficulties, an environment conducive to doing business has to be created. To bring that about, the value of business firms would have to be recognized as they are and an environment should be made in which businessmen would be respected to boost their desire to do business.
The award winners this year are good examples of business leaders, who practiced ethical management, and with outstanding leadership led their companies to have sound growths. To present awards to those top managers not only is my honor, but also a pride to our business community.
Award Winners:
Global Competitive Strength Sector:
President Roh Ki-ho of the LG Chemical Co.
President Roh is regarded as a strong competitor with the power to work towards a target or goal. He always tells his officers and staff that they have to have the power for practice; Every one of them should know how to go about making a treasure out of precious stones by threading them one by one on a string. He played a major role in developing floor materials such as monoleum and luck-strong, and others, which have become popular brands. With these achievements as a base, he solidified his image as a traditional "chemical man"by leading a number of the LG Group chemical sector as CEOs.
He is busy these days creating future values of the chemical company by entering new areas like the electronic information material, a new future business area for the company, the exploration of markets for the company's high-function industrial material, and the development of high-value added petrochemical products. He has done his share in strengthening the global competitive power of the domestic material industry in the areas of second battery, and other future high-tech technology development.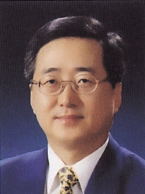 He has achieved outstanding results in the global business arena, too, so much so that he is called a missionary in global management. In 1997, he built a foothold for his firm's China operation as head of the company's China regional headquarters. In 1999, he led with success the joint venture deal with Dow Chemical of the United States.
President Roh also has been trying to globalize the company's competitive business sectors. More than 50 percent of the company? business is expected to come from overseas with the company? operation in China having a great success and high-caliber industrial material being exported to such major markets as North America and Europe. The company's products including PVC and ABS maintain the largest shares of their markets in China.
The Technology Innovation Sector:
President Lee Ki-tae of the Samsung Electronics Information and Communication Division.
President Lee was called the "Unplugged Guru"by News Week magazine for his challenging spirit and creativity in finding a new market for mobile communication equipment. He learned early that the company had to invest in its technology development effort to explore new markets for its products, which he did by focusing the investment in its premium product lines. The policy paid off in boosting the brand value of its mobile phones in the world. He called for the quality management through technology innovation to progress towards becoming "World First"and "World Best"for his company products and completed the development of such well-known world products as Watch Phone, which was put into the Guinness Book. TV phones, MP3 phones, DMB phones and other convergence products. Mobile phones made by Samsung ranked third in the world in terms of world market share and second in terms of sales and the first in terms of profit. Lee led the information and communication division to make Samsung products to rank the 20th and $14.9 billion in brand value in the world.
President Lee believes that management should work to have harmony among all units of the company for a common goal as an integrated art and he has been known for reading changes in market conditions correctly and issues the direction for the company? operation. He makes decisions swiftly and pushes them with determination and unshakable faith in the projects. He rejects the notion for sailing with the wind, saying that wind must be created, showing his firm intention to manage the company whatever difficulties it might face. He is determined to maintain technology leadership by his company in the world and in order to do that he has been investing from 8 to 10 percent of the company's total annual turnovers in R&D and 40 percent of the company's manpower is made of core technology experts.
He is engaged in the development of 4th generation mobile phones, along with WiBro and HSDPA new paradigm systems and terminals. The company test operated its mobile Internet WiBro for the participants in the APEC Summit 2005 in Busan in November, showing that Korea is a strong IT country.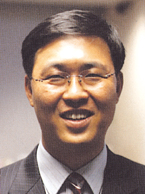 The Social Contribution Sector:
Vice Chairman Cho Jong-nam of SK Telecom.
Vice Chairman Cho is known as a top manager who realizes in the most effective manner the management ideal suggested by the company's management control system SKMS/SUPEX that the company will work for eternal existence and the development to create value for its customers and shareholders and to contribute to social economic development and the happiness of human kind.
In 2004, the vice chairman declared new value management, the company's reform strategy and change, and has been pushing three major objectives including strengthening its core business areas, the expansion of overseas market and exploring new business lines. In order to achieve those goals, he has been leading the company to expand its wireless Internet business, a new growth engine for the company, next-generation network, convergence service and ubiquitous business development. He has been known to have built a base for the company to be a global leader in the information-communication industry by clinching the license for the operation of satellite DMB/WiBro, the license to produce CDMA terminals in China, and the right to operate a mobile phone service in the United States.
Cho, who is an engineering major, played a key role in upgrading SK Telecom's technology level to a world level class. He managed the company to be the first to commercialize the operation of the 2.5 generation CDMA 2000 1x and pushed up a notch the 3rd generation IMT 2000 commercial operation. He has also been playing a creative management role by exploring new lifestyle mobile including digital home, DMB and M-Finance. He has also been tightening the operation by introducing an all-time auditing system and the internal control system to enhance the company's ethical management.
The Global Competitive Strength Sector for Small Companies:
Chung Chung-shi, chairman of the Omya Korea Co.
Chairman Chung is known for his sense for international business, technology know-how, and managerial expertise and since being appointed head of Omya Co. Switzerland Korea operation, the largest producer of carbon acid in the world, he led the company's Korea operation to grow to become one of the most successful foreign companies in the country. The Swiss company has been supplying the high-quality carbon acid to the paper-making and chemical industries for import substitution and upgrading the quality of its product.
Chung also has been given credit for expanding overseas markets for his company including Japan, China and Vietnam and in 2004, exports recorded over $10 million. He also set up production units in China and Vietnam, making Omya a global operator. He also is the CEO for Omya's East Asia operations. He strove for management reform to upgrade the quality of company products and productivity to make his company one of the most competitive foreign companies in the country. He recently launched "jump 705"a campaign to make his company one of the top five carbon acid producers in the world by 2007 and the campaign includes quality, environment, and global management as targets.
The Social Contribution Sector for Small Business Companies:
Choi Whi-young, president of the NHN Co.
President Choi is known as a top manager with challenging spirit who became a venture businessman from being a journalist. He worked hard as a department head of the NHN's naver portal search site and made it profitable, although it was a money loser and people said it will never be a profitable business. He was known to have opened up a new territory in the Internet search area. Naver ranked third among Internet portal sites, but has become a leading operator under Choi's management.
President Choi stressed the public nature of portal sites with a philosophy that the rich and poor should not have differences in their knowledge and society should not allow it At the same time, however, Choi pursued profit for the company, displaying the balanced nature of his ideals. As a result of his managerial effort, Naver's first half profit amounted to 55.2 billion won on sales of 153.9 billion won this year. His management target that "he will make the company creative, not copying others"has won confidence from customers and investors. The nature of portal site business always demands constant change, creativity, and innovation.
He also has been very passionate about expanding the company's operation abroad. In the case of NHN Japan, the membership already has exceeded 10 million, becoming the largest portal site in Japan, and in China, the company already saw its subscribers grow to over 140 million in less than a year's operation.
The company has been very busy with its social service projects in line with Choi's view that portal sites are public in nature. The portal site donated 500 million won when it opened "Happy Bin"donation site and promised to donate 10 billion won during the next five years. nw