A New Wonder Chip
KETI unveils new nano image sensor chip helping
cameras take clear photos in dark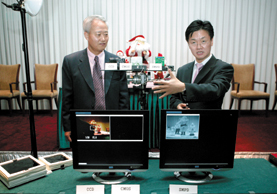 The Korea Electronics Technology Institute(KETI) unveiled a nano image sensor chip for the first time in the world on Nov. 10 at a meeting held at COEX in Seoul attended by Minister of Commerce, Industry and Energy Lee Hee-beom and some 100 journalists. KETI officials said the nano chip enables cameras take high-quality photos in dark places such as inside tunnels and theaters without the help of flash lights.
The new chip will make Korea a leading country in the world market for image sensor and its related equipment estimated at 250 trillion won as it will be required by major industries for such products as digital electronics, medicine, military, automobile and other commercial equipment, the officials said. They said 1 billion won in prize money will be paid to those responsible for the development of the product.
The highly sensitive nano image sensors is a next-generation technology that helps cameras take clear pictures a meter away from a candle light under 1 lux brightness.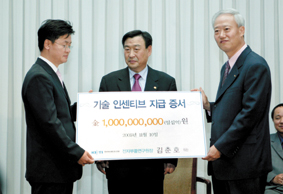 It is only half the size of CMOS image sensor chips used in mobile phones and camera modules and CCD image sensors used in digital camera, and CCTV and its sensitivity is 500 times greater. It is also much cheaper than those chips to produce; only 1/100th of the existing chips.
The new chip is expected to bring a great change in the existing chip market as it can be produced with the existing chip making equipment from next year the KETI officials said. The product will have a wide market as it is needed in mobile equipment, camcorders, notebook computers, PDA, PC cameras and digital electronic equipment. It will also be used in military, medicine, automobile and industrial equipment, in addition to environmental industry, requiring high-sensitive technology. It is also expected to upgrade the technologies of other related industries.
In the area of digital equipment, it will be needed in mobile equipment, DSC, camcorders, PC camera, PDA, and notebook computers.

The military will use it in missiles, night battle equipment, unmanned airplanes, and others. Hospitals will need it for diagnostic equipment, cancer cell diagnostic equipment, endoscope and others. The auto industry will require them for its cars, and sensors on other equipment. The chip will be used in robots and production equipment. It will also be used in fire and other warning equipment, CCTV and buried sonar.
The value of the market for image sensors will be around 47 billion and the market for applied image sensor equipment will be around $240.6 billion. The image sensor market is projected to grow 11.2 percent a year in the next three years and reach $9.4 billion in 2008 and that for applied equipment is projected to grow 19.1 percent a year in the same period and will amount to $368.5 billion in 2008.
The new chip will make Korea a leading nation for its world market and import substitute effect will alone amount to 2 trillion won a year. At the present time, Japan supplies 90 percent of the image sensor chips. By 2008, when the chip is widely used in various equipment and make Korea very competitive, its market share would reach 10 percent, earning $37 billion a year and become a leading foreign exchange earner for the country.
For the development of the new chip, the Ministries of Commerce, Industry and Energy and Information and Communication invested a total of 11 billion won in four years with 12 expert lab technicians assigned for the job. They were presented with an award certificate of check for 2.3 billion won as a reward for their joint effort.
The announcement ceremony at COEX started with a speech by the KETI President, followed by a congratulatory speech by MOCIE Minster Lee Hee-beom. A test was staged to show how the nano image sensor chip works. nw

A: KETI officials explain the new nano sensor chip. B: KETI officials hold a check for 1 billion won given to KETI by MOCIE Minister Lee Hee-beom for developing the new wonder chip. C: The new nano sensor chip.