Brand-New Santa Fe
Plans to make the SUV a global trendsetter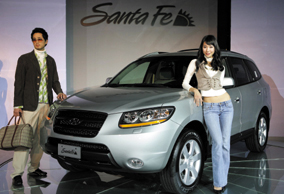 Hyundai Motor Co. has unveiled the brand-new Santa Fe the carmaker hopes to serve as a trendsetter as a stylish and premium-class sports utility vehicle in the global market.
The Korean automaker aims to cultivate the new Santa Fe as a major export car with the goal of selling a total of 210,000 units per year ¡ª 60,000 units in Korea and 150,000 units abroad.
About 1,000 people participated in a ceremony celebrating the release of the new Santa Fe at the Seoul Hyatt Hotel on November 22. Hyundai Automotive Group Chairman Chung Mong-koo, Deputy Prime Minister- Minister of Finance and Economy Han Duck-soo, Vice National Assembly Speaker Kim Duck-kyu, Minister of Construction and Transportation Choo Byung-jik were present at the event.


The new Santa Fe will hit the local market on November 23 will be made by Hyundai Motor's Alabama plant in the first half of next year and enter the American market.
Hyundai Motor developed the brand-new Santa Fe with 162.3 billion won in R&D outlay and 26-month development period under the concept "Global Trendsetting, Premium, Stylish SUV." The all-new Santa Fe, fitted with a 100 percent newly developed engine and transmission, having world-class quality, function, style and safety standards, Hyundai Motor officials said.
With over 1.1 million units sold worldwide, the Santa Fe has been a bestselling SUV in Korea since 2001.
The two-wheel drive Santa Fe, which comes in three trims, is priced between 22.2 and 29.3 million won while the four-wheel drive is sold for between 24 million won and 31.16 million won. nw

Models pose before the newly released Santa Fe. (left) Hyundai Automotive Group Chairman Chung Mong-koo is seen at the launching ceremony.