Hyundai Motor Intent on
World Cup Marketing Blitz
Sponsors an invitational observation tour to China for college students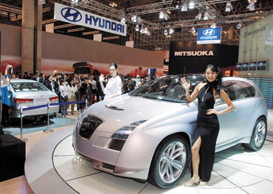 Hyundai Motor Co. is launching its marketing blitz as one of 2006 FIFA World Cup Official Partners.
The Korean auto manufacturer is offering a lottery in time for the Final Draw for the 2006 FIFA World Cup Company scheduled for December 9 in Germany. The Final Drawing, to be televised live worldwide, will see the 32 teams separated into eight groups of four for the World Cup finals.
Applicants who give the correct answer to one or more countries which will be in the same group as Korea will be drawn and presented with prizes. People are required to pick three countries among the 32 countries during the period between October 23 and December 9.
As part of its global marketing activities, Hyundai Motor will sponsor an invitational observation tour to China for 50 Korean college students aimed at promoting cultural exchanges between Korean and Chinese students. Selected delegates will visit Hyundai Motor? Beijing auto assembly line and cultural and industrial districts of Beijing and Shanghai.
The fourth "Be Global Friends with Hyundai"Program will be offered during the period between February 13 and February 18, 2006. Two-year college and four-year university students are eligible to apply. Applications can be accepted during the period between December 12 and December 30.

NEOS 3 crossover utility vehicle

Hyundai Motor Co. unveiled the NEOS 3 crossover utility vehicle on October 19 at the 2005 Tokyo Motor Show and launched sales of the new luxury Grandeur sedan in the Japanese market.
"It is for models like the NEOS 3 and new Grandeur that are causing people to take a second, closer look at Hyundai and helping to create a positive image of our brand,"said Kim Jae-il, COO and senior executive vice president of international operations.
The CUV is the third in a signature series of futuristic concept cars to be styled at the company's Chiba Design Center. NEOS 3 offers the utility of a 4WD but thanks to its unibody construction and opulent appointments it retains the feel of a luxury sedan.
Outside, the sleek aerodynamic styling looks as impressive as it performs. Adding an innovative touch are the spindle-shaped character lines that run the length of the car. Door integrated side mirrors are auto-dipping in reverse gear and help improve downward visibility and reduce accident risk. Neos'rear aerodynamic design minimizes the drag coefficient while keeping the bodywork simple and clean.
The front grille and headlights incorporate advanced features for safer driving. These include pre-crash sensors and proximity control using Extended High Frequency radar. Forward cameras provide extended visibility to left and right. Headlight-integrated technologies include infra-red night vision system plus adaptive front-lighting which automatically direct the headlight beam in the steering direction.
Inside, the large display is packed with information technologies, while control switches are clustered in the center console.
Under the hood is a newly developed newly developed 4.6-liter 32-valve V8 engine which is mated to an electronically controlled 5-speed automatic gearbox.
Neos'interior features a three zone design. The front seats are the excitement zone for pure driving enjoyment. The second-row seats are the comfort zone for enjoying travel as if being transported in a private jet. And the third-row seats are the versatile zone that accommodates both people and luggage.
Adding a new dimension to the man-machine interface is a Heads-Up Display and a trackball which offers centralized control of the climate regulation, navigation and entertainment systems. Readouts including night vision and rear camera images are displayed on a large 11-inch wide LCD screen in the center stack. Critical vehicle functions are tracked by a multimeter module which keeps driver constantly informed about vehicle status and driving conditions.
All-New Grandeur

The all-new Grandeur which is making its Japanese market debut will help redefine the Hyundai brand.
Grandeur's all-new 3.3 V6 Lambda engine, its supportive seats, uncompromising safety features and well planned ergonomics all play a vital role in satisfying the needs and wants of the discerning customer.
When it comes to comfort and convenience, Grandeur leaves little to be desired. Dual Zone Full Automatic Climate Control, in-dash CD changer with JBL speakers, electric power steering, power adjustable tilt & telescopic steering column and adjustable pedals are just some of the many features that come as standard equipment.
Grandeur achieves the highest levels of dynamic performance and safety. It? a sedan which perfectly reflects Hyundai? ambitions to lead the industry in quality. In short, it is a proud addition to the Hyundai lineup and an ideal expression refinement and confidence, the two emotional qualities our Hyundai brand aspires to achieve. nw

Hyundai Motor Co. releases the NEOS 3 crossover utility vehicle on October 19 at the 2005 Tokyo Motor Show.