WiBro, Likely to Repeat
Korea's CDMA
Commercialization Myth
WiBro has attracted attention from APEC leaders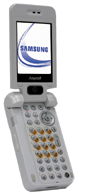 Korea's latest IT technology wizardry devices ¡ª WiBro and DMB ¡ª have attracted the limelight from 20 heads of state and prominent business leaders participating in the just-ended APEC 2005 Korea in Busan.
They have gotten a glimpse into the advanced gadgets surfing the Internet via Korea Telecom wireless broadband (WiBro) personal digital assistants and watching television via SK Telecom digital multimedia broadcasting (DMB) mobile phones while on the move. The visitors were given an opportunity to sample the technologies on free trials during the Asia-Pacific Economic Cooperation forum that wrapped up its annual summit meetings on November 11.
Lee Ki-tae, president of Samsung Electronics' telecommunication network, did not miss the gold opportunity to publicize WiBro, or wireless broadband internet service on the sidelines of the APEC 2005. He held a press conference in the Westin Chosun Hotel in Haeundae, Busan in the morning of December 17 to show off prowess in the latest technology, developed jointly with Samsung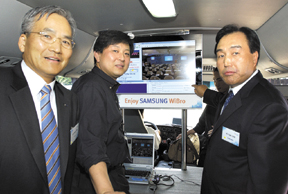 Electronics, Electronics and Telecommunications Research Institute (ETRI), a nonprofit state-funded research organization in Korea and others for the first time in the world.
Lee declared, "Our technology has just begun to usher in the Second Internet Revolution."Globalization of homegrown WiBro technology will repeat Korea's success story as a global IT powerhouses, he said.
Explaining the strategies of globalizing WiBro Broadband, Samsung President Lee said if WiBro is selected as a global standard next month, it would mean the launch of the "Second Internet Revolution"originating from Korea. Suh Ki-yong, general manger in charge of public relations at Samsung Electronics said later chances are high that WiBro will become the global standard of the WiMax Forum, to be convened in the United States in December. The Wibro technology will be commercialized in the first half of next year as planned, and global use of the technology would be a feat, equivalent of the achievement of the commercializing of CDMA chip, developed by Qualcomm of the United States. KT, Korea's giant fixed line and broadband carrier, is to inaugurate WiBro services from next February or March.
Samsung Electronics predicts that the worldwide use of the WiBro technology could create a market surpassing that of liquid crystal display (LCD).
Samsung Electronics demonstrated Wibro Hand-over technology at the 3rd Samsung 4G Forum held in Jeju in August last year for the first time in the world. Hand-over technology is essential to the true mobile connectivity of the WiBro service. The technology allows devices to be connected seamlessly to internet servers or other networked devices while commuting or moving.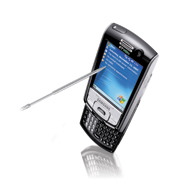 This is a significant breakthrough given that the hand-over technology is one of the most difficult and critical technologies to develop and commercialize.
The Korean electronic giant has gained a momentum in its efforts to explore the overseas market as the company inked a deal with Sprint Nextel Corporation to supply equipment for a WiBro trial in September last year. Samsung and Sprint Nextel reached agreement to conduct joint wireless broadband technology test of the IEEE 802.16e standard and push the development of advanced wireless broadband services.
Four more foreign companies ¡ª KDDI of Japan, BT of the United Kingdom, TVA of Brazil and Telecom Italia ¡ª have joined forces in Samsung? efforts. Samsung Electronics and TVA Sistema de Televisao S.A, an innovative telecom service provider of Abril Group in Brazil signed a partnership to implement WiMAX platform in Brazil. The agreement, signed on November 8, makes TVA the first operator able to offer Mobile WiMAX service in Latin America, reaffirming the company's history as a trendsetter and high-technology services provider. In its latest move, Samsung Electronics inked a strategic alliance with Telecom Italia on the supply of Wibro system and terminals on November 18. The agreement was reached by the two company on the sidelines of the APEC 2005 Korea in Busan.
Samsung demonstrated WiBro (Wireless Broadband; Korean brand name of Mobile WiMAX) mobile phones and systems at the 2005 APEC IT Exhibition during the APEC. Various applications such as broadcasting, home networking, video telephony, VOD, and navigations were presented at the exhibition with Samsung's latest WiBro (Mobile WiMAX) handsets.
Samsung said it will continue to demonstrate its leadership in the telecommunication industry with the unveiling of two world? first WiBro phones at the exhibition. As WiBro gets prepared to be fully implemented and utilized in the market next year, Samsung displayed both the mobile phone-typed H1000 and the PDA-typed M8000.
The H1000 is a clamshell designed phone that can be opened both horizontally and vertically with a QWERTY key pad. It has 2.2 inch LCD screen to enhance email and internet capabilities. The H1000 also has dual cameras (2 mega pixel and VGA level) and TV Output function. The M8000 is a smart phone equipped with a QWERTY key pad for easy email usage. Additionally, Samsung will feature a WiBro PCMCIA card that can be used in laptops and Tablet PCs.
Samsung presented live demonstrations of WiBro service in a special vehicle for participating APEC and IT industry leaders with Korea Telecom (KT), Korea? largest telecommunications operator. Samsung supplied and installed WiBro systems including 12 RAS? (Radio Access Station) at 9 main spots in Busan and devices for KT? WiBro demonstrations. nw
Lee Ki-tae, president of Samsung Electronics?telecommunication network tests-operates WiBro Hand-over technology last July as Lim Chu-hwan, president of Electronics and Telecommunication Institute looks on.