KOSEP Turns to Futuristic
Energy Development
Undertakes a hydrogen fuel cell pilot project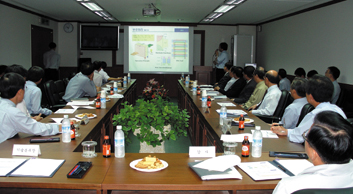 Korea South-East Power Co. is working on the development of new and renewable energy sources.
KOSEP inked a memorandum of understanding on joint hydrogen fuel cell power generation projects with POSCO on October 20.
Under the deal, KOSEP will undertake a 250kW-class fuel cell power pilot project at Bundang Combined Cycle Power Plant in an effort to develop the technologies on the operation and management of the new energy source. The project will be expanded to work on a megawatt-class one. If and when the project is completed as planned, the Bundang Combined Cycle Power Plant will likely be transformed into the largest environmentally-friendly fuel cell power generation complex in Korea, KOSEP officials said.
Unlike other new and renewable energy sources, fuel cell is thought to emerge as a core technology in the futuristic hydrogen economy because it is not affected by the natural environment and is efficient due to simple energy conversion and power generation through chemical reaction. The Korean government has already designated fuel cell, one of the futuristic 10 tasks that will serve as national driving forces designed to raise the per capita national income to $20,000 and change the Korean economy into an advanced one.
In a related development, KOSEP signed an agreement with Chansung Energy Co. to install a solar energy cell system at Bundang Combined Cycle Power Plant on July 11.
Nearly 90 percent of solar energy is collected not only on a clear day but also in a cloudy weather to provide indoor lighting. It is a technology contributing to an improvement of indoor environment.
KOSEP assisted Chansung Energy's project to develop the technology and commercialize it. The power company provided support to the new and renewable energy company in acquiring a New Technology certificate on the technology.
An experiment on the solar cell system, conducted at the Bundang Combined Cycle Power Plant and Samchonpo Thermal Power Plant last year, turned out to be effective in saving energy. KOSEP's decision to expand the solar energy cell system could save 690MWh in electricity per annum.
In the meantime, KOSEP power generation division held a session designed to explain Korea's first application of clinker removal technology to thermal power plants at the grand conference room of the KOSEP headquarters on November 21. KOSEP technology division head and power generation division chief, officials from five power companies as well as officials of Samchonpo, Yonghung and Yongdong thermal power plants were on hand.
Yonghung and Yongdong thermal power plants have been furnished with anthracite clinker prevention system and Water Lance Blower, a clinker removal facility, for the first time in Korea, which have proved to be effective in preventing boiler combustion problems.
In the past, power generators had to be halted so as to remove clinker developing during operation. The latest technology is expected to reduce power generation costs by solving combustion problems, caused by coal ashes.
KOSEP Energy Conservation Leader

The power generation company. has earned a reputation for leading roles in conserving energy it has played amid oil price hikes.
KOSEP is credited with having implemented massive cost reduction and energy preservation projects in the past several years.
Samchonpo Thermal Power Plant, KOSEP's major site, has succeeded in improving the productivity of its four units by 52,000kW, saving 21.3 billion won worth of heavy oil per annum. Yosu Thermal Power Plant, an expensive heavy fuel oil-fired facility, has also saved about 6.7 billion won worth of energy annually by replacing an old turbine with a new one. nw
KOSEP is one of the most active power companies in Korea which are working on the development of new energy sources.