EWP Issues $300 million
Global Bonds for 2nd Straight Year


Korea East-West Power Co. (EWP) has successfully issued a global bond to raise $300 million for the second time in as many years.
Last year, EWP became the first Korean power generation company to float a global fund to raise $250 million with a 7-year maturity and an annual interest rate of 4.875 percent.
Korea East-West Power CEO Lee Yong-oh and financial officials of Lehman Brothers participated in a signing ceremony for floating the global bond.
The global bond, issued by leading managers as Lehman Brothers, Barclays and CSFB, carries a 7-year maturity and an annual interest rate of 5.25 percent, 0.37 percentage points lower than that of domestic bonds.
The raised fund will be used for repaying bond debts and investing projects to build Dangjin Thermal Power Plant Unit 6 through Unit 8, the company said.
EWP officials said the successive issuance of global bonds in 2004 and 2005 reflected EWP? higher credit rating and continuous efforts to improve its financial standing and reinforce investor relation activities.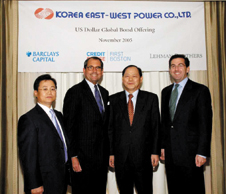 In a related development, international credit rating agencies, Moody's and S&P classified EWP's credit rating into A2 and A-, respectively, as EWP emerged as the largest power company in Korea thanks to the construction of more Dangjin Thermal Power Plant units.
EWP was spun off from Korea Electric Power Corp. in 2001 as part of the Korean government's electric power restructuring plan.
Dangjin thermal power plant serves as the company's central power provider. EWP is also currently operating six other power plants including Ulsan thermal power plant, Honam thermal power plant, Donghae thermal power plant, Ilsan combined-cycle plant and Sancheong pumped storage power plant.
The power generation capacity currently operating is 7,500,000kW, which is equivalent to 14.8% of the total electric power capacity of Korea. EWP and all of our employees strive to provide the nation with low-priced and high quality power.
The electric power industry in Korea has undergone through fast and profound changes. The industry has recently been converted from a government controlled monopolistic system, which was maintained for the past 40 years, to a competitive market-based system. The electric power market is being transformed in such a way that customers are now becoming focused and market driven.
EWP will make every effort to provide our customers with high-quality electricity based on a market competitive system. The company is committed to improving and upgrading its operations to ensure that EWP will become the national leader both in terms of efficiency and customer satisfaction, company officials said. nw

Korea East-West Power Co. has successfully issued a global bond to raise $300 million.