WP Honored with
Management Innovations
CEO Kim gives a lecture on successful innovation cases during ICQCC 2005



Korea Western Power Co. (WP) has been always synonymous with management innovations. WP has recently become a winner of the Management Innovation Best Practice Award, jointly presented by Korea Industrial and Systems Engineering and Korean Standards Association Consulting.
The Management Innovation Best Practice Award is conferred on companies, credited with having reduced costs through management innovations and returning profits to society. WP CEO-President Kim Jong-shin received the award in the social responsibility field during an award-presenting ceremony held at the KT Training Center in Daejeon on October 24 along with two other companies, including KT, which was presented with the Six Sigma Grand Award.
CEO Kim has been praised for promoting sharing management, environmental management and ethical management by creating internal motives for pursuing the Great WorkPlace (GWP) , based on trust and harmony in a bid to serve as a public company taking full social responsibility under the catchphrase "3C"(Clean, Competitive & Companion ).
WP has been cited for introducing the Six Sigma management innovation process in all sectors. The company has been also praised for making changes and innovations by implementing the balanced score card system in an effort to reinforce its competitive edge while contributing to enhancing national competitiveness by supplying cheaper and quality electricity.
The award in the social responsibility sector is awarded in recognition for the company's establishing an ethical management system under the leadership of CEO Kim and putting into practice preventive ethical policies. WP has formed and operated a companywide social service corps, and staffs have participated in voluntary fund-raising programs such as "Sharing Accounts,"and "Matching Grants."The latest award follows WP's winning the Korea Productivity Idea Management Award from Korea Management Association (KMA) for the third consecutive year last year in recognition of making corporate renovations.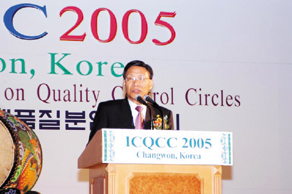 WP, marking the fifth year since its spin-off from KEPCO, has been credited with having been conducting massive innovative management reforms by building up a voluntary learning organization aimed at securing a competitive edge to date. The reform measures have contributed to creating an awareness of competition among the staff and making its management system efficient, WP officials said.
They calls, among others, for creation of a corporate culture focusing on staff members'capabilities, establishing transparent and efficient duty processes and generating power though an advanced quality system, said the officials, adding that WP staff members are devoting themselves to conducting creative management activities amid their voluntary participation and consensus under the slogan.
WP has eliminated the restrictions on the scope of suggesting ideas, by allowing those related to their daily lives to be included, while dramatically simplifying the procedures on handling suggestions. The power generation company has revised regulations on suggestions to expand rewards, including offering overseas educational opportunities with excellent awardees, while introducing the user-oriented idea suggestion system, dubbed "Click & Suggest Now"under which all suggested proposals are handled on-line in real time.
In a related development, WP CEO Kim delivered a lecture during the International Convention on Quality Control Circles (ICQCC) 2005 held in Changwon, South Gyeongsang Province, on November 10. Kim introduced three excellent innovation cases ¡ª cost reduction through optimizing boiler combustion, curtailing the construction period through improved turbine oil and raising profits through optimizing combined heat and power facilities.
The power generation company will attach priority on management on fostering "creative manpower"that spearhead change and reforms by implementing efficient, flexible personnel management principles like the consolidation of job classifications.
Making the most of its core capabilities, WP will make continued efforts to implement such projects as overseas exploration, community energy system, tidal power plant and substitute energy in a bid to create driving forces for future growth, officials said.
Western Power operates five power plant complexes with a power generation capacity of 7.28 million kW, which is equivalent of 12.1 percent of Korea's total power generation capacity. WP has undertaken projects to build a sixth one and expand the existing Taean Thermal Power Plant Complex. The plant complexes now in operation are Taean Thermal Power Plant (6x500MW, bituminous coal-fueled), Pyeongtaek Thermal Power Plant (4x350MW, Bunker C-oil-fueled; 4x80MW GT and 1x160MW St, LPG-fueled), Seoincheon Combined Cycle Power Plant (8x150MW GT and 8x75MW ST, LPG-fueled) and Samrangjin Pumped Storage Power Plant (2x300MW).
Cheongsong Pumped Storage Plant with a capacity of 2x300MW is under construction in Pacheon-myeon, Cheongsong-gun, North Gyeongsang Province by 2006 at a cost of 397.4 billion won. The two-unit pumped storage power plant complex will be remote-controlled by the existing Samrangjin Pumped Storage Power Plant. The construction of the Cheongsong plant would result in a reduction in construction investment costs and operation manpower, which could save 140 billion won during the life span of the plant.
Taean Thermal Power Plants Units 7 and 8 are to be completed by 2007 at a cost of 1.089 trillion won. The planned units will be furnished with upgraded boiler systems capable of raising up to 50 percent the ratio of using low-priced coals other than anthracite coal or bituminous coal, thus helping secure a stably supply of energy sources. nw

The delegates on hand at the International Convention on Quality Control Circles (ICQCC) 2005 held in Changwon, South Gyeongsang Province, on November 10.

WP CEO Kim delivers a lecture during ICQCC 2005.