KEPCO Breaks 200 Mil. kVA
Barrier in Power
Transformation Capacity
Gains momentum to expand its presence in foreign markets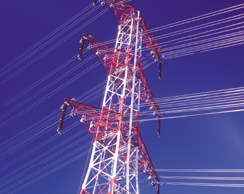 Korea Electric Power Corporation's power transformation capacity has surpassed the 200 million kVA mark representing a 166-fold surge in 44 years.
Lee Won-gul, vice minister for energy at the Ministry of Commerce, Industry and Energy, and KEPCO Chairman-CEO Han Joon-ho were among the 600 people on hand in a ceremony for celebrating a feat of shattering the 200 million kVA barrier at the auditorium of the KEPCO head office in Samseong-dong, Seoul on November 21.
Korea has recorded remarkable economic growth, dubbed the so-called Miracle of the Han River thanks to the massive investments into such infrastructures as power, roads, ports and railway. In particular, a stable electricity supply has served as an essential force behind Korea's economic growth.
KEPCO officials said the 200 million kVA power transformation capacity marks a 166 jump from some 1.2 million kVA in power transformation capacity in 1961 when KPECO was established. They said it is significant that KEPCO also achieved the feat, double the 100 million kVA power generation capacity recorded in 1997 eight years ago, overcoming such problems as stiff opposition by residents and environmentalists over the construction of electricity facilities.
The feat has served as an opportunity to reawaken the significance of the impact the power industry has on the nation's economic development while the power grid has developed the infrastructure for transmitting power from large-scale power generation complexes to all nooks and corners of the nation, thus contributing to balanced national development. The feat also indicates that KEPCO has evolved into a global top five electricity corporation in terms of the electrical technology sector.
KEPCO's massive power gird has enabled South Korea to offer electricity to North Korea as a reward for resolving the North Korean nuclear standoff.
Capitalizing on its own technology prowess and experiences, KEPCO is striving on becoming a global electricity corporation by strengthening its presence in foreign markets as part of its efforts to develop Korea as an electricity hub of Northeast Asia.
Paik Seung-do, head of transmission and distribution division at KEPCO, said "KEPCO's achieving a feat of raising the power transformation capacity from 100 million kVA to 200 million kVA in eight years signifies more than just the numerical value. It means that the feat is attributable to its technological prowess and it confirms that KEPCO ranks fifth in the world in terms of power transmission and distribution technology."He noted that the First Phase of the 765 kV transmission network project and the 200 million kVA power transformation capacity form essential parts in transporting electricity, and they has established a solid foundation for paying the way for KEPCO to strengthen its presence abroad.
Paik stressed that it is not a coincidence that KEPCO landed power transmission and distribution network projects in Cambodia, outbidding such juggernauts as Tokyo Electric Power of Japan, EDF of France and ENEL of Italia.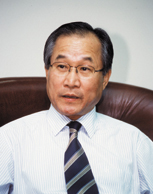 The feat of surpassing the 200 million kVA barrier in power transformation capacity will provide KEPCO with momentum to expand its business horizon to the world, he said.
KEPCO has highly credible power distribution systems which ensure stable power supply. In 2004, the rate of power loss in distribution was reduced to 1.78% while the observance rate of power voltage requirements remained at 99.9%. These figures prove KEPCO's outstanding capabilities in distribution network operations when compared with advanced countries.
Having finished the installation of distribution automation system at all branches, KEPCO is now committed to developing future-oriented system operation technologies. Since modern industrial society must be supported by uninterrupted electrical power supply, KEPCO is engaged in constant preventative maintenance and develops new engineering measures to reduce power outages during distribution line works.
KEPCO is enhancing network stability by the expanded use of highly reliable equipment and facilities and tries to prevent failures by finding vulnerable spots on the distribution system in advance, using state-of-the-art detectors such as infrared thermal imaging equipment.
Thanks to the completion of distribution automation system (DAS) at all branch offices, trouble spots can be automatically pinpointed when a breakdown occurs on a distribution line, reducing blackout time and affected area dramatically.
KEPCO's nationwide multi-loop transmission grid transports electric power with high reliability. Monitoring and controlling systems ensure the safety of underground transmission lines in urban areas and KEPCO applies its extensive experience and technology for maximum operational efficiency. Aging and outdated facilities are constantly replaced or upgraded at appropriate time. In particular, KEPCO accelerates the construction of 765kV large-capacity transmission systems to transport much more electricity with less power loss.
Transmission voltages in Korea are 765kV and 345kV for trunk routes, and 154kV or 66kV for local networks. The 66kV lines are being replaced. KEPCO is now carrying out the second stage of the 765kV power transmission project that will serve as the backbone of the transmission in the 21st century. The power network of Jeju Island is now connected to the mainland transmission system by submarine high-voltage direct current (HVDC) cables.
The Supervisory Control and Data Acquisition (SCADA) systems have been used to remotely monitor and control substation operations. In addition to equipment and facility upgrading, more substations are being automated and built indoors to secure power supply reliability. nw

KEPCO has shown its technology prowess by breaking the 200 million kVA barrier in power transformation capacity.

KEPCO Chairman-CEO Han Joon-ho