LG Chem President Presented
with $3 Bln Export Award
Earns 536 bln won in net profit on sales of 7.1 tln won last year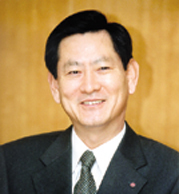 LG Chem President No Ki-ho has been presented with a prize for exporting $3 billion during the 42nd anniversary of Trade Day on November 30.
LG Chem posted exports worth $3.33 billion last year, a 42 percent surge from a year earlier.
Established in 1947, LG Chem is Korea's leading chemical company which has made strides thanks to strenuous renovations and R&D activities. The company has a global management network through manufacturing operations, research institutes and marketing networks in major countries. LG Chem is specialized in three business divisions ? petrochemical, industrial goods, and information and electronics materials.
LG Chem has grown into a world-class corporation by continuing to develop and produce advanced information and electronics materials, high-performance industrial goods and value-added petrochemical products.
With President No Ki-ho taking the helm, LG Chem posted 536.4 billion won in net profit on sales of 7,127.4 billion won in sales last year.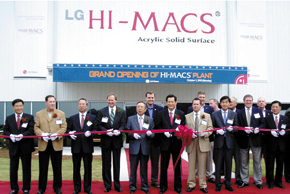 The company has 9,989 employees as of last January. nw

President and CEO of LG Chem, No Ki-ho



LG Chem Launches HI-MACS
Production Facility in U.S.
LG Chem, Ltd., the largest chemical company in Korea, has opened its first U.S manufacturing facility, LG Chem Industrial Materials Inc. (LG CIM), in Gordon County, Georgia. The grand opening of the facility was held on October 3.
The new facility will produce LG HI-MACS, which is an artificial acrylic solid surface, mainly applied to bathroom and kitchen counter tops.
The company invested a total of $40 million into the facility. The specification of the HI-MACS, which LG CIM will start to produce, is 760mm(width) x 3680mm (length) and the thickness will range from 6mm to 12mm. The annual production capacity will be 300,000 sheets.
Georgia was strategically selected as the most suitable location due to its stable supply of raw materials, low labor cost, and fast delivery. Other advantageous are logistics, and reduction in import tax. Furthermore, the enthusiasm and support from the State of Georgia was one of the major attractions for the investment.
?ot only will the project hold a great significance for our company but also it will be beneficial to the State of Georgia as well. This is truly a win-win situation,?said President and CEO of LG Chem, No Ki-ho, during his commemoration speech.
?his marks a great significance for LG Chem as it will be the first manufacturing facility in the North America,?the CEO added.
Overall, the global markets size for acrylic solid surface in 2004 was 1.2 trillion won. Out of the total global market size, LG Chem? market share was 14 percent and the company plans to increase its market share to 20 percent by 2008.
LG Chem became the first chemical company in Korea to launch a manufacturing facility in North America.
New Brand ?G HAUT?LG Chem has unveiled three window products under the new brand ?G HAUT.?About 300 LG Chem officials, including Sok Jong-man, managing executive in charge of LG Chem Construction Material Division, were present at the launching ceremony held at the Inter-Continental Hotel in southeastern Seoul.
The newly released products are ?ew Balcony,?a window item made with new materials, ?owerWin,?an item suitable for high-rise buildings that could endure a strong typhoon, and ?ew Best,?designed to satisfy the needs of luxurious goods.
New Production Process for TPAL
LG Chem has developed a new environmentally-friendly process to mass-produce terephthalaldehyde (TPAL).
TPAL is an organic synthesis intermediate for dyestuffs, pharmaceuticals, specialty polymers, electronic materials, and at present it is mostly used to produce fluorescent whitening agents.
The existing TPAL production process involves chlorination of para-xylene and hydrolysis of the chlorinated xylene. The process is harmful to the environment as it uses chlorine as a reactant and emits hydrochloric acid as a by-product. Another problem with the existing process is that it is not cost effective enough to mass-produce. Currently, China and India are major producers. nw
Dignitaries on hand at a ceremony for opening its first U.S manufacturing facility, LG Chem Industrial Materials Inc.