A Day for Exporters

President Roh congratulates exporters for achieving $500 billion in trade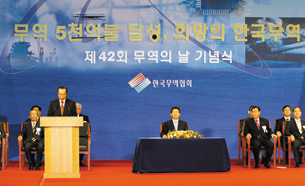 The 42nd Trade Day ceremony was kicked off on November 30 at COEX in southern Seoul with a theme of "Hopeful Korean Trade, Achieving $500 billion in Foreign Trade,"with President Roh Moo-hyun leading a score of dignitaries attending.
Among the dignitaries attending was Minister of Commerce, Industry and Energy Lee Hee-beom, Kim Jae-chul, chairman of the Korea International Trade Association, and Rep. Kim Yong-kap, chairman of the National Assembly Industry-Resources Committee. Around 1,100 trade related company officials, workers and organizations supporting foreign trade attended one of the most important events in the country.
President Roh, in his speech, said achieving $500 billion in foreign trade, a great feat, puts Korea on the list of the 10 largest trading countries in the world. He said anywhere you go in the world you run into Korean products and they are not just any product, but they are what the people want to have as renowned products.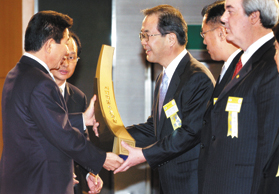 He warned, however, that the employment situation has not improved much despite a superb performance in foreign trade.
He called on the nation to make efforts to send the warmth generated from foreign trade to all corners of the country's economy with large and small firms upgrading cooperation and fostering parts and source industries to achieve balance in domestic and foreign trade sectors.
He said raising technology and brand power and exploring the market is your job. "Let's challenge the waves of liberal and free trade in a positive manner and achieve $1 trillion in foreign trade led by $500 billion in exports,"he cried out.
The President said the country surprised the world with its speed of growth in exports. In 1988, Korea? foreign trade totaled $100 billion and it took only 7 years to reach $300 billion in foreign trade in 2002. But only in three years, total foreign trade amounted to $500 billion.
But, he said, many firms struggle to make both ends meet, competition is rising in the export industry and still many fear the pursuit by China.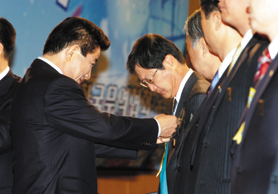 But he would like to encourage them up by saying "be optimistic and have hope to challenge these problems. Let's not worry about China, but make it an opportunity for further growth, running ahead of them. He said some of those companies have already been doing just that. Its not only cars, mobile phones, ships and other major export items, but also parts and machinery industries have been raising their competitive strength. Unless we ease our tension too much, and push for reform steadily, our basic strength will grow stronger, and exports will increase spurring further economic growth" the President said.
There also is downside, too. Despite increased exports, the employment has not been improving, which is the situation that advanced countries have been experiencing. Increased exports have not helped the linkage effect among industries, not solving all problems.
The most important issues for today are innovating technology and manpower training and the government will extend support just as it has been doing in the past, he promised.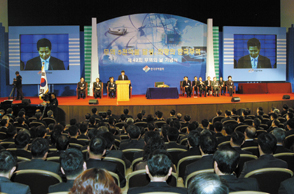 The government is ready to provide a big support to promising industries including BT and NT, among others, so that they could be industrialized as early as possible. The government has also been providing support to SMEs and venture firms to lift their effectiveness and the visible results will soon emerge, he said.
The Chief Executive said the government will also take measures to spur exports of the service industry including shipping and cultural contents. He said the laws will be revised so that the service industry would get the same favors as other export industries. The government will also strengthen the marketing system for Hallryu fever so that it would be included in the service industry and get government support for its exports. Exports of service will create many professional jobs in the country.
The President also said it is also a crucial matter to the economy to attract oil dollars from oil producing countries, especially in the Middle East and the government will see that exports of plants and machinery and the related products are up, which is why Prime Minister Lee is on a trip to the five countries in the region. The government has been doing its best to strengthen the export infrastructure. The construction of e-trade network is being undertaken targeted to be completed by 2007. The establishment of logistics support centers overseas will be completed without a hitch.
Above all else, the government will try to conclude free trade agreements with major trading countries to secure stable export markets for our products to actively cope with the world trade order.
The government can only build roads and it's up to exporters to run on those roads by raising technology and brand powers of their products and explore markets abroad. "Let's have confidence and run together and positively respond to the waves of free and open trade to expand our annual exports to $500 billion and open the age of $1 trillion in foreign trade."At the ceremony, a total of 782 companies and two organizations were awarded with medals and citations including six firms for gold medals, 8 for silver medals, 10 for bronze medals, 11 for iron medals, and 15 stone medals. 44 firms won civil Merit Medals, 92 Presidential citations, 96 Prime Minister's citations and 500 Minister of Commerce, Industry and Energy citations. Winners of medals included 11 company presidents, 273 SME presidents, 41 officials of large firms, 308 SME employees and 149 foreign buyers, and those for making contributions to exploring overseas markets and providing support to exporters. Gold medals were presented to those who made great contribution to expanding exports including Kumho Petrochemical (President Park Chan-koo), Hyundai Mobis (President Han Kyu-hwan), and Hanjin Heavy Industry (President Hong Soon-ik) among large firms. Winners of gold medals among small firms were Shin-ah Co. (President Yoo Soon-eon), Taewoong Co. (President Huh Yong-do) and Keosan Co. (President Kim Kil-ho).
The South Gyeongsang Province (Gov.Kim Tae-ho) won the group Presidential citation for making contribution to exports this year. The North Jeolla Province Small Business Export Support Center (President Shin Chung-kyo) won the Presidential citation for its effort to help small exporters to expand their exports. Samsung Electronics topped them all coming away with
the $40 billion Tower award for exporting products including semiconductor chips, wireless communication terminals, and PDP TVs, among others. nw

Kim Jae-chul, chairman of the Korea International Trade Association, delivers a speech at the 42nd Trade Day ceremony at COEX in southern Seoul Nov. 30.

(Clockwise)
1. President Roh Moo-hyun hands an award to the winner for his contribution to the nation? exports.
2. President Roh pins a medal on the winner.
3. President Roh makes a congratulatory speech at the ceremony.