KNHC to Build World's 1st
u-City in Unjeong, Paju
Undertakes the projects under partnerships with KT and Paju City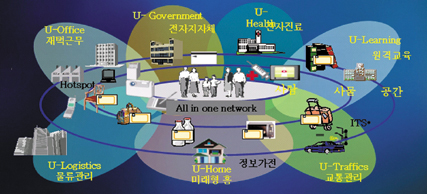 The Unjeong area in Paju, north of Seoul, will be developed as a new residential satellite city with the world's first ubiquitous network.
Korea National Housing Corp. has formed up a consortium to establish a ubiquitous city (u-City) in the Unjeong area with KT, Korea's largest fixed line and broadband internet operator. Officials from the two business partners participated in a ceremony to declare the development of Unjeong as a u-City in Marriott Seoul Hotel on December 5.
u-City refers to an IT environment in which people can access to networks without any restrictions in terms of time and place. Hong Kong's Cyber Port and Malaysia's Multimedia Super Corridor (MSC) have been promoted as a u-City. However, the project will be the first residential U-city, KNHC officials say.
KNHC and KT decided to build up such infrastructure as broadband convergence network (BcN) and wireless broadband service (WiBro) at a cost of 90 billion won.
Residents of the projected satellite city are expected to enjoy ubiquitous benefits as they could check the arrival time of buses in advance through his or her home computer, PDA or cellular phone and make it to bus stations on time.
Such information as data on air pollution, water pollution and weather forecasts will be informed of the residents on real time in a bid to preempt pollution sources. Such districts as parks and crime-prone areas will be installed with close-circuit television sets to guarantee citizens with safety and convenient life.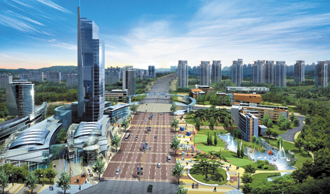 Home appliance devices will be remote-controlled through home network while introduction of telemeters and residential integrated management will curtail apartment management costs.
Within the residential area will be established the City Integration Network Center designed to manage the projected city in a systematic and an efficient manner by capitalizing on information collected through ubiquitous censor network (USN).
Besides, such other services as u-Office, u-Health and u-Safety will be made available not only to raise the value of the city but also its competitive edge, they said. KNHC and Paju municipal government designated KT as a business partner of the project to build up u-City infrastructure last September. The declaration of the u-City project came after KNHC and KT organized a symposium on the development of u-Cities designed to suggest plans to develop u-Cities and the desirable directions of the developments, the officials said.
A KNHC official said, "Making a model of the projected u-City in the Unjeong area, futuristic cities will be developed by taking into account each district's characteristics and exploring differentiating services in a ubiquitous era, and it is expected to serve as a pivotal role in establishing u-Cities in Korea."The projected u-City will cover the 2,850,00-pyeong (9.4 million square meters) surrounding Dongpae, Yadang and Danghari, Gyoha-up. The area, designed as a planned residential district in January 2001, will be developed by two stages by 2009. Apartments, to be built on the projected u-City will be put on the market starting the first half of next year. nw

A diagram for a ubiquitous city, to be built by KNHC in Paju

An artist's conception shows apartments KNHC will construct in Paju.