High Class Artworks in Cozy Space

Another new gallery in Gyeongbokgung area invites art
manias to the Three Artists' Exhibition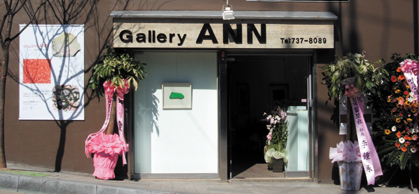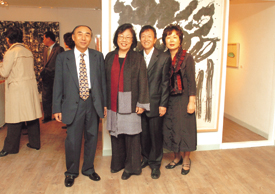 Another cozy art gallery has participated in the recent trend of moving the pivot of domestic art galleries from Insa-dong in Seoul to the Gyeongbok Palace area. Titled 'Ann(لج)'which means 'comfort'and 'ease,'this new gallery is located in front of Jeongdok Public Library (former Gyeonggi High School) with Park Jong-sook as curator. Having started painting just as a hobby, Park is a vigorously active female artist with a solo exhibition to her credit, and now has become the curator of a gallery.
In celebration of its opening, Gallery Ann holds an invitational exhibition of Hong Suk-chang, professor of Hongik University College of Art, Lee Chung-ji, former president of Female Artist Association, and Kim Jung-soo, president of Korean Fine Art Globalization Association by the 21st of December. Though the works of those three artists differ in style and category, all of them have shown their commitment to the modernization of Korean traditional beauty. This exhibition shows 20 new works of these three artists.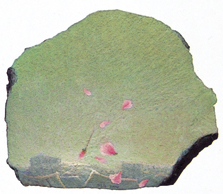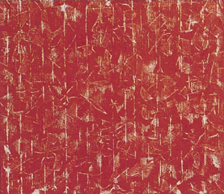 The one titled 'untitled'by professor Hong, an artist of Koran traditional painting, has abstract figures drawn with energetic and liberal strokes enough to free audiences'minds. Animated and vivid strokes using Korean black ink and brush deliver pleasant impression. Though his works are created insistently with the use of Korean traditional painting materials, they don't look like bigoted conservative black-white drawing, but rather go well with today's surroundings as they express the modern sense of art. Especially, those new works of his which depict the scenery of his inner heart in a liberal way enable us to estimate the present status of Korean paintings. Professor Hong is famous for 'Dangun'picture which has been widely used, especially in textbooks.
And Lee Chung-ji who has pursued unique 2-dimensional painting by mixing Korean alphabets in an abstract way, displays works that established the beauty of Korea through scratches on thick dyes applied through repeated brush strokes. Named 'Indian Fantasy' her picture might seem monochromatic. But, soon audiences could taste the unique and deep sense of color it shows. Moderate and restrained expression also adds to its refined beauty.
Kim Jung-soo who is widely known as 'Rosebay Painter'enjoys painting azalea on the thick stone plate. For the upcoming exhibition, he will present works that describe delicate and fragile rosebays on the cracked stones. Kim, who has become more attached to Korean flowers even more after coming back from study in France, says that he wanted to recite 'hope'by painting flowers. The contrast of hard rock and delicate rosebay appeals mysterious inspiration.
Curator Park said, "I am planning to introduce many creative Korean artists to the world in cooperation with eminent galleries in New York, and Los Angeles, etc. Also, our gallery will discover excellent artists abroad and introduce their works. Those are our main tasks." nw

(Left) Main gate of Gallery Ann (Right) Three artists; Hong Suk-chang, Lee Chung-ji, Kim Jung-soo and curator Park Jong-sook pose in the gallery.

Kim Jung-soo | Azalea | Oil on Stone | 30x30cm | 2004

Lee Chung-ji | India Fantasy | Oil on Canvas | 53x45.5cm | 2001

Hong Suk-chang | Untitled | painting in Korea Ink | 68x65.5cm | 2005