Asiana Airlines Sweeps 3
Domestic Major Service Awards
Attaches management priority on ensuring
safety and service with the aim of becoming a global airliner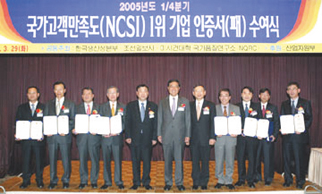 Asiana Airlines has won the top prize in the aviation service sector in the 14th Korean Industry Customer Satisfaction Index conducted by Korea Management Association Consulting (KMAC). The customer satisfaction award is the third prize the Korean national flag carrier has received in the domestic aviation service area so far this year following its earlier feats in surveys, conducted by Korea Production Center and Korean Standards Association.
It is noteworthy that Asiana Airlines has swept the three major customer satisfaction awards in the domestic aviation service area for the second straight year in a row.
The 14th Korean Industry Customer Satisfaction Index, conducted by KMAC last May, showed that Asiana Airlines earned 62.8 points in the service index, a whopping rise of 5.1 points from last year? 57.7 to rank first in the aviation service sector in the second straight year in a row. The survey results were based on one-on-one interviews with 12,431 people aged between 20 and less than 60 in the Seoul metropolitan area and six provincial metropolitan cities, which were conducted from May 25 to Aug. 18.
Asiana Airlines grabbed the top prize in the National Customer Satisfaction Survey Index conducted by KPC last March 29 for the eight straight year. Earlier on May 8, the airlines topped the aviation sector of the Korea Service Quality Index, announced by Korea Standards Association for the sixth straight year.
In a related development, Asiana Airlines became the winner of the Best Onboard & Flight Award from the leading global magazine, Global Traveler. The award that Asiana Airlines won is one of the eight prizes that Global Travel selects every year, based on the outcome of subscriber questionnaires and its own surveys.
The Best First Class and the Best New Business Class awards went to British Airways and Singapore Airlines, respectively.
Global Traveler is a bimonthly magazine specializing in airline and travel industries and is targeting high-class travelers.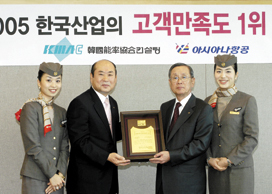 The magazine has a circulation of an estimated 65,000 copies.
The award-presenting ceremony was held in the Hudson Theater in New York on Jan. 24 with about 300 people, including the representatives of the eight award-winning airlines and others from the global airline industry participating.
In 2004, Skytrax, a global airline service quality research institution awarded Asiana Airlines with the coveted Airline Excellence Awards.
Established in 1988 with a paid-in capital of 850 billion won, Asiana Airlines owns a fleet of 58 aircraft as of June 2005. Asiana Airlines flights operate on 66 international routes to 54 cities in 17 countries for passenger transport and on 21 international routes to 24 cities in 16 countries for cargo transport.
Management philosophy
Asiana Airlines stresses three management philosophy points ¡ª ensuring safety, customer satisfaction, and contributions to society through boosting employment and rational management.
The airliner sees offering safe services to customers as its most important mission in accordance with management policies that the quality of an airliner hinges on safety and services.
Asiana Airlines is exerting itself to ensure customer satisfaction, saying that management should not insist on its own position amid mounting customer demand and heated competition among airliners and no airliners cannot survive if they fail to meet customer satisfaction.
The airliner has a vision of 21st century: striving for becoming a global airliner. Asiana Airlines aims at realizing customer satisfaction by ensuring safety of all world traveling customers and offering top quality services.
Business-class seats that can be convert into beds
With a marketing strategy targeting businessmen, Asiana Airlines has introduced or will introduce six A330s and five B777s with Premium Business Class seats that can bend backward at a maximum angle of 166.7 degrees, almost equivalent to the First-class seats with an angle of 180 degrees. The Premium Business Class seat is 58 inches in pitch, the distance between seats.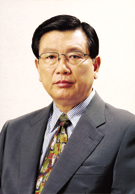 The A330 is also equipped with a Business-Class only mini-bar where clients enjoy snacks, wine and whiskey during flights. Asiana Airlines A330 has becomes the first aircraft in operation in Korea to have such a mini-bar for business-class passengers. The Premium Business Class seat has an Audio-Video on Demand (AVOD) system with a 15-inch monitor, allowing passengers to watch or listen to video and audio they choose.
Each seat has a 110-voltage socket for notebook PC users and a toaster for toasted bread. All toilets of the aircraft are decorated with glasses in all directions, and a separate toilet is installed for the handicapped.
In-flight text message service
Asiana Airlines passengers of B777s can send in-flight text messages to people on the ground via personal TV screens set up at seats. Asiana is the first airline company in Korea to introduce an in-flight text message service.
Asiana initially has economy- and business-class seats of its five Boeing777s furnished with the equipment for providing the service. Using the system, passengers can send a message with less than 160 words to the e-mail address or cellular phone of his or her communication partner.
Under the second-stage service, passengers will be able to exchange interactive messages with people on the ground.

Asiana signed a contract with MAS, a global aircraft electronic products maker, to provide the service. The numbers are given when a passenger sends a text message via E-mail or cellular phone, and they are again used for returning the message.
In the interests of passengers, Asiana Airlines provides a service of making reservations in real-time at 19,000 hotels in 3,300 cities around the world, and immediately issuing accommodation tickets.
Asiana signed a contract with London-based oktotravel.com on providing the service. As a result, visitors to the airline? web site, www.flyasiana.com can make reservations at up to 70 percent discount rates without turning to other web sites to surfing on the Internet. oktotravel.com is a premier travel planning and flight-booking online destination, where travelers can reserve flights, rental cars, hotel rooms, cruises and vacation packages, all in one place.
Thirty-one branch offices of oktotravel.com are connected around the clock for an emergency situation, so any problems related to hotel appoints can be fixed at the shortest time, Asiana officials said.
Reservations can be possible for 1,700 tour services and 2,000 condo-style apartments on top of global chain hotels and hotels accommodating backpackers.
Asiana Airlines, a member of Star Alliance
From Oct. 15 to Dec. 15, you can earn double Asiana miles for travel within the United States on any United Airlines domestic connection. United Airlines, Asiana Airlines'Star Alliance partner, is the world's second largest airliner, operation daily flights to all major cities across the United States.
Meanwhile, Star Alliance, the airline network for Earth¢â, has become the first alliance to offer a Frequent Flyer Program (FFP) upgrade redemption option across the alliance, rather than on an individual carrier basis on Sept. 7. This brings traveling in either First or Business Class into easier reach of the customer.
This enhancement is now available to the FFP members of ANA (ANA Mileage Club), Austrian (Miles & More), LOT Polish Airlines (Miles & More), Lufthansa (Miles & More) and Singapore Airlines (KrisFlyer). Other Star Alliance member carriers will begin to offer this product during 2006.
Star Alliance Upgrade Awards permits customers to redeem miles or points from their FFP account to upgrade by one class, either from Economy Class to Business Class or from Business Class to First Class*, on scheduled flights operated by the participating member carriers. "We are extremely pleased to be the first airline alliance to offer this product,"said Jaan Albrecht, CEO Star Alliance. "Our customer research has shown that the vast majority of frequent flyers expect an alliance to offer this kind of upgrade option."Star Alliance was established in 1997 as the first truly global airline alliance to offer customers global reach and a smooth travel experience. Star Alliance has been voted Best Airline Alliance by Skytrax in 2003 and 2005. The members are Air Canada, Air New Zealand, ANA, Asiana Airlines, Austrian, bmi, LOT Polish Airlines, Lufthansa, Scandinavian Airlines, Singapore Airlines, Spanair, TAP Portugal, THAI, United, US Airways and VARIG Brazilian Airlines. South African Airways and SWISS will be integrated during the course of the next 12 months. Overall, the member carriers offer more than 15,000 daily flights to 795 destinations in 139 countries. nw

v(right) Asiana Airlines President Park Chan-beop receives the 14th Korean Industry Customer Satisfaction Index (KCSI) Award in the aviation service sector from Korea Management Association Consulting (KMAC).
(left) Asiana Airlines President Park poses together with others after winning one of the National Customer Survey Index (NCSI) Awards by Korea Productivity Center last March 23. The national flag carrier ranked first in the aviation sector in terms of NCSI during the first quarter of the year.

Kumho Asiana Group Chairman Park Sam-koo