KAL Chairman Winner of
Order of Civil Service

Also a winner of "Spirit of Troy Award" from USC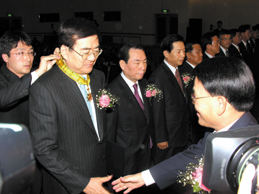 Korean Air (KAL) Chairman Cho Yang-ho has been honored with the Order of Civil Service, in recognition of his contribution to the development of the national economy and aviation industry.
KAL Chairman Cho received the coveted order from the Minister of Construction and Transportation Choo Byung-jik during an anniversary ceremony marking Aviation Day at the Federation of Korean Industries Building in Yeouido on October 28. He became the first person to be awarded with the Order of Civil Service since Aviation Day was established 25 years ago.
The KAL chairman said during the award presentation ceremony, "KAL owes its growth to the support shown by the government, corporations and people."He has been credited with having upgraded the local aviation industry to advanced levels in the past 30 years and having made contributions in raising the national flag carrier's profile in the international aviation market.
Cho has been cited for his roles in aggressively exploring foreign flight routes,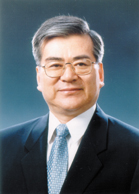 constructing overseas cargo terminals and importing next-generation passenger and cargo aircraft.
He has been praised for expanding the logistics infrastructure in Korea and abroad with the aim of realizing a Northeast Asia hub project to develop Incheon International Airport into a global logistics network.
Cho's efforts have paid off. KAL was ranked 15th in the world by operating flights to 78 cities in 30 countries. The national flag carrier is now striving to become a top 10 global airliner. KAL has achieved a major feat in the global logistics service sector as it took over the No. 1 position in terms of cargo transportation last year.
He is rated to have upgraded Korea's stature in the global aviation industry by conducting diverse activities. To name a few, he has played leading roles in helping KAL launch SkyTeam with Delta Air Lines. SkyTeam has grown into a global aviation alliance with a membership of nine airliners. Cho was reelected to the board of governors at the International Air Transportation Association (IATA) during the IATA Annual Meeting held in Singapore last year. At that time, he was also elected to the IATA board nomination committee.
Cho has been exerting himself in promoting civilian exchanges and diplomatic activities. The chairman has hosted an annual event of foreign diplomats in Korea aimed at promoting of Korean culture in Jeju since 2002.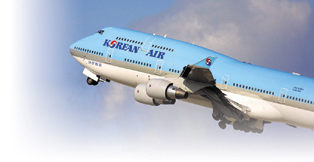 He has also served as chairman of the Korean Committee of the Korean-French Top Managers Club, honorary consul-general of Island and vice chairman of the Korean-Japanese Economic Council. Thanks to his diplomatic activities, he has been awarded with La Legion d?onneur Commandeur from the French government and the top order for foreigners from the Mongolian government.
In a related development, KAC Chairman Cho received the International Award for Business Excellence: Spirit of Troy Award from University of Southern California Business Administration School Dean Yash Gupta at the Grand Hyatt in downtown Seoul on October 27.
Gupta said Cho was selected as the winner of the award in recognition of his contribution to the interests of the global economy and passengers as an exemplary businessman of the global transportation industry. USC awards the International Award for Business Excellence: Spirit of Troy Award to businessmen who have made prominent contributions to corporate management. The winners of the award, established in 1984, include A. W. Clausen, chairman of Bank of America, in 1989, Robert W. Galvin, Motorola chairman in 1991. The late Cho Choong-hoon, the founder of Hanjin Group, received the award in 1988. KAL Chairman Cho won the Technology Management of the Year Award from USC in April last year.
Outstanding Dispatch Reliability

KAL has showed off its prowess in aircraft operations as two leading aircraft manufacturers have recognized it as an excellent airliner successively.
Boeing designated Boeing 737s, Boeing 777s and Boeing 747-400s operated by KAL as "Outstanding Dispatch Reliability"on October 27, based on an examination of operational punctuality of airliners in the world for the past five years.
KAL has been also awarded with the Operational Excellence Award of A300-600 by Airbus. The award is presented by Airbus biennially after making an overall assessment including operational punctuality. KAL has achieved a record of receiving the award on A300, A300-600, A330 and other aircraft every year since 1974. nw

KAL Chairman Cho Yang-ho shakes hands with Minister of Construction and Transportation Choo Byung-jik after receiving the Order of Civil Service from the government.

KAL Chairman Cho Yang-ho