A Fun Resort for Family

Kangwon Land operates golf course, hotel, condos with ski slopes to open next year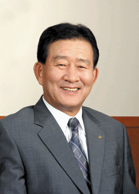 "Kangwon Land would not be a simple casino operator, but will be a resort complex where families can enjoy skiing on snowy Alpine slopes and a blue-grass golf course like those in Switzerland and Hawaii,"said President and CEO Kim Jin-mo of the Kangwon Land resort.
Kangwon Land attracted a huge attention at the IR Expo 2005 held Nov.4-6 at Coex in southern Seoul because of its bright growth prospect laid out to become an integrated resort complex in the future. In addition, the resort complex recorded 240 billion won in the third quarter sales this year up 17.9 percent from the same period last year with operating profit registering 125.9 billion won, up 22.1 percent year-on-year. The operating profit exceeds 50 percent of total sales.
Kangwon Land is well on its way to expand its business boundary. It opened an 18-hole golf course in July and plans to complete the construction of ski slopes and condos for family tourists by next year. It will also build an expressway from Seoul to Kangwon Land as early as possible. The ski site will have 18 slopes and the condo 403 luxury rooms.
President Kim, on the operation of the golf course, said people have trouble booking already with the new golf course becoming so popular due to beautiful surroundings and inexpensive fees. He also said the ski slopes would be able to handle from 10,000 to 15,000 skiers daily when it opens at the end of next year. He said the opening of the golf course and ski slopes would change the negative image for the resort as a gambling facility and it will have a new image as a resort for families, which would double its earnings. Kim said the golf course would be able to earn 5 billion won and the ski slopes 40 billion won annually. He said the casino, too, is expected to have more customers with the opening of those additional facilities and therefore would be expanded to have more tables. The gambling joint has 132 tables now, but it will have 68 more by 2007.
He said the resort will pay more attention to its shareholders from now on to expand dividends, which currently stand at 35 percent. More outstanding shares of the resort will be retired for the sake of the shareholders interest and stable share prices.
Kangwon Land Resort is located deep inside Mt. Baekun, in Jeongseon, Gangwon Province, noted for clear and fresh air, equipped with various enthralling luxurious facilities including a high-tech casino, a four-dimensional cinema house, an interior theme park and a Presidential Suite, along with 477 luxury suites and a team of well-seasoned chefs. It has a special class hotel with 10 dining facilities, a swimming pool, and a sauna, in addition to a golftel with 197 rooms and a 18-hole public golf course.
An international-scale golf course which opened in July has made the resort a family fun-place with all kinds of amusement facilities. The resort already has a golf course, a hotel, a casino, a theme park and when the ski courses are completed next year, it will be a super-class leisure complex equipped with all kinds of resort facilities, lifting the country? leisure-tourism industry a notch up in the ladder of national tourism. The resort? mid-to-long term plan is designed to make it an all-season resort complex, part of a grand plan to designate the southern region of Gangwon Province, a great tourism belt including a large convention center leisure and health facilities, much akin to Disneyland in the United States with various entertainment facilities.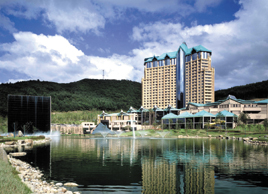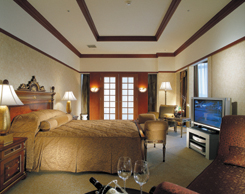 HOTEL
The hotel in the complex include standard rooms and special luxury suites, among them a Presidential suite. It also has restaurants where all kinds of foreign cuisine are ready to be served including fusion foods, buffet, casino bars and a luxury lounge, a large dining hall, a small dining hall for families, a swimming pool and sauna where visitors can relax their tired bodies, in addition to a business center all kinds of support facilities.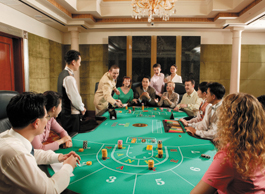 CASINO
Casino has 960 slot machines, roulettes, big wheel, black jack and poker game, among others, altogether 132 tables, which are open to both foreign and domestic visitors. It has colorful and luxurious interiors where beverages such as tea and coffee are served on the house, along with a buffet table for quick meals and a VIP lounge for casino lovers. The casino is open from 10 a.m. to 6 a.m. the next day without interruption. On Saturdays, it opens from 10 a.m. to 6 a.m. on Monday.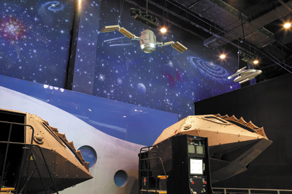 Theme Park
The resort's theme park is located on a 3,000-pyeong land with two floors-one basement and the second floor with a number of amusement facilities including a cinema house, a riding and game facilities. Support facilities at the palace include a food court with all kinds of foods, a kid's world, a playground, and a nursery.
Casa Cinema on the 3rd floor of the hotel offers a variety of programs, including specially chosen films, magic shows and performances by top-class show teams lasting for an hour free of charges. On weekdays, show will be held once a day and twice a day on weekends, offering various family entertainment including a circus from China and a magic show, along with events for visitors to participate.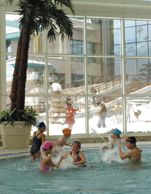 Swimming Pool

The swimming pool is located on the 2nd floor built on a 624-pyeong land for relaxation and play for customers open from 8 a.m. till 8 p.m. On Mondays, it closes at 2 p.m. Its major facilities include a dock, a sliding pool and a powder room.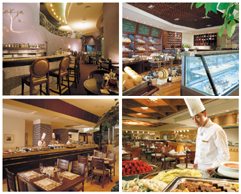 Golf Course
Kangwon Land golf course is situated at 1,100 meters above sea level, the highest in Korea. Low air pressure enables the enjoyment of an exciting driver shot that shoots straight out, it has a pleasant environment that never goes up as high as 25 centigrade degrees. It is an 18-hole public golf course of par 72, course length of 6,519 meters(out 3,321 meters, in 3,198 meters) where an international competition can be held. It has formation and positions of 10 ponds, 2 mountain streams, and 64 bunkers, which were designed in variations, making players take interest and inspiring them to take on the challenge. Most area of the golf course is made up of debris and the golf course does not damage forests or the environment but is an afforestation of the unused debris ground so it prevents leakage of heavy metals and acidic wastewater and also species of trees and wild flowers similar to the surrounding environment were planted to induce ecological stability.
Kangwon Land which is located somewhat far from the metropolitan area has a golf course and also a golftel with 197 rooms. So one can enjoy golf and stay there at the same time. Also, the scenery of the 18 holes of the course from the golftel is excellent giving visitors exceptional memory to cherish.
Ski Course
The ski course is being built on a 1.51 million pyeong of land in Sabuk-eup in Jeongseon County, Gangwon Province, occupying 320,000 pyeong of space with the length of slope stretching for 21 km. It has a 403-room condo and two ski houses and rest houses at the mid-course and the summit. The course is slated to open at the end of next year. It is the slope where the 2014 Winter Olympic Games will be held if Korea were named as the host of the games.
Kangwon Land attracted a total of 6.9 million visitors as of the end of October this year since its opening, averaging about 3,800 visitors a day. Aug.14 had the highest number of visitors with 10,567. Since the opening of its casino, the number of jackpots at slot machines with more than 5 million won in cash prizes totaled 5,545 times, with the highest jackpot cash prize amounting to 291 million won on July 23 this year. The average jackpot prize money amounted to 8.5 million won, with the number of daily hit jackpot given at 6.3 times. At the automobile progressive games, four Rextons and seven Chairman sedans were won as prizes.
Kangwon Land recorded total sales revenues of 2.5 trillion won since its opening with net profit of 981.4 billion won. Daily sales averaged 1.6 billion won. The resort paid a total of 922.4 billion won in taxes and other public charges including the Tourism Promotion Fund, a hefty 38 percent of total sales.
The resort, set up to help the local economy of the mountainous region, following the closures of coal mines in the area, has done more than its share to help the local economy. About 64 percent of its 4,000 employees are local residents who earn more than 50 billion won in annual pay and in addition to 4 billion won in sales for local stores including lodging charges and beverage sales.
Kangwon Land has yet to accept credit from customers, pay commissions and offer contract games unlike other casino operators, with strict ban on under age young adults and allow local residents to visit the resort once a month only. The resort has been making social contributions, also, to do its part as a socially responsible corporation. It has been maintaining ties with 121 villages in the southern Gangwon Province, providing all kinds of support to those villages. Its employees have been providing voluntary social services to the nearby welfare facilities more than once a month and as a result the resort won the gold prize in the Gangwon Volunteer Service Festival held last year. nw

President and CEO Kim Jin-mo of Kangwon Land

Kangwon Land furnished with a variety of amenities