Hyundai E & C's
Unparalleled Success
Leading builder aims to book 7.8 tln won in orders this year both at home and abroad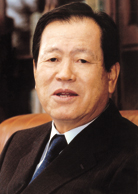 Hyundai Engineering and Construction Co., on the occasion of its 58th foundation anniversary this year, has been making efforts to solidify its position as a representative construction firm in Korea and building a mid-to-long term growth base to continue to grow as a top builder.
Hyundai E&C, recalling its worldly technology and experience accumulated over the 58 years of its operation, has been focusing on securing high profit and value-added construction projects with its pool of talented manpower.
The company has been making a headway to be a global builder by raising its effectiveness through the introduction of advanced risk management technology, the expansion of project financing, and improved technology with new construction methods.
In particular, this year, the company has been concentrating its efforts on winning projects in the Middle East with the domestic construction sector taking a sluggish tone this year.
Hyundai's overseas projects have been rising over last year in a big way with the orders won in the first half amounting to $2 billion worth including a power generation station in United Arab Emirates amounting to $696 million and an olefin production plant worth $567 million in Iran. In the second half of this year as of mid-November, the company's project orders totaled $2.311 billion including a semiconductor chip plant for Hynix in China worth $142 million and a GCC 400 KV power transmission construction project worth $147 million. If the current situation continues until the end of this year, total project orders overseas would amount to over $2.5 billion.
The countries in the Middle East with their coffers full with the rise of oil prices, are expected to orders projects worth over $1 trillion in the next 10 years and Hyundai is set to lead the "second Middle East boom."The company saw its profits rising on a continued basis until the third quarter this year. Its net profit rose a whopping 93 percent for the year until the third quarter to 220.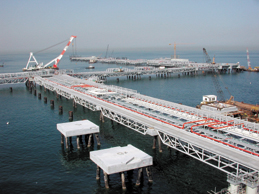 7 billion won from the same period a year earlier and operating profit climbing 298.1 billion won, up 41 percent due mainly to reductions on costs and improvement in non-operating income. Until the third quarter this year orders totaled 6.84 trillion won, including 3.61 trillion won in the domestic sector and 2.42 trillion won overseas, rising 43 percent from the same period last year.
Hyundai targets to build its total order booking list to 7.8 trillion won for this year with sales target amounting to 4.4 trillion won both at home and abroad. Its net profit for this year is projected at 287 billion won and operating profit at 394 billion won. Hyundai means to continue its unparalleled success, which began in 1966 with an order to build a highway in Thailand. Since then, the company undertook projects in some 47 countries in the world including the Middle East, Southeast Asia and Americas, earning some $47 billion over 620 construction projects, making itself a representative builder in Korea.
Particularly, Hyundai set a record in completing the construction of a large plant by finishing the South Pars Gas Treatment facility's 4th & 5th stage projects in 35 months, two months ahead of contract period, creating a myth in the process.
Currently, the world construction industry is shifting from labor-intensive one to technology-intensive one with builders in advanced countries such as in the United States, Europe and Japan, among others, stepping their competition, while builders from countries like China pursuing them with low-wage as their advantage. At this juncture, Hyundai has been trying to get away from being just a general builder. Most of projects ordered in the Middle East require construction firms to have the capacity for engineering, procurement and construction and in this regard, Hyundai has advantages over others in Korea, but it? been trying to upgrade its competitiveness in the overseas sector.
Hyundai Construction has been rewriting the history of the plant construction in the world.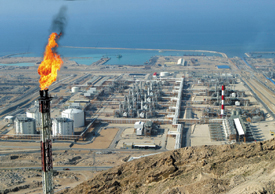 The company completed the construction of the mammoth project costing $1.6 billion named the South Pars Gas Treatment Facility? 4th and 5th stages in record time of 35 months and obtained PAC certificate on Feb.28 from ENI Iran BV, which ordered the project.
The project involves the construction of a natural gas refining facility. The natural gas comes from the South Pars Gas Field some 105 km in the Persian Gulf through pipes and refined at the refining facility. The refined gas is supplied to the Assaluyeh Industrial Complex in Iran and private homes in the scale of 1,800 MMSCFD, along with ethane gas 70 MMSCFD, propane 1,800 tons per day, butane 1,100 tons per day, and condensate 9,500 tons per day. The company received the project order in March, 2002 from Italy's Eni Spa. local subsidiary ENI Iran BV, Naftiran Interstate Co., Petropars, the Iranian national oil company and its joint venture consortium and completed in 35 months successfully.
Hyundai completed the project following its completion of the Fuel Gas-In project on March 20, 2004, in just 24 months with its own refined capability, a record period considering that the project was one of the largest plant in the world. The company again finished the construction of a production plant in 28 months on Aug.16, 2004. The company also completed the five-stage project for Fuel Gas-In facility in 33 months and the facility started to roll out the products in 34 months, setting all kinds of records.
The company also finished the Nos. 2 and 3 stage projects worth $1.2 billion in December, 2002, following the receipt of the order in March, 1999 from a French oil major Total-Fina-ELF, winning the recognition for its superb technology as an EPC Contractor and was able to clinch the 4th and 5th stage projects with its recognized technology as a base.
Hyundai E&C has been able to win a special place in the gas treatment plant construction sector after winning the recognition as an EPC Contractor owing its successful completion of the 2nd, 3rd, 4th and 5th stage construction in record time. The company is in a good position to win additional orders for gas treatment projects in the Middle East, with its maintenance of a steadfast working relationship with such world oil majors as Total-Fina-Elf Co. and Eni Co.
The company also won an order for an electric cable laying project worth $147 million from the Gulf Cooperation Council Interconnection Authority. The project involves the construction of cable wire connecting six GCC coastal countries with 400KV cable for a total distance of 1,470 km, including Saudi Arabia, Kuwait and Qatar. The company got part of the first stage order of the project laying electric cable stretching for 831 km. The first stage project was put on bidding divided into four sections and Hyundai got the order for two sections(Lot B2 and B3) connecting 442 km. The company is in a good position to win additional orders for 2nd and 3rd stage projects linking United Arab Emirates and Oman.
Hyundai also won a $49.5 million project building a 380 KV power transmission station in Saudi Arabia and another project building four power transmission stations for 132/11 KV this year from Kuwait, in addition to GCC 400KV electricity grit project, confirming its technology capability and competitive edge again.
As of the middle of November, the company has already clinched total project orders overseas amounting to $2.311 billion, exceeding this year's target of $2 billion and by the end of this year, the company is expected to secure a total of $2.5 billion in overseas project orders. nw

President Lee Ji-song of Hyundai Engineering and Construction Co.

A view of a new oil pier in Kuwait being built by Hyundai E&C

South Pars Gas Treatment Plant built by Hyundai E&C in Iran.