IBK's Robust Performance
Bank aims to gain Top 50 World Bank status by 2010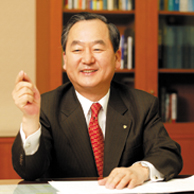 The Industrial Bank of Korea (IBK) celebrated its 44th founding anniversary on August 1, 2005. The IBK reviewed its tremendous growth as a financial institution on the occasion. IBK was born with a 200 million won in paid-in capital and 31 branch offices to provide financial support to SMEs. The bank has grown to be one of the country's premier banks with assets over 84 trillion won and an extensive distribution network of 8,400 dedicated professionals manning 412 branch office locations, including international offices in such key world financial centers as New York, Tokyo, Hong Kong, and Tianjin, Qingdao, and Shenyang in China.
The bank has a wide range of financial services as a result of this dynamic progress, extending into corporate banking, consumer banking, credit card, asset management, international banking, electronic banking and bancassurance. As attested to by its healthy credit profile, a constant theme driving IBK's results throughout the years has been prudent capital management. The bank enjoys high credit ratings of A3 by Moody's, A by Fitch Ratings, and A- by Standard & Poor's, the highest among Korean banks.
IBK achieved robust results for the third quarter of this year, despite the sluggish economic recovery. The bank recorded a historic 609.4 billion won in net profit during the Jan.-Sept. period, a remarkable 86.5 percent growth on a year-on-year basis. Net profit in the third quarter amounted to 187 billion won. Interest income saw a sound increase, along with reductions in loans loss provision due to improvement in asset management, allowing a sharp rise in net profit. Interest income rose 6.7 percent from the same period a year earlier at 96.5 billion won. Non-interest income jumped 5.6 percent to 17.6 billion won, while loan loss provision fell 38.4 percent or 259.3 billion won. ROA recorded 1.06 percent, ROE 19.17 percent and the BIS ratio stood at 10.93 percent. The bank targeted deposits as an area of growth and was able to post a notable net increase of 4.6 trillion won during the first half of this year. While there were dramatic increases on both assets and liabilities, IBK maintained the lowest delinquency ratio of all Korean banks at 0.99 percent and successfully retained its No.1 position in SME banking.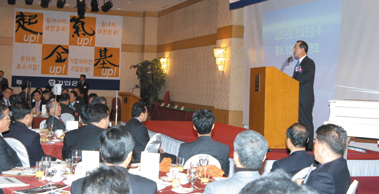 While steadily expanding its SME financing, the bank has also been developing products that provide its customers with innovative solutions that anticipate potential problems an SME might face. The Network Loan is one product that highlights IBK's commitment to ingenuity. An industry exclusive at the time of its initial launch, the Network Loan is a form of receivable-backed financing that makes funds available immediately to SMEs when sub-contracted by a large corporation. This unique pre-financing product effectively alleviates the financing burdens of SMEs during a time of rising raw material prices. Over 4,000 SMEs have benefited from the Network Loan since its introduction, and current plans are to increase the fund to 2 trillion won.
Maintaining the momentum generated by the first half the year into the second half is a challenge IBK is prepared for and eagerly anticipating. One of the bank's immediate steps is to create an SME private equity fund worth 200 billion won. There will also be a strong focus on marketing IBK? new products e-Branch, an on-line corporate cash management solution, and Step-up Loan, a distinctive financing product that unites capital investments and loans. Finally, the bank will continue to increase its presence beyond traditional services by developing strategic partnerships with non-banking institutions, in addition to strengthening existing relationships.
The bank envisions achieving Top 50 World Bank status by 2010. To reach this goal, IBK is striving to promote balanced growth that is able to adapt to changing environment. As the bank's profile becomes increasingly international, its measures to diversify revenue sources, improve the capital base, and refine risk management processes must not come at the expense of the domestic market. Going forward, the IBK? top priority remains the same as 44 years ago to support Korea? SME sector. nw

IBK President Kang Kwon-seok delivers a speech before CEOs of small and medium companies at the bank? 2005 Economic Outlook and Support Business Explanation meeting that was held 9 times across the country in January.

IBK President Kang Kwon-seok