IIA Stands to Leap into Hub
Port of N. E. Asia
Undergoes Expansion to Meet Rising Demand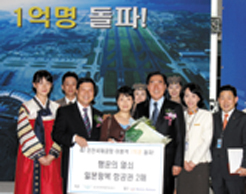 Incheon International Airport (IIA) promises to emerge as a hub port of Northeast Asia as the airport is undergoing a massive expansion one year after its opening in 2001.
IIA officially made its debut on March 29, 2001 following the completion of the first-phase, 8 year-old construction in December 2000 and subsequent test-operation. The construction began in November 1992 with the goal of coping with an increase in the airline demand of the Seoul metropolitan area and serving as a hub port of Northeast Asia in the 2000s.
The airport now has two runways, each 3,750 meter by 60 meter, a passenger terminal covering 496,000 sq. meters (150,000 pyeong), a freight area encompassing 129,000 sq. meters (40,000 pyeong), in a site encompassing 11.7 million sq. meters (3.55 million pyeong). It is capable of handling about 30 million passengers and 2.7 million tons of cargo per annum.
IIA does not rest on its laurels. Incheon International Airport Corp. (IIAC) launched the second phase expansion project less than one year after its opening. The expansion project calls for securing a site covering - 9.5 million sq. meters (2.9 million pyeong) with the goal of meeting the airline demand. In particular, a third runway, 4 km long and 60 m, will be built to accommodate super jumbo-size aircraft like A380, which will launch flights in February 2008. The Concourse A covering 166,000 sq. meter (50,000 pyeong), an apron area of 1,170,000 sq. meters (350,000 pyeong) with an additional 48 apron spots and a cargo terminal of 129,000 sq. meters (40,000 pyeong) will be constructed during the seven-year period between 2002 and 2007.
If and when the second phase construction project is completed, IIA will witness the frequency of flights surging from current 240,000 times to 410,000 times, and the number of passengers and cargo handled will soar from 30 million to 44 million and from 2.7 million tons to 4.5 million tons, respectively, Shi Tae-kwon, the head of construction at the IIAC, said. Changi International Airport has a capacity of handling 44 million passengers and 3.5 million tons per annum, while Check Lap Kok International Airport can accommodate 45 million passengers and 3 million tons of cargo annually, it said.
The second expansion project is scheduled to be opened before the 2008 to capitalize on the airline demand that will surge during Beijing Summer Olympic Games, to be held in August of the same year, IIAC officials said.
The Chinese government has pushing projects to develop Beijing International Airport, Pudong International Airport in Shanghai and Baiyun International Airport in Guangzhou as international airport hubs. Beijing International Airport's second phase expansion project calling for the construction of a third passenger terminal is under way with completion slated for 2007. The flight time between Beijing and Incheon international airports is less than one and half hours, whereas that between Beijing and Baiyun international airports is more than one and half hours.
An idea on designating Yeongjong Island area as a Free Economic Zone was floated in 1994, but it fizzled out.
Korea belatedly designated Incheon Free Economic Zone (IFEZ), the first one in Korea in August 2003, with the aim of improving the business environment for foreign-invested enterprises and the living conditions for foreigners. IFEZ comprises Yeongjong Area, Songdo Area and Cheongna Area.
Korea has designated Incheon Free Economic Zone (IFEZ), the first one in Korea in August 2003, with the aim of improving the business environment for foreign-invested enterprises and the living conditions for foreigners. IFEZ comprises Yeongjong Area, Songdo Area and Cheongna Area.
Incheon is accelerating its efforts to become a business and logistics hub of Northeast Asia.
Incheon Airport Free Trade Zone (FTZ) is being built with completion scheduled next July, on a 991,740 sq. meter area 1 km away from the planned fifth runway site and the east side of Cargo Terminal. The free trade zone is an area designated by the government as being legally outside of the nation's customs territory, where customs-related laws are not applied in principle. Being outside the national territory, the FTZ affords exemptions from customs clearance procedures, custom duties, taxes, public duties, etc.
IIAC will develop the site and utility facilities at a cost of $101 million. Tenants will construct their own buildings and facilities, and they will have the right to possess and operate buildings for 50 years before being transferred to IIAC under Build-Operate-Transfer deals. Twelve contractors - 11 logistic companies and a manufacturing company - have so far signed a Concession agreement.
The airport's neighborhood area is turning into a complex city capable of accommodating about 25,000 people, mostly for those with the airport. The International Business Center Phase I Construction Project with a site of 165,290 sq. meters built two hotels, four office buildings and one commercial structure. An addition development plan on a lot of 330,580 sq.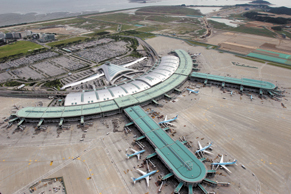 meters is planned to build one hotel and nine business buildings.
Incheon International Airport's infrastructure will be improved considerably as a railway connecting the airport and Gimpo International Airport, a connection point with Seoul Subway Nos. 5 and 9, is to be dedicated in 2007.
One of the main facilities being built under the Phase II expansion project is the Concourse A with five stories above ground two below. It covers 165,532 sq. meters in floor space.
P& S Consortium is working on expanding the baggage handling system to a total of 67 km - 27 km expansion in Passenger Terminal, 27 km in Concourse A and 13 km in underground tunnel sections - during the construction period between Dec. 12, 2004 and June 30, 2008. It will cost 310.7 billion won. The system is capable of transporting cargo at a fast pace of 400 meter/minute.
The IAT system will be installed to transport arrival, departure and transit passengers 0.9 km between the Concourse A and passenger terminals.
Two two-car trainsets, to be supplied by Mitshubishi of Japan, will be operated at an interval of 2.5 minutes and another trainset will be on the standby. The train will take 4.58 minutes.
Information communication system facilities will be installed at a cost of combined $236 million. The total breaks down to $56 million for installment of Integrated Information System for aviation and weather systems and execution of integrated function, $40 million for guard & security system, $58 million for airport communication system and $70 million for airport information system.
A project to expand Cargo Terminal by 661,000 sq. meters is under way from October 2003 through December 2006. The entire cargo terminal area covering 1.09 million sq. meters (320,000 pyeong) was additionally designated as the Free Trade Zone (1.05 million sq. meters) in June 2004.
Booz Allen Hamilton , a professional investing group, has been selected as an agent for raising capital, while the Investment Capital Raising Support Team has been formed up. IIAC has established customized strategies for target enterprises like Fedex and UPS, and it has held overseas road shows for attracting FDIs.
Foreign investment inducement efforts have paid off. DHL is to submit a $20 million investment plan on a 19,834 square meter lot as part of its efforts to make it as a Northeast Asia logistics hub. TNT will follow suit by investing 7 million euro on a 6,611 square meter site under the Northeast Asia logistic hub project, while KWE will also pour $4 million to move into a 9,917 square meter lot of the Free Trade Zone.
More aprons have been built in a bid to relive a shortage of aprons. All existing aprons were recently filled to capacity during the high season. The number of flight passengers that went through the airport was compiled at 96,000 last July 31, and the number of days when passengers surpassed the 96,000 mark is projected to grow to 18 this year from last year? one day. If Asiana Airlines did not go on a strike this year, the figure would have broken the 100,000 level. As a result, the expansion project should be completed in time for a rising passenger flight demand, IIAC officials said. The second airport expansion project will bring from 60 to 108 the number of apron spots by 2008.
They said a model of the expanded airport was produced in the course of designing in an effort to preempt any design change during the construction stage.
Such reclamation aggregate as sand and peddle, being carved from nearby mountains, including Mt. Osong, isbrought to the runway site by a conveyor belt, saving construction costs.
The expansion will cost 4,703.2 billion won, which IIAC and state coffers evenly shoulder. IIAC? business performance turned to 140 billion won in black last year.
The operation of the airport has been found to be stable in all categories in the past four years following its opening. A survey, jointly conducted by IATA and ACI in 2004, showed IAA placed second in the world in terms of services.
Lee Jae-hee, who took the helms of IIAC in June this year, has shown a way of thinking different from his predecessors. He ordered his staff to ensure no disruptions of cargo transport, possibly caused by the prolonged strike by Asiana Airlines unionists. He has held several prestigious posts during his 30-year career including as CE for more than 20 years in a variety of jobs in several countries. Lee served as the CEO of Unilever Korea before he was appointed as the new president-CEO of IIAC. nw

Incheon International Airport is expanding with the goal of becoming a hub port of Northeast Asia. (Inset) IIAC President Lee Jae-hee poses with the 100 millionth person arriving at the airport on Oct. 14 in some 55 months after its opening, who was offered a free round ticket to Japan by Asiana Airlines.