KEPCO Strives to Be Global
Top 5 Energy Company
Sustainability management strategies practiced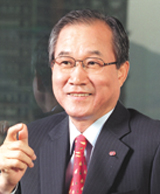 KEPCO strives to raise its sustainability management to up to the levels of the world? top 5 companies in the energy utilities by 2015.
KEPCO's sustainability management objectives of becoming the best practice for sustainability management in Korea and the global top 5 companies in the energy sector are contained in a document prepared in the late September for a public notice for its stakeholders. The statement is to be submitted soon to the Global Reporting Initiative (GRI) and UN Global Compact.
These days, corporations'social responsibility and sustainability management have emerged as the prime subject of talk on management. Recognizing the significance of corporate transparency and social responsibility, United Nations, other international organizations and stakeholders of corporations are mounting demands for the cause. For instance, the International Standardization Organization (ISO) is seeking standards and regulations on the government's social responsibility.
In accordance with stakeholders'demand for greater social responsibility and goals of enhancing a competitive edge though maximizing corporate values, global corporations are proactively pushing corporate sustainability management focusing on balanced management in terms of both financial performances and environmental and social perspectives. About 700 corporations around the world introduce sustainability management and unveil for the public notice of stakeholders'sustainability reports written on the guidelines of the GRI.
KEPCO has been put on the 2005 list of global top 500 corporations published by Fortune magazine and the only public corporation of Korea listed on the New York Stock Exchange. The company is rated to have a global top management efficiency record as it posted 77.7 percent in load factor, the highest one in the world, 4.46 percent in transmission & distribution loss factor, the world's first and 19 Min/Household in shutdown time, the world's top level.
The Korean giant utility company has made a strong showing in overseas markets. KEPCO has a solid presence in the Philippines. The company is expanding its presence in such areas as China and Africa. Moody's Investors Service has awarded KEPCO with Korea's highest credit rating ¡ª A2 ¡ª in May, this year, based on its management efficiency, profitability and financial soundness.
In keeping with its Korean and overseas stakeholders'call for social responsibility corresponding to the standing, KEPCO has aggressively put into practice open and ethics management strategies. The company has focused on the construction and operation of environment-friendly facilities. KEPCO has made strenuous efforts to fulfill its social responsibility as Korea's national corporation as it has conducted social activities under the catchphrase "Light to the World and Love to Neighbors."KEPCO doesn't rest on its laurels. The company is striving to become a transparent, world? best comprehensive energy company and gain trust and respect from people, Han Joon-ho, KEPCO chairman & CEO, said. To this end, KEPCO has worked out sustainability management strategies in four perspectives - economy, environment, society and humanity with the goal of becoming a sustainability global top 5 company.
As part of its efforts to implement action plans, first, KEPCO is attaching priority in the economic perspective on achieving a sustainable growth by securing a competitive edge in the global markets and futuristic growth engines. In this regard, KEPCO plans to preoccupy futuristic core technologies and put them on commercial use while expanding its exports to overseas markets, including China, African and Latin American countries. It is setting its sights on not only exploring new business arenas, including electric utility businesses employing power line communication and new and renewable energy sources, but also pursuing its active participation in overseas resources development projects.
KEPCO's domestic power generation capacity is projected to grow 58,916 MW in 2004 to 86,338 MW in 2015, a 1.4- fold increase. Its overseas power generation capacity is forecast to increase from 1,950 MW in 2004 to 10,000 MW, a 5.1-fold surge.
KEPCO will develop an independent business division-type management system emphasizing autonomy and responsibility as part of its efforts to ensure continuous management innovation.
In particular, KEPCO will raise its R&D investment scale from 4 percent of net sales in 2004 to 6 percent in 2015 in a bid to acquire and commercialize core technologies. Research manpower is projected to grow from 2.7 percent to 3.2 percent in 2015.
Secondly, KEPCO will contribute to protecting the earth from environmental destruction through environmentally-oriented management and the creation of eco-value. The company plans to ensure objectivity and transparency in selecting sites for accommodating electric facilities through expanded participation by the local community. KEPCO plans to expand construction of environmental-friendly facilities. It is actively coping with issues related to climate changes like reduction of greenhouse gas emissions and development of greenhouse gas reduction technologies and installation of facilities to secure the capacity to reduce greenhouse gases. KEPCO plans to enter the marketable carbon dioxide emissions permit market in search of new business opportunities in mitigating and adapting climate changes.
Thirdly, KEPCO will focus on enhancing transparency in management. It plans to pursue mutual development and obtain reliability through partnerships with customers, stockholders, cooperative companies and civic organizations. In this context, the company will change systems and procedures in accordance with global standards. KEPCO will establish and develop ethics management, while performing social activities as a responsible company in a more aggressive, more proactive manner.
Fourthly, KEPCO will enhance corporate capability and productivity by putting into practice human-oriented management and creating a dynamic corporate culture. Recognizing the executives and staff members as the core resources of corporate competitiveness, the company will endeavor to improve life quality and nurture excellent and internally renowned manpower. The company will develop a futuristic and synergetic management-labor culture, while trying to ensure human rights and diversity.
KEPCO will build up infrastructure for realization of mid- and long-term sustainability management goals and implementation of sustainability management strategies. To this end, the company plans to strengthen educational programs designed to raise consciousness among the executives and staff members and form task forces. The company will put annual business performances on the public notice to stakeholders, while strengthening globally cooperative networks through cooperation and exchanges with the international community. In this regard, KEPCO became the first Korean corporation to join the U.N. global Compact in August this year.
KEPCO believes that systematic implementation of sustainability management will earn the company a corporate image of transparency and social responsibility and make strenuous efforts to explore foreign markets by enhancing the corporate value. nw

Han Joon-ho, KEPCO chairman & CEO

What is the Global Compact?
In an address to the World Economic Forum on January 31, 1999, United Nation Secretary-General Kofi Annan floated an international initiative ¡ª the Global Compact ¡ª that would bring companies together with UN agencies, labor and civil society to support universal environmental and social principles. The Global Compact? operational phase was launched at UN Headquarters in New York on July 26, 2000. Today, many hundreds of companies from all regions of the world, international labor and civil society organizations are engaged in the Global Compact, working to advance ten universal principles in the areas of human rights, labor, the environment and anti-corruption.
Through the power of collective action, the Global Compact seeks to promote responsible corporate citizenship so that business can be part of the solution to the challenges of globalization. In this way, the private sector in partnership with other social actors can help realize the Secretary-General? vision of having a more sustainable and inclusive global economy.
The Global Compact is a purely voluntary initiative with two objectives:
- Mainstream the ten principles in business activities around the world
- Catalyze actions in support of UN goals

The Ten Principles

The Global Compact's ten principles in the areas of human rights, labor, the environment and anti-corruption enjoy universal consensus and are derived from:
* The Universal Declaration of Human Rights
* The International Labor Organization's Declaration on Fundamental Principles and Rights at Work
* The Rio Declaration on Environment and Development
* The United Nations Convention Against Corruption
The Global Compact asks companies to embrace, support and enact, within their sphere of influence, a set of core values in the areas of human rights, labor standards, the environment, and anti-corruption:
Human Rights
* Principle 1: Businesses should support and respect the protection of internationally proclaimed human rights; and
* Principle 2: make sure that they are not complicit in human rights abuses.
Labor Standards
* Principle 3: Businesses should uphold the freedom of association and the effective recognition of the right to collective bargaining;
* Principle 4: the elimination of all forms of forced and compulsory labor;
* Principle 5: the effective abolition of child labor; and
* Principle 6: the elimination of discrimination in respect of employment and occupation.
Environment
* Principle 7: Businesses should support a precautionary approach to environmental challenges;
* Principle 8: undertake initiatives to promote greater environmental responsibility; and
* Principle 9: encourage the development and diffusion of environmentally friendly technologies
Anti-Corruption
* Principle 10: Businesses should work against all forms of corruption, including extortion and bribery.