Hyundai INI Steel
Envisages a Global
Integrated Steelmaker
Puts more energy into promoting environment-oriented management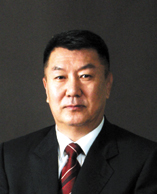 Environmental-friendly management in the procurement of raw materials and manufacturing process is an integral part of making ensure sustainable evolvement of society. When it comes to environment-friendly management, Hyundai INI Steel may be one of representative Korean companies pursuing sustainability management.
Hyundai INI Steel is an electric furnace steel company, recognized for promoting environmental causes by recycling scrap iron, which could contaminate the environment when left abandoned, as its main resources and churning out new steel products.
In particular, in 2002, the steelmaker invested 7.5 billion won and furnished a water purification facility capable of treating 5 million tons of water for industrial use. The facility is in operation to recycle the waster the Gajwa Waste Water Treatment Plant in western Incheon discharges into the sea and reuse it for the production of steel products, not only saving the company 3.4 billion won in cost prices per annum but also contributing to provide a stable supply of tap water to the nearby high-land residents. Even if is located near the costal area, Hyundai INI Steel does not inflict environmental damages to the foreshore area.
Hyundai INI Steel has been credited with having succeeded in normalizing the insolvent Hanbo Steel? Dangjin plant and transforming the company into a hot-rolled steel sheet maker in seven months after acquiring Hanbo Steel.
Making the most use of its sustainability management and its capability to normalize the bankrupt company, Hyundai INI Steel has recently come up with a new take-off vision of developing itself into a global integrated steelmaker. The company plans to launch the construction of an integrated steelworks capable of churning out 7 million tons of steel products per annum in 2007 with completion scheduled for 2011. The project is aimed at transforming Dangjin, South Chungcheong Province into the mecca of the local steelmaking industry in a bid to not only contribute to regional and national economic development but also raise a national competitive edge through a stable supply of quality steel products and import substation. To this end, Hyundai INI Steel requested to authorities concerned the designation of the Gagok-ni area in Dangjin-gun covering 3.17 million sq. meters (960,000 pyeong) as a regional industrial complex in preparation for the construction of the planned integrated steelworks.
The plan will be implemented in accordance with Hyundai Motor Group Chairman Chung Mong-koo's push for realizing the long-standing integrated steel mill project, initiated by the late Hyundai Group founder Chung Ju-yung. The late Chung had made strenuous efforts in realizing Hyundai Group's bid to enter the integrated steelmaking industry since the 1970s, but with no availability.
An estimate made in 2004 shows that if and when it is completed as planned, the projected integrated steelworks would bring about the effect of substituting annual quality steel imports of 6 million tons worth an aggregated $4 billion. The project would bring about creation of about 4,000 jobs necessary for the operation of the steelworks, excluding the manpower needed for the construction of the planned integrated steelworks and direct and indirect spillover effects on other industry sectors by producing steel sheets, which are assumed to be worth 18 trillion won.
Take a look into the 52 year-old history of Hyundai INI Steel. The company, established on the ruins of the Korean War (1950-53), has now grown into the second largest electric furnace steelmaker in the world.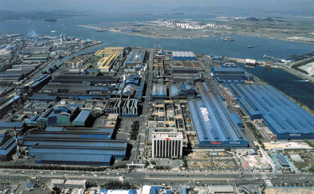 Arthur D. Little, a consultant with the global consultancy agency Julian Gacimartin, summed it up during his visit to Hyundai INI Steel in June 2001, commenting that the company may be one of the most dynamic firms in the world with continuous M&As and concentration and selection of new business arenas, which have come into spotlight from the global steelmaking industry.
The watersheds event of the chronology of the company, established under the name of Korea Heavy Industry Corp., as the acquisition of Incheon Heavy Industry Company Ltd in 1970. Hyundai INI Steel began to bolster its competitive edge in 1978 when it was incorporated into Hyundai Business Group. Hyundai INI Steel itself proactively underwent restructuring in the wake of the 1987 financial crisis that left many local steelmakers bankrupt.
The company acquired Gangwon Industries Ltd. and Sammi Special Steel Company Ltd. in March and December 2000, respectively, renaming them into its Pohang plant and BNG Steel, respectively to leap into a major full-fledged steelmaking company. Hyundai INI Steel has been assured of gaining momentum in evolving itself into a leading comprehensive steelmaking company.
The reason behind the acquisition of a series of M&As and attracting the public limelight from the global steelmaking industry is that Hyundai INI Steel has posted profits thanks to its strenuous management innovations and "concentration and choice"strategies under which the company abandons business sectors that now make profits, but have no futuristic potential whereas it makes aggressive investments into businesses that now lose money, but seem to be essential for future existence.
In reality, in accordance with these strategies, Hyundai INI Steel discontinued production of diamond steel plate in 1986, old ship-break business in 1987 and ship-building material business in 1994 in consideration of their dim futuristic prospects. On the other hand, the company has diversified its business arenas by entering news business markets - wide flange beams in 1982, steel cast and forge in 1983, cold rolled STS steel in 1990 and heavy industry (rail, roll etc.) in 2000- and acquiring Hanbo Steel to enter hot-rolled steel sheet arena. Hyundai INI Steel is rated to be one of global electric furnace companies with an excellent portfolio of steel products. The company has proactively conducted such management innovation campaigns as "ATTACK21"and "Take-off 2005."

Technological development
Hyundai INI Steel has focused on R&D activities on the existing business lines while maximizing profits through "concentration and choice"strategies. The company has led the electric furnace steelmaking industry by creating new demands through new product development activities.
The company introduced a facility manufacturing wide flange beams and upgraded the scope of construction materials limited to reinforcing bars. Its marketing staff succeeded in creating the demand of wide flange beams by making a pitch for the new product even before the launch of the item at that time. As a result, the annual demand of the steel product soared to 3 million tons in about 20 years and the product is showing signs of a constant rising demand thanks to an increase in steel structures, particularly lower commercial buildings. However, Hyundai INI Steel does not rest on its laurels. Thanks to continuous technological development, the company has put more energy into developing new products, including non-coated H-beams with atmosphere corrosion resistance and H-beams rolled for building architectural structure.
The company is also concentrating on expanding the demand of the existing steel products. A case in point is the Super Bar (SD500) which has acquired a more than 80 percent market share since its first production in the country following the announcement of its development in the first quarter of 2002. The Super Bar, rated to be suitable for making structures bigger and higher and longer, has contributed to raising work efficiency in building reinforced concrete structures and shorting construction period. The steel product is used for constructing such civil engineering works as longer bridges, nuclear power units and LNG receiving terminals as well as house-office buildings, high-rise skyscrapers and stadiums. Hyundai INI Steel is the only Korean steelmaker to produce such steel products as inverted angles.

Social service activities
Hyundai INI Steel inaugurated a social service team in February 2004 to conduct activities serving the underprivileged in the neighborhood of the company. The company launched a voluntary support corps with about 2,500 staff members, half of those on payroll, participating. The voluntary support corps, setting the annual 27-hour service time for each member, has conducted such social service activities as blood donation and drives to preserve the environment and visits to the poor families in such areas as Seoul, Daegu, Incheon, Pohang and Dangjin where Hyundai INI Steel head office, plants and other offices are located.
Hyundai INI Steel executives and staffs have put into practice the "Matching Grant"system to provide a helping hand to the poor neighbors. Under the system, each executive or staff member checks off a given amount of money from his or her payroll and the company contributes the equivalent to help poor neighbors. Hyundai INI Steel is expected to contribute to some 12 million won per month or about 150 million won per annum in a fund for helping poor neighbors.
The company is proactively conducting social service activities in a bid to realize its corporate vision of promoting environmental cause, serving for society and promoting development together with local residents and doing its best in advancing sustainable society.
The company's local social service activities are aimed at returning corporate returns to the local community and providing practical support to local residents. To name a few, Hyundai INI Steel has sponsored such events as a ritual for praying for a big fish catch in the Anseom Estuary in Songam-myeon where Hyundai INS Steel Dangjin Plant is located, the Gijisi War of Tug with the longest rope in the world, designated as National Intangible Property No. 75., and a song festival in Dangjin. nw

Hyundai INI Steel Vice Chairman Kim Moo-il

Hyundai INI Steel Incheon steelworks is recognized for ensuring environment-friendly management.