POSCO's Progressive Steps
The steelmaker holds six sigma festival to check on progress of reform effort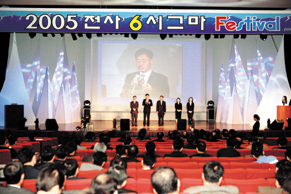 POSCO held the Six Sigma Festival at the auditorium of Postech to check on the progress of the in-house management reform program Oct. 28 with some 600 POSCO employees, representatives of partner firms, and customer firms attending.
POSCO Chairman & CEO Lee Ku-taek said every employee should have concern for every problem they feel in the course of promoting the reform program and set up a new direction to make the basic thought of the six sigma program to take root as DNA of POSCO. Warning that the program has been used as a means to solve partial problems, deviating from its original purpose of becoming a tool for an effective management of process, he called for reform of work style by standardizing the process to correct the problem.
The chairman said honest opinions are the root force for the company's progress as well as the starting point for improvement and reform. He encouraged managers to listen to employees more than him. The festival opened with a hip-hop dance and showed a film for six sigma activities during the past three years, which was followed by a number of presentations ranging from 10 excellent BB tasks from BB and GB taken up at 5th & 6 th wave and QSS sample cases, late Adm. Yi Sun-sin as the leader of the six sigma and to other large projects.
The 10 best tasks selected among those performed in the past year included one that was pushed by Kim Young-soo of the technology institute entitled, "Securing Quality of GA 490" and the best task among GB tasks was the one taken care of by Kwon Jong-wook of the public relations dep't entitled, "Improving On-Line Application Rate for Tour of History Museums."Altogether seven subjects received the chairman's citations. The participants enjoyed the festival because it featured entertainment programs from time to time during the course of the event such as a fusion rhythm performance, magic performance, and films, which appealed to the audience.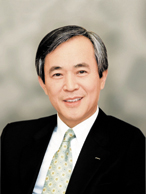 The event was not a one-time event that will soon be forgotten, but was a chance for POSCO employees to examine the results of the six sigma program and reflect on them to create a new jump for further progress. To bring this about, the event included a film on objective research material brought in from outside and voices of company employees to show the present status of the program. POSCO published a book entitled, "I Love Six Sigma"and distributed the copies to the audience. The book included four sections: Six Sigma in Retrospect; Six Sigma Spectrum; QSS and POSCO Type Six Sigma; and Talk, Talk, Six Sigma.
POSCO held a discussion prior to the festival on Oct. 27 among all officers and champions at the auditorium of the Human Resources Development Institute on a variety of subjects including Measures for Readjustment on Reform and Study, Measures for Managing Reform Result, Standard Operating Procedure, and the Selection of 8th Wave Large Tasks, geared for soft-landing of change and reform in the company organization.
POSCO will try to have the various reform activities to contribute to the creation of the company's value by pooling ideas and items to be reformed in the Champion Day and the Six Sigma Festival from next year. In the meantime, POSCO has decided to present 20 kg of rice to each employee through Nonghyup to help out rice farmers who suffer from drop in rice prices and dwindling market for their produce and at the same time, inject a new vitality into the six sigma program.
POSCO has become a leading steelmaker today despite its short history of steel making for 37 years thanks to its dedication to developing new steel-making technologies from the 1970s.
The giant steelmaker's technology development process can be divided into five stages. POSCO imported foreign steel-making technologies from the initial period of its operation from 1973 to the third period of operation in 1978, along with the dispatch of its workers overseas for training. The steelmaker decided to develop its own technology by expanding the number of steel products and standardization of product specification. nw

A scene from POSCO's Six Sigma Festival
(right) POSCO Chairman & CEO Lee Ku-taek