SK's
China Strategy
SK Chairman Chey meets with Sinopec President Wang to discuss cooperation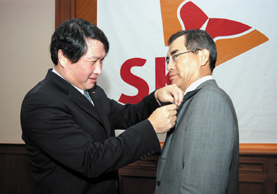 SK Group declared that it will expand its global business as a growth engine and strengthen the independent operation system for its affiliates following its CEO meeting held at Hangzou, China from Oct.30-Nov.3. The group meeting agreed to build an independent operation system for its affiliates and push global business as a long-term growth engine and manage its brands through a brand management committee. Chairman Chey Tae-won said each affiliate should its best to become on its own to improve their business operations so that they would have the capability to survive with mid-to-long term plans. He said making advances into overseas is now a must condition, not an option. China should be approached as a domestic market, not a foreign market, he said, stressing the importance of China to his group's businesses.
SK Corp. said recently that it discussed business cooperation with Sinopec Petroleum Corp. when Wang Tienfu, the largest Chinese oil company's chief executive officer, visited its head office in Seoul and held talks with its president Shin Hon-chul.
The largest oil refining company in Korea said president Shin and his Chinese counterpart spent most their talks on cooperation between their companies on rising oil prices and measures to deal with the problem. They also shared common interest in strengthening cooperation on oil imports, the exchange of technology, and marketing. They also held talks on cooperation in detail on the operation of Inchon Oil Refinery that SK took over recently. Both oil firms kept close relations from about 10 years ago when SK's late Chairman Chey Jong-hyun proposed business cooperation with Sinopec; Top managers of the two oil giants continuously exchanged visits and discussed business cooperation.
Especially, former Sinopec president Wang Jiming outlined a detailed cooperation between the two companies ranging from crude oil, technology, marketing and refining and others during his visit to Seoul in June, last year. The proposal is still valid and is about to see progress. In October, last year, experts of the two firms met and discussed the joint purchase of crude oil. In August, last year, experts from Sinopec visited the SK Daedeok Technology Institute and in October, the two firms held an expert-level talks on technology cooperation.
President Wang exchanged opinions on business cooperation with SK top officials much more in detail during his visit to Seoul. Wang came to Seoul to attend the Northeast Oil Forum held in Seoul on September 21-22 and he made a call on SK top officials on the sidelines of the meeting. SK officials said SK Corp., which has been trying to upgrade its position as a mid-level top business firm in the Asia-Pacific region, is working on its global strategy centered around China and its tie-up with Sinopec would give its China business strategy a shot in the arm. Sinopec is a global enterprise with its sales reaching $44.9 billion in the first half of this year and net profit $226 million. It refines 2.79 million barrels of oil per day, one of the biggest in the Asia-Pacific region.
Oil Exploration in the United States

SK Corp. started an exploration as an owner of an oil block in Iberia North in southern Louisiana state in the United States from October 11 through its local subsidiary, SK E&P Co., with 70 percent stake in the oil block. The SK subsidiary secured the stake in October last year. Ginger Oil owns a 12.5 percent stake and Regal Chain of Japan has another 17.5 percent stake in the oil block. The SK subsidiary took over 11 years to take over a substantial stake in the oil block since it secured a stake in 1994. It is like becoming a major shareholder of a company with only difference being that SK Corp. will get the recognition as an oil firm fully equipped with professional technology from the international oil business community.
SK has been after security and satisfied with only being a stake holder, but things have changed with the history of its oil exploration stretching for more than 23 years and a plenty of oil drilling experiences, company officials said. They added that the company decided that taking part in oil drilling would help its strategy to be a new major in the energy and chemical sectors in the Asia-Pacific region. Managing director Yoo Jong-joon of SK Resources and International, said the company has allocated $8.6 million for oil drilling in the Iberia North block this year and he is more than willing to secure another hopeful oil drilling block after a careful study.
SK Corp. has been able to learn new oil technology and experience for managing an oil drilling block as it has been able to explore oil in the United States, a center of oil drilling business in the world, which will help the company to become a new major in the energy and chemical sectors in the Asia-Pacific region. nw

Chairman Chey Tae-won pins a medal for job well done on President Shin Hun-chul of SK Corp. during the CEO seminar.