Samsung Electronics:
Industry's First Ultra-Fast
GDDR4 Graphics DRAM
Also develops industry's first 1026-Channel DDI for high-resolution LCD panels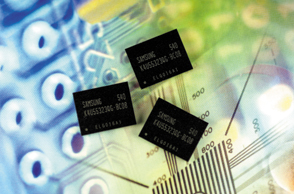 Samsung Electronics Co., Ltd. has developed the industry's fastest computer graphics memory and has shipped it to major graphics card manufacturers for testing. The GDDR4 (Graphics Double Data Rate 4th Generation) memory processes gaming and video images at 2. 5-gigabits per second (Gbps) or a staggering 10-gigabytes per second, the equivalent of transmitting 10 hours of DVD quality video, the full series of Harry Potter movies. The first GDDR4 developed is a 256Mb chip that runs at 2.5Gbps.
Graphics DRAM is a high-bandwidth DRAM memory chip capable of simultaneously processing high volumes of video exceptionally fast compared to the speed of the main computer memory DRAM (dynamic random access memory).
As games and video become increasingly high-resolution and encompass more content, graphics-DRAM data processing needs to improve at a similar pace. But due to an inherent transmission delay when data travels between the graphics chip and the resident system, the fastest graphics memory to this point has been limited to a speed of 1.6Gbps.
Samsung Electronics has used cutting-edge technologies called DBI (Data Bus Inversion) and Multi-Preamble, for the first time anywhere, in the development of GDDR4, eliminating all data transmission delay. The result is a transmission speed 56% faster than graphics products on the market today.
While GDDR4 offers unprecedented speed, it retains a design virtually identical to that of GDDR3, today's graphics DRAM of choice. This minimizes inconvenience to graphics card and chipset manufacturers in developing new products.
Since introducing the first 128 megabit (Mb) GDDR2 in 2002, Samsung Electronics has maintained leadership in the graphics DRAM market. Samsung plans to introduce samples of 2. 8 Gbps GDDR4 by the end of this year with mass produced to follow by the second quarter of 2006 , allowing Samsung to maintain leadership of the high-performance graphics card market, which is expected to grow significantly in the second half of 2006.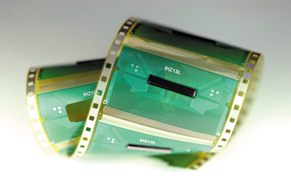 First 1026-Channel DDI for High-Resolution LCD Panels

Samsung Electronics Co., Ltd., a leader in advanced semiconductor technology, today announced that it has successfully completed the development of the most efficient multi-channel display driver IC (DDI) for high-resolution LCD panels. Capable of processing thousands of channels with just four image-refining ICs, Samsung's 1026CH Source Driver IC (S6CR014), for example, can power a 17" LCD panel (SXGA;1280X1024), compared to ten typically used today.
DDI is a semiconductor located in the periphery of a display panel, driving the LCD cells by transmitting electric signals to individual pixels. As the push toward large, high-resolution displays accelerates, DDI has become a key component, as more than 20 DDIs are usually integrated per panel.
With the required number of ICs dramatically reduced, the LCD module? power consumption will decrease and its overall price competitiveness is expected to improve. In addition, with the development of this next-generation multi-channel DDI, Samsung is proposing a new standard for this segment of the LCD industry. Samsung has reduced the pad pitch inside the IC to 25um. The company has also developed a new material-based advanced chip-on-film (COF) technology capable of printing film pattern pitch within 25um.
"We employed a wide range of next-generation DDI core technologies to develop this Source Driver IC,"said Kang Sayoon, principal engineer for Samsung's System LSI Interconnect Product and Technology Team. "With this new technology, we'll solidify our global leadership position in developing display driver ICs for the LCD market."According to Gartner Group, a market research firm, the DDI market is expected to grow from $6.6 billion last year to $8.2 billion this year, $12.5 billion by 2008.
This product will be available as demands for multi-channel IC rise with initial demand expected from high-resolution panels for notebook computers beginning in the first quarter of 2006. nw

GDDR4 (Graphics Double Data Rate 4th Generation) memory

First 1026-Channel DDI