Samsung Launches
Music Smartphone
with 3GB HDD
Offers unparalleled music experience,
seamless compatibility with Windows Mobile and Media Player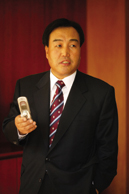 Samsung launches a new music phone (model: SGH-i300) with 3GB hard disk drive in European market. This is the first smartphone equipped with hard disk drive and Samsung's third model equipped with hard disc following the world? first 1.5GB HDD embedded phone (model: SPH-V5400) and 3GB HDD embedded phone (model: SCH-V7900). This immense storage capacity enables users to carry about 1000 songs (3MB/song) wherever they go.
The i300 combines a phone, digital camera, MP3 player and e-mail client, replacing the need for separate devices and providing a unified platform for fantastic music performance with world-class phone features.
Additionally, Plug & Play features allow users to utilize the phone as a removable hard disk, enabling them to backup critical files and data on their PC.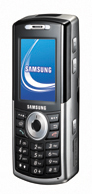 Window Mobile also allows users to IM and e-mail as if they were right at home, giving them the option to be always connected to their email client.
Featuring a 1.3 megapixel camera with flash, and a microSD (formerly known as TransFlash) external memory, photography buffs can take advantage of the phone? superior digital still and video recording capabilities.
Users can record, send, and receive still photographs and video clips instantaneously, whenever and wherever they desire.
As convergence technologies come to the forefront of phone innovation,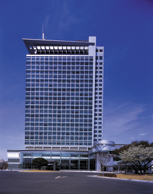 the i300 provides a music phone with a familiar interface, compatible with Windows, to allow users to carry their music library with them.
Samsung and Microsoft have worked together to develop the i300, a converged device which drives ahead their digital strategy to meet consumer requirements for acquiring, consuming and sharing digital media.
The i300 supports flight mode, which prevents voice communication during airplane flights, and the phones enable a selective use of other business functions. It also offers voice recognition and document viewer function.
Lee Ki-tae, president of the Samsung Electronics Telecommunication Network Business, said, "The i300 music phone provides consumers with a more efficient, cost-effective and accessible solution to their combined mobile and communication needs."The i300 will be introduced in succession, starting with UK followed by Germany, France, Italy, Russia and other countries in Europe and also China (model:SGH-i308). The price is around 650 ~ 700 Euro. nw


President Lee Ki-tae, Samsung Electronics Information & Communication Division